My Favourite Planet > English > Europe > France > Paris >

| | | | |
| --- | --- | --- | --- |
| | | 18 of 54 | |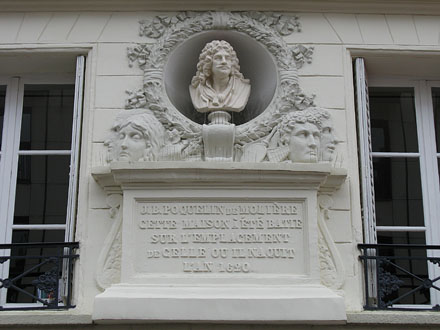 house of playwright Molière, Les Halles

"J.B. Poquelin de Molière
Cette maison à été batie sur l'emplacement de celle ou il na quit l'an 1620"

Jean Baptiste Poquelin de Molière (1622-73)

Paris born playwright who learned his theatre craft as a strolling player. Later he worked in the king's service.

His plays include Tartuffe, Le Misanthrope, Le Bourgeois Gentilhomme, Le Malade Imaginaire and Le Médecin Malagré Lui.

< page 1: introduction to Paris

Copyright © 2003-2016 My Favourite Planet | contributors | impressum | index of contents | sitemap