My Favourite Planet > English > Middle East > Turkey >

| | | | | | |
| --- | --- | --- | --- | --- | --- |
| Ephesus, Turkey | Introduction to Ephesus | | | page 1 | |




The Great Theatre of Ephesus. See gallery page 51.
The archaeological site of Ephesus is 3 km (2 miles)
southwest of the town of Selçuk which has its own guide
with practical information and a photo gallery, including
photos of the Ephesus Archaeological Museum, Selçuk.
For information about the Temple of Artemis,
see Selçuk gallery 1, pages 3-4.
Detailed information about Ephesus' sights can be found
with the photos in our Ephesus photo gallery.
For opening times and admission charges for sites and sights

see Page 4: Sightseeing in Ephesus
Ephesus Archaeological Site

Open every day
Summer (April-October): 08:30 - 19:00
Winter (November-March) 08:00 - 17:00
Admission Fee: 30 TL

Car park charges (car park at lower entrance):
bus 40 TL
midibus / minibus 25 TL
taxi / private car 8 TL

At Ephesus you can walk around the preserved streets and remains of grand public buildings of one of the wealthiest and most prestigious cities of the ancient Greek world. Under the Romans it became the capital of the province of Asia. Early Christians made pilgrimages here because of its association with the founders of the Church.

Today the city's ruins are increasingly popular with tourists as one of the most accessible and comprehensible ancient sites in Turkey. Unfortunately, this popularity has led to crowding, especially as large tour groups and thousands of passengers from huge cruise ships swarm through Ephesus and other local sights every day.

The streets and buildings, including its Great Theatre, the Library of Celsus and the Aghia Maria (Church of the Virgin), can be explored in a few hours, leaving time to visit the Archaeological Museum and Basilica of Saint John in nearby town of Selçuk on the same day.

There is even a small, little-publicized Museum for the Visually Impaired at Ephesus. It is housed in a restored shop, hidden behind the Gate of Mazeus and Mithridates to the Lower (Commercial) Agora, next to the Library of Celsus. The iron gate to it is usually locked, and you have to ask one of the site's guards to open it. Enquire at the one of the site's entrances when you arrive. It contains a number of statues and reliefs (copies and originals), including a statue of Artemis, which visually impaired people are allowed to touch and feel. A good idea, although it is a pity they don't tell anybody about it.

If you are visually impaired and have visited this mini museum, please get in contact and tell us what you think of it.


Ephesus' most famous building, the Temple of Artemis, one of the Seven Wonders of the ancient World, is not at the Ephesus Archaeological Site. The scanty ruins, under water for much of the year, and one column, can be seen on the north side of the road between Selçuk and Ephesus. See Selçuk gallery 1, pages 3-4.

For further information about other sights in the area around Ephesus and Selçuk, such as the Cave of the Seven Sleepers, the House of the Virgin Mary, Saint John's Basilica and the İsa Bey Mosque, see:

page 4: Sightseeing in Ephesus

and

Travel guide to Selçuk


Further information for Turkey, including visa details,
can be found in our introduction to Turkey.



Ephesus
Turkey
Area map



Map of north-western Turkey and the Aegean area.

See a larger interactive map of this area.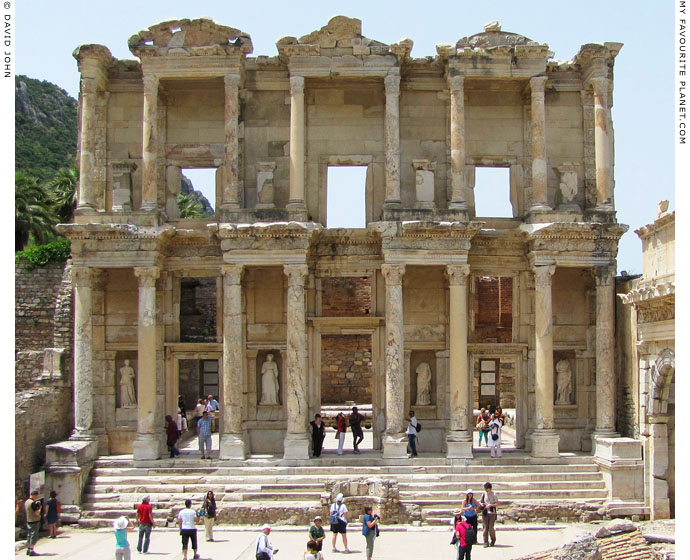 The Library of Celsus, one of the most popular attractions in Ephesus.

See gallery pages 30-32.
Map, photos and articles: © David John

Additional photos: © Konstanze Gundudis

All photos and articles are copyright protected.

Images and materials by other authors
have been attributed where applicable.

Please do not use these photos or articles without permission.

If you are interested in using any of the photos for your website,
blog or publication, please get in contact.

Higher resolution versions are available on request.

Some of the information and photos in this guide to Ephesus
originally appeared in 2004 on davidjohnberlin.de.
Visit the My Favourite Planet Group on Facebook.

Join the group, write a message or comment,
post photos and videos, start a discussion...