My Favourite Planet > English > Middle East > Turkey > Pergamon >
| | | | | | | |
| --- | --- | --- | --- | --- | --- | --- |
| Pergamon gallery 2 | Pergamon art | | | 17 of 26 | | |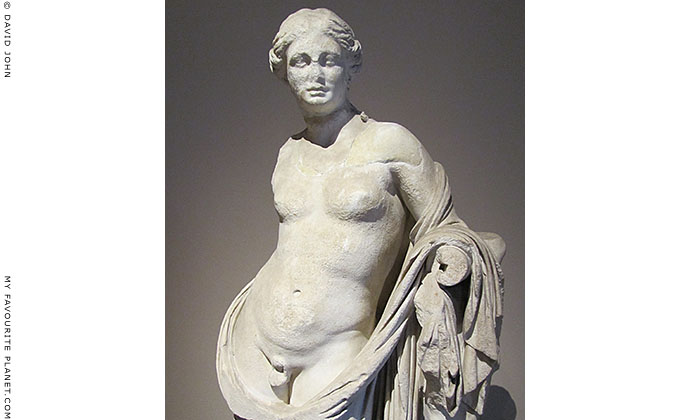 Hellenistic statue of Hermaphroditus from Pergamon.

Istanbul Archaeological Museum. Inv. No. 363 T.
In Greek and Roman mythology, Hermaphroditus (Greek, Ἑρμαφρόδιτος, Hermaphroditos), the child of Hermes and Aphrodite (the Roman equivalents were Mercury and Venus), had combined male and female characteristics. In the art of the Hellenistic and Roman periods, the intersexual deity is often depicted in explicitly erotic and even seductive poses, with exposed breasts and male genitals (see photos below). [1]

This 186.5 cm high statue was found in 1879 in a cistern, southeast of the Great Altar of Zeus on the Pergamon Acropolis, along with parts of other sculptures dated to the same period. [2]

Although the statue is labelled as being made in the third century BC, according to literature of the Berlin State Museums it belongs to the first half of the second century BC. [3]



Photos of ancient Greek and Roman depictions of Hermaphroditus previously on this page can now be seen on the Hermaphroditus page in the MFP People section.

The Hermaphroditus statue in full length.



Fragment of a marble herm of
Hermaphroditus raising his/her
garment to reveal male genitals.

Hellenistic period. Found in 1899 in the
olive grove of Ilias Deliapostolis, in the
Kestel river valley, at the foot of the
Pergamon acropolis. Height 124 cm.

Bergama Archaeological Museum.




Statue of Hermaphroditus of a common
type showing the deity raising his/her
garment to reveal male genitals.

Roman period, 2nd century AD.

Izmir Museum of History and Art.
Inv. No. 5921.



Ceramic figurine of Hermaphroditus.

From the Yortanli Dam salvage
excavation, near Pergamon.

Bergama Archaeological Museum.
Pergamon
gallery 2
Notes, references and links



1. Hermaphroditus

See Victor Ljunggren Szepessy's MA thesis dealing with this statue:

Victor Ljunggren Szepessy, The Marriage Maker: The Pergamon Hermaphrodite as the God Hermaphroditos, Divine Ideal and Erotic Object. MA Thesis in Art History. University of Oslo, 2014.



2. Statue of Hermaphroditus from Pergamon

White marble. Total height 186.5 cm, including 12 cm high plinth.

Istanbul Archaeological Museum. Inv. No. 363 T (Cat. Mendel 624).

See: Gustave Mendel (1873-1938), Catalogue des sculptures grecques, romaines et byzantines, Tome Second, pages 368-371. Musée Impérial, Constantinople (Istanbul), 1914.



3. Dating of the Hermaphroditus statue

Pergamon. Panorama der antiken Metropole (Pergamon. Panorama of the Ancient Metropolis). Book to accompany the exhibition of the same name in the Pergamon Museum, Berlin, 2012:

Objektkatalog, 1 Entdeckung einer Metropole, page 432, Catalogue No. 1.23. Antikensammlung der Staatlichen Museen zu Berlin and Michael Imhof Verlag, Petersberg, 2012.

There is a plaster cast of this statue in Berlin which was exhibited in the Pergamon Museum during the exhibition:

Abguss-Sammlung Antiker Plastik (cast collection of ancient sculpture) of the Freie Universität, VII 1900.
Maps, photos and articles: © David John,
except where otherwise specified.

Additional photos: © Konstanze Gundudis

All photos and articles are copyright protected.

Images and materials by other authors
have been attributed where applicable.

Please do not use these photos or articles without permission.

If you are interested in using any of the photos for your website,
project or publication, please get in contact.

Higher resolution versions are available on request.
Visit the My Favourite Planet Group on Facebook.

Join the group, write a message or comment,
post photos and videos, start a discussion...