My Favourite Planet > English > Middle East > Turkey > Selçuk >

| | | | | | | |
| --- | --- | --- | --- | --- | --- | --- |
| Selçuk gallery 1 | Selçuk town | | | 2 of 30 | | |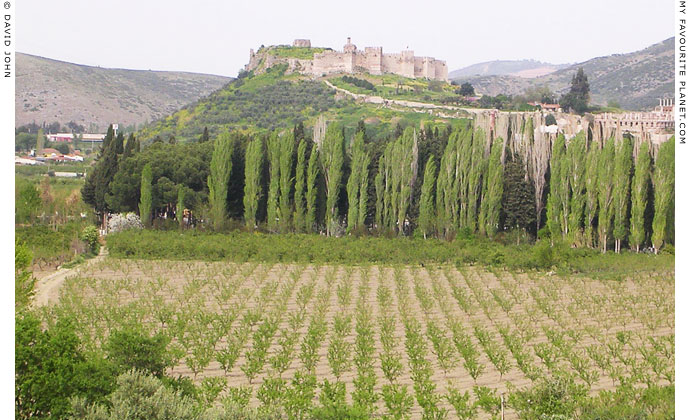 The Byzantine fortress on the citadel (acropolis) of Ayasuluk above Selçuk.
Ayasuluk fortress

Currently closed to the public.

The citadel or the acropolis of Ayasuluk was built by the Byzantines, although the exact date of construction is unknown. Due to finds of Mycenaean pottery and other artifacts here, it is thought that the acropolis was used by indigenous Anatolian people before the arrival of the Ionian Greeks around 1000 BC.

The Turks rebuilt and added to the citadel, which has 15 watchtowers and contains numerous cisterns, a Byzantine church and a small mosque.

On the hillside to the right of the citadel is the walled precinct around the Basilica of Saint John the Evangelist (see photos 5 - 13). The Turkish name Ayasuluk (Ottoman Turkish, Ayasluğ) is a corruption of of the Greek name of Saint John, Agios Ioannes Theologos (Ἅγίος Ἰωάννης Θεολόγος).

Because the fortress was until recently used by the Turkish military, it was inaccessible to the public for many years. Following renovation and restoration work it was opened to the public, but then closed again, apparently because of unsafe structures.

See more photos of the Ayasuluk citadel on gallery 1, page 14.
Map, photos and articles: © David John

Additional photos: © Konstanze Gundudis

All photos and articles are copyright protected.

Images and materials by other authors
have been attributed where applicable.

Please do not use these photos or articles without permission.

If you are interested in using any of the photos for your website,
blog or publication, please get in contact.

Higher resolution versions are available on request.

Some of the information and photos in this guide to Selçuk
originally appeared in 2004 on davidjohnberlin.de.
Visit the My Favourite Planet Group on Facebook.

Join the group, write a message or comment,
post photos and videos, start a discussion...