Selçuk - the town

Selçuk stands on a fertile plain of the River Cayster, surrounded by hills, around 3 kilometres (2 miles) northeast of the ancient city of Ephesus. The archaeological site begins between the two hills in the foreground, on the left of the photo.

The road running from the town diagonally to the right side of the photo leads southeast to the site of ancient Magnesia on the Maeander and the modern town of Aydin. In the other direction, the road heads north to Izmir.

The river Marnas, flowing from the southeast, merges with the Selinus south of Selçuk, between the road and the town. The Selinus then merges with the Cayster (Greek, Κάυστρος, Kaystros; Turkish, Küçük Menderes, Small Maeander) in a marshy area to the southwest of the town. The Cayster runs into the Aegean Sea, around 5 kilometres southwest of Selçuk (see photo below).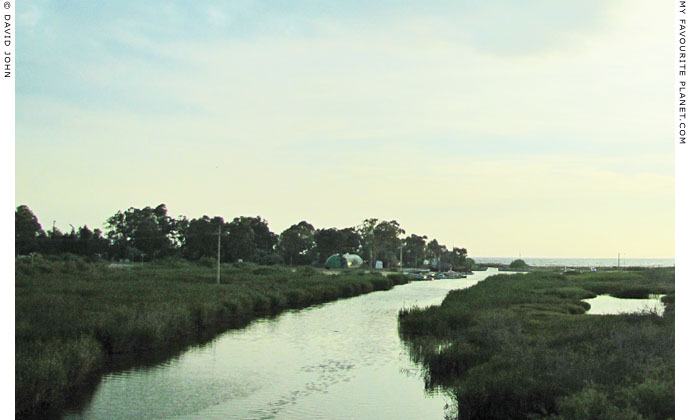 The River Cayster (Greek, Κάυστρος, Kaystros; Turkish, Küçük Menderes,
Small Maeander) runs into the Aegean Sea, 5 km southwest of Selçuk.

See a photo of a statue of a river god found in Ephesus, thought
to represent the Kaystros, on Ephesus gallery page 61.
Map, photos and articles: © David John,
except where otherwise specified.

Additional photos: © Konstanze Gundudis

All photos and articles are copyright protected.

Images and materials by other authors
have been attributed where applicable.

Please do not use these photos or articles without permission.

If you are interested in using any of the photos for your
website, project or publication, please get in contact.

Higher resolution versions are available on request.
Visit the My Favourite Planet Group on Facebook.

Join the group, write a message or comment,
post photos and videos, start a discussion...