My Favourite Planet > English > Europe > Greece > Macedonia > Kavala >

| | | | | | | |
| --- | --- | --- | --- | --- | --- | --- |
| Kavala, Greece | Kavala gallery | | | 22 of 29 | | |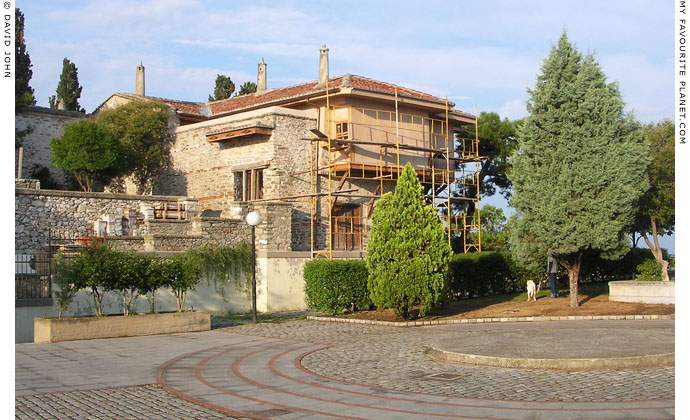 Kavala's Panagia district. House of Mehmet Ali (see previous page), during its restoration, 2004.
Σπίτι Μεχμέτ Αλί, Spiti Mehmet Ali; also known as the "Konaki" (κονάκι), after konak, Turkish for a house or official residence.

At the southern end of Odos Theodorou Poulidou is Plateia Mehmet Ali, a large paved square, designed by Ernesto Verucci Bey, the head architect at the Egyptian royal court. It was constructed after the widening of Odos Theodorou Poulidou, then called Odos Zalongou (Ζαλόγγου), in 1931-1934.

The square is lined on its western side by a row of houses, to the south is the large Greek Orthodox Panagia Church (see gallery page 20), and at the northwest corner is the House of Mehmet Ali (also known as Mohammed Ali, 1769-1849), Pasha of Egypt and native of Kavala.

Built around 1780-1790, the two-storey house is set in its own gardens, and had separate apartments for men (selamlik) and women (harem). At the time it was built it was the largest house in Kavala, and the only home with running water.

The ornate tomb of Zeyneb Hanim, Mehmet Ali's mother, which was originally in the area now occupied by Plateia Eleftherias (in the modern city centre), has been restored and now stands in the garden of the house.

Although the house was renovated over many years, and allegedly opened as a museum, every time I went to visit it, it was mysteriously closed. There was no information about opening hours, and no sign to indicate that it was a museum open to the public. Since my last visit to Kavala I have heard that it has been converted into a restaurant.

The house remains the property of the Egyptian Government, and the Greek and Egyptian flags hang over the front gate.

Plateia Mehmet Ali, Odos Theodorou Poulidou, Kavala 65110.

The house is administered by the Institute Mohammed Ali for the Research of Eastern Tradition (IMARET), an NGO established in 2006.

Tel: +30 2510 62 05 15

website: www.imaret.org.gr


See also: History of Kavala and Sightseeing in Kavala.
Photos, maps and articles: copyright © David John,
except where otherwise specified.

Some of the information and photos in this guide to Kavala
originally appeared in 2004 on davidjohnberlin.de.

All photos and articles are copyright protected.

Images and materials by other authors
have been attributed where applicable.

Please do not use these photos or articles without permission.

If you are interested in using any of the photos for your website, project or publication, please get in contact.

Higher resolution versions are available on request.

My Favourite Planet makes great efforts to provide comprehensive and accurate information across this website. However, we can take no responsibility for inaccuracies or changes made by providers of services mentioned on these pages.
Visit the My Favourite Planet Group on Facebook.

Join the group, write a message or comment,
post photos and videos, start a discussion...


George Alvanos
rooms in
Kavala's historic Panagia District
Anthemiou 35,
Kavala, Greece
kavalarooms.gr