The Trajaneum, the sacred precinct, or temenos, in which the Temple of Trajan stood, was surrounded on three sides by stoas (see the photo of the model of the Trajaneum below). The open sides of these roofed passageways, facing the quadrangular courtyard in which the temple stood, were supported by rows of columns.

Steps from the stoas on either side of the temple led directly into the courtyard. The stoa to the northeastern end (in the photo above) was part of an L-shaped building raised above a wall, and access to the court was by steps down to a side stoa.

The southwestern side of the courtyard was open so that visitors to the sanctuary could view the theatre, the lower city and countryside in the valley below. This also meant that the temple and sanctuary could be admired by those in the lower city.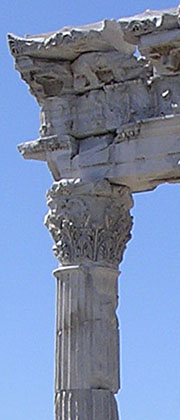 Reconstruction of a
Corinthian column and
part of the entabulature
of the east end (rear)
of the Temple of Trajan.