My Favourite Planet > English > Middle East > Turkey > Pergamon >

| | | | | | | |
| --- | --- | --- | --- | --- | --- | --- |
| Pergamon gallery 1 | Pergamon | | | 19 of 37 | | |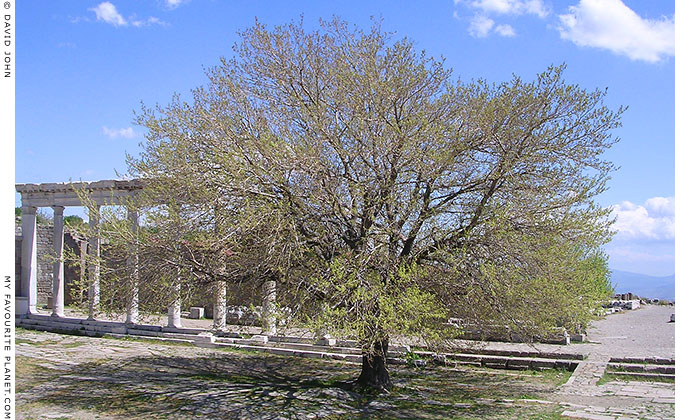 Pergamon Acropolis: the Temple of Trajan, with tree.
The Trajaneum, the sacred precinct, or temenos, in which the Temple of Trajan stood, was surrounded on three sides by stoas (see the photo of the model of the Trajaneum below). The open sides of these roofed passageways, facing the quadrangular courtyard in which the temple stood, were supported by rows of columns.

Steps from the stoas on either side of the temple led directly into the courtyard. The stoa to the northeastern end (in the photo above) was part of an L-shaped building raised above a wall, and access to the court was by steps down to a side stoa.

The southwestern side of the courtyard was open so that visitors to the sanctuary could view the theatre, the lower city and countryside in the valley below. This also meant that the temple and sanctuary could be admired by those in the lower city.



Reconstruction of a
Corinthian column and
part of the entabulature
of the east end (rear)
of the Temple of Trajan.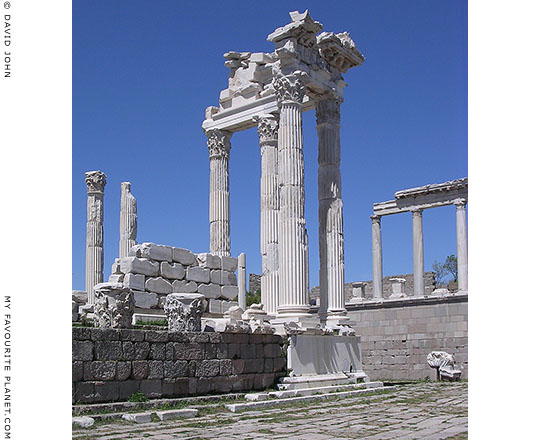 Remains of the east portico of the Trajan Temple.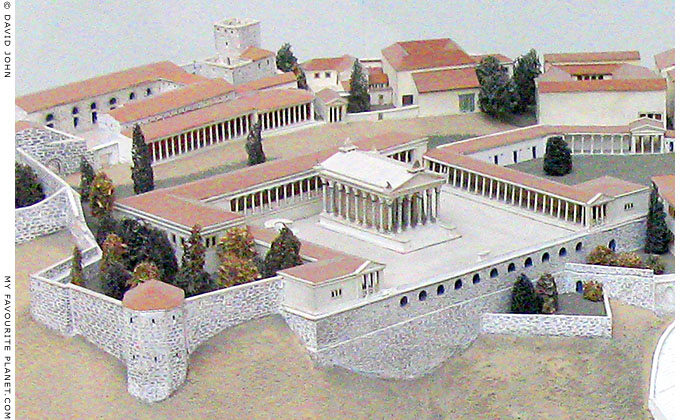 Model of the Trajaneum on the west side of the Pergamon Acropolis, in the Pergamon Museum, Berlin.



See an interactive photo of the whole model of the Pergamon Acropolis on gallery 1, page 4.
Maps, photos and articles: © David John,
except where otherwise specified.

Additional photos: © Konstanze Gundudis

All photos and articles are copyright protected.

Images and materials by other authors
have been attributed where applicable.

Please do not use these photos or articles without permission.

If you are interested in using any of the photos for your website,
blog or publication, please get in contact.

Higher resolution versions are available on request.

Some of the information and photos in this guide to Pergamon
originally appeared in 2004 on davidjohnberlin.de.
Visit the My Favourite Planet Group on Facebook.

Join the group, write a message or comment,
post photos and videos, start a discussion...

Copyright © 2003-2018 My Favourite Planet | contributors | impressum | index of contents | sitemap