My Favourite Planet > English > Middle East > Turkey > Ephesus >

| | | | | | | |
| --- | --- | --- | --- | --- | --- | --- |
| Ephesus, Turkey | Ephesus photo gallery 1 | | | 61 of 66 | | |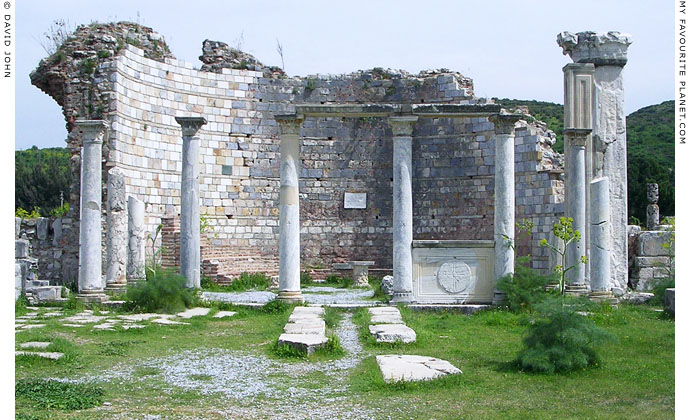 The Aghia Maria (Church of the Virgin), Ephesus. 5th century AD.
The Aghia Maria (Church of the Virgin)

The 260 metre long church was originally a Roman period basilica built in the 2nd century AD.

The Third Ecumenical Council, also known as the Council of Ephesus, was held in Ephesus in 431 AD during the reign of Emperor Theodosius II, and is thought to have been attended by as many as 250 bishops from several Christian territories. The Council, which may have been held at this building, decided, among other theological issues, on the the title of the Virgin Mary as Theotokos (Greek, Θεοτόκος; literally, God-bearer or Birth-Giver of God), the Mother of God.

This church may have been named in Mary's honour at the Council or soon after, and is thought to have been the first church dedicated to her. It was rebuilt in several phases during the 6th century AD.


See also: Saint John's Basilica, Selçuk


Many Greek Orthodox churches have been dedicated to the Virgin Mary as Theotokos, particularly commemorating her death, "Kimisis Tis Theotokou" (Κοιμήσεως της Θεοτόκου, roughly translated as the falling-asleep of the mother of God; also referred to as the Dormition), an important date in the Orthodox calendar. See, for example:

Kimisi Theotokou Church, Kavala, Greece

Kimisi Theotokou Church, Karlovasi, Samos, Greece




A model of the Aghia Maria (Church of the Virgin), Ephesus.



The model looks quite weather-beaten after being exhibited in the open for many years.
It is now in the Museum for the Visually Impaired in the Lower Agora.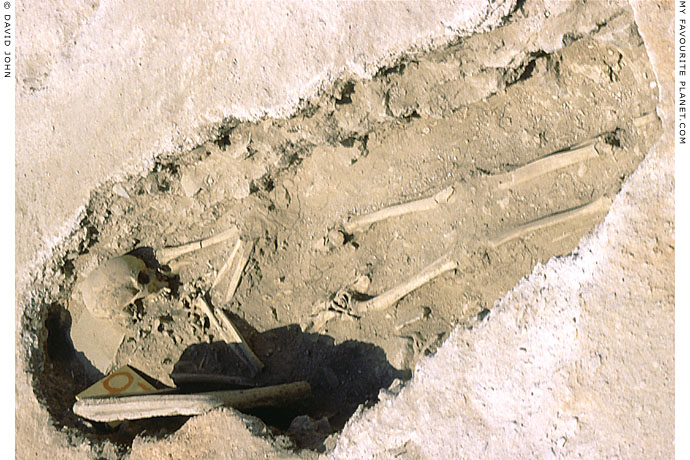 Early Christian grave at the Aghia Maria church in Ephesus,
excavated by German and Austrian archaeologists in 1985.
Map, photos and articles: © David John

Additional photos: © Konstanze Gundudis

All photos and articles are copyright protected.

Images and materials by other authors
have been attributed where applicable.

Please do not use these photos or articles without permission.

If you are interested in using any of the photos for your website,
blog or publication, please get in contact.

Higher resolution versions are available on request.

Some of the information and photos in this guide to Ephesus
originally appeared in 2004 on davidjohnberlin.de.
Visit the My Favourite Planet Group on Facebook.

Join the group, write a message or comment,
post photos and videos, start a discussion...