My Favourite Planet > Blogs > Cheshire Cat Blog >

back
The Cheshire Cat Blog


| | | |
| --- | --- | --- |
| | January 2012 | |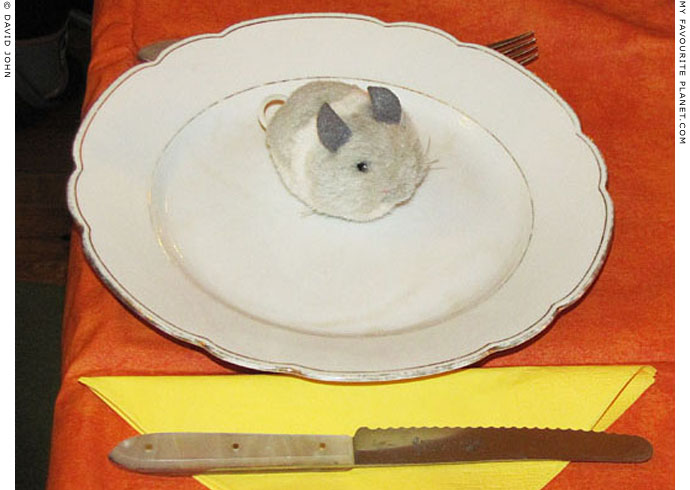 The Cat's (Christmas) breakfast



Kristmas Kat

photo © Konstanze Gundudis
Christmas is going,
The goose has made us fat
And the pennies you put in the old man's hat
All went straight into the liquor store cash register.

Well, I bet you're glad all that Christmas and New Year celebrating is finally over, I know I am. I had to sit through five separate Christmas dinners, which meant five separate plates of dead animal: deer, goose, turkey and cow, not mention mouse (very funny, Silke, ha ha). The British eat Brussels sprouts with their Yuletide feast, whereas the Germans prefer huge portions of steaming red cabbage (Rotkohl). A German friend who detests sprouts (Rosenkohl - rose cabbage), calls them "Furzenkohl" (fart cabbage). I wonder why?

I'm not so happy to say goodbye to 2011. It was an exciting and eventful year, as you can see by skimming through previous Cheshire Cat Blogs.

Let's hope 2012 brings just as much fun. Right now though, everybody at My Favourite Planet HQ is stuck in the winter doldrums, quietly groaning at the piles of things-to-do. As we all know, the first thing to put on your to-do list is: "Make a to-do list". So far, we've got as far as taking down the decorations from the office party, changing the wall calendar, sharpening a few pencils, doodling in the margins and making some coffee. Displacement inactivity.

During the year's first team meeting, somebody (guess who?) opined that humans and cats are genetically programmed to hibernate, and therefore we would all be better off staying well under the duvet until at least March. This option, as you would expect, has been vetoed by the editor. Which leaves us staring out of the window, trying to dream up some scintillating ideas for what he likes to call "pithy articles, inciteful guides and breathtaking photos" for the coming year.

I tell you, it's for the birds. Talking of which ...


- "When are you lot going to grow up and get proper jobs?"

- "You can talk! You... you, peanut junky!"
What a cheek! This is one of the same gang of avian scroungers
who were hanging around here last winter. See Winter wonderlands.


- "Blah, blah, blah. Ooh look! A nice big juicy one."


- "Let's hope you can come up with something more interesting next month, fur face."

- "If you're not satisfied with what we have to offer here, bird brain, you can always
hop off and read Edwin Drood's Column. See if we care."
Photos of Parus major (great tit) at the My Favourite Planet breakfast buffet.
Photos copyright © Konstanze Gundudis and © David John 2011-2012


The Cheshire Cat Blog at My Favourite Planet Blogs


We welcome considerate responses to these articles
and all other content on My Favourite Planet.
Please get in contact.


The photos on this page are copyright protected.



Please do not use them without permission.



If you wish to use any of the photos for your website,
blog, project or publication, please get in contact.



Higher resolution versions are available on request.
Visit the My Favourite Planet Group on Facebook.

Join the group, write a message or comment,
post photos and videos, start a discussion...
Views of blog authors do not necessarily reflect those of the publishers
or anyone else at, on or in the vicinity of My Favourite Planet.







George Alvanos


rooms
in Kavala's historic Panagia District



Anthemiou 35,
Kavala, Greece


kavalarooms.gr


Olive Garden Restaurant


Kastellorizo, Greece



+30 22460 49 109


kastellorizo.de


Papoutsis
Travel Agency


Kastellorizo, Greece



+30 22460 49 286


greeklodgings.gr