My Favourite Planet > Blogs > Edwin Drood's Column >

back
Edwin Drood's Column

| | | |
| --- | --- | --- |
| | 6 September 2011 | |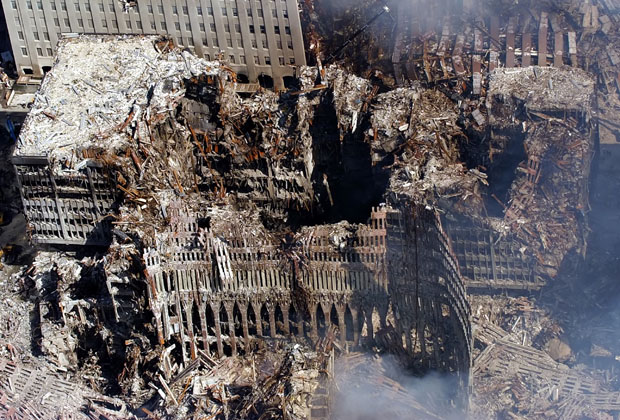 Ground Zero, New York City, 17th September 2001.
U.S. Navy photo by Chief Photographer's Mate Eric J. Tilford. Source
Ambivalent anniversaries I
In which Edwin considers monuments to the living and the dead: the celebrating of anniversaries
and the way we choose to remember the things we wish we could forget.

The small screen had the full and undivided attention of the fat man at the ticket desk. With the gaping mouth of a stranded fish, in which his discoloured teeth and tongue were moving impulsively, he was repeating a single word like a mantra in the face of utter disbelief; "Scheisse, scheisse, scheisse, scheisse ..." You can trust a German to know at once when things are really bad. They've been there already.
The fifth film
I looked up at the array of monitors. The first four were showing what was currently playing in the little Rhineland multiplex: moving images of fun and frolicking, loving and loss, cartoon capering, thrills and spills – the usual fare. Then I looked a little closer at what I had thought was a
fifth
film in a four-film complex. And just as I looked, the second plane hit the second tower and everything became suddenly very clear and clean and slow. It was a trademark I recognized at once. It was daring, it was merciless and it was totally prime-time. "Osama", I whispered to myself. "Wie bitte?" queried the fat clerk, who was now breathing in the stenorous gasps of a man trapped under a dead sheep. "Osama bin Laden," I answered, "Only he could do that." The world was at war again and this time there would be no armistice, not ever.

But history has a way of dulling the edges of horror. Everything grows a little more relative. Massacres get compared with genocide and genocide with the incomparable nightmare of the Shoah, London is contrasted with Leningrad, and Dresden with Coventry. Famines and natural disasters are ranked. Nasty little ex-dictators find themselves rubbing shoulders with the likes of Genghis Khan or even Alexander the Great, and past wars are weighed in the balance of political ethics to gauge the justness of their causes. When history with a big "H" finally coalesces around the subject of September 11th 2001, there may not be the unified sense of outrage the USA would like us all to go on feeling indefinitely.
Remembrance Sunday
We will compare and contrast. We will speak of Hiroshima and Dresden, of towns along the Ho-Chi-Minh trail, of Laos and Cambodia, of entire armoured battalions mercilessly bombed into scrap while retreating from Kuwait City along Highway 80. And of course we shall talk of what came after: of how Osama morphed into Saddam while no one was looking, of weapons of mass distraction wielded by Fox and Murdoch, of "freedom fries", of "shock & awe", of the liberation of Bagdad, falling statues, "mission accomplished" and ... Afghanistan-the-never-ending. There will be no unanimity in our verdict, but nonetheless a general sentiment will prevail of the United States of America, our greatest friend, our staunchest ally and our undoubted saviour in WWII, having somehow been served a welcome comeuppance for a half century of overweening pride on four out of five continents ... and this by a rag-taggle band of turbaned maniacs with pilot licenses. A dog will not bite the hand that feeds it. Mark Twain considered this to be the main difference between dogs and humans.

But the question remains; what will we do next Sunday? How will we tread the awkward path between honest sorrow for the thousands who died in the twin towers and our sense of skepsis over an event that has been subjected to every possible kind of scrutiny except that of an official government enquiry? How will we celebrate the sacrifice of those hundreds of brave fire-fighters and police, who climbed the choking stairwells to certain death, knowing – as we all do now – that such buildings were long recognized as death-traps by any and all in the rescue services and yet were still being built by the dozen every month, as they are to this very day? How will we show our continued sense of sorrow and loss for those who died while rightly remarking that the two monoliths concerned were about as ugly as manure silos and no loss to the world of architecture? Indeed, the skyline of Manhattan has thereby regained the proportions and silhouette that Frank Sinatra once serenaded.
Hints and allegations
And regardless of our position on the many conspiracy theories, regardless of whom we might see as prime suspects – Al Qaida or some mystical Illuminati, the Israeli Mossad or the buildings' owners (who had just insured them against terrorist attack), a coven of developers and oilmen (perhaps including some in very "high office" themselves) or the CIA providing the White House with a casus belli – there will always be a sense of unease about the too many glib coincidences, lacunae and conveniences serving the obvious interests of a select few. None will ever feel again that true and righteous anger that shook us all in those first awful hours. This is one date that will always be tainted with memories of the President's initial response, with the claims of families who are still uncompensated, with the many material questions that are still unanswered. It is an ambivalent anniversary at best.

But aren't all openings of hostilities like that? We may celebrate the end of a war, even a dishonourable one, with a certain joy. There is a V-day, an armistice, a treaty is signed and some bullying nation, or so we like to think, rolls over and kicks its legs in the air in as friendly a manner as possible. We cheer and throw our caps at the moon. But how do we celebrate the beginning? How should we remember the things we would prefer never to have experienced at all, the things we would rather forget?

I recently chanced upon a photo showing a well-known writer during his wartime service in the 1940s. The two men on his right were both named as captain and lieutenant so-and-so. The man on his left was merely referred to as an
unknown soldier
. "Wait a minute", I thought, "Surely unknown soldiers are always dead?" Did this man manage to be dead even before he was killed? Or is he still alive today, as unknown as ever?
An alternative cenotaph
The Unknown Soldier is a convenient hook upon which to hang our national grief. He is unclaimed, so we all claim him. But he once

had

a mother – an unknown mother, maybe, but one who was not unknown to her neighbours. He had, and possibly still has, unknown brothers and sisters too, and cousins and nephews. Perhaps he had an unknown sweetheart, whose tears may have dried long before we compelled her lover to extend his service to the nation on into all eternity. Or maybe she died of a broken heart. Either way, she would make a better subject for a cenotaph.

Our current wars produce vastly more civilian casualties than military ones. Islam is bleeding itself to death in a vain search for martyrdom and sectarian revenge. Women and children are no longer the sad collateral of urban warfare. They are increasingly becoming the intended targets of those who know how best to use fear and humiliation as weapons of subjugation in their wars of faith. Therefore, ladies and gentlemen, I give you the Unknown Sweetheart: a Magdalene for Everyman. Toast her, if you will. Drink to her in clear water. But fire off no salute. She is far beyond the reach of your cannon. Sadly, the same cannot be said for her sisters or their children.

©

Edwin Drood

, September 2011

> Ambivalent anniversaries II > Ambivalent anniversaries III > Ambivalent anniversaries IV



Edwin Drood's Column, the blog by The Mysterious Edwin Drood,



at My Favourite Planet Blogs.


We welcome all considerate responses to this article
and all other blogs on My Favourite Planet.
Please get in contact.
Visit the My Favourite Planet Group on Facebook.

Join the group, write a message or comment,
post photos and videos, start a discussion...
Views of blog authors do not necessarily reflect those of the publishers
or anyone else at, on or in the vicinity of My Favourite Planet.