My Favourite Planet > English > Middle East > Turkey > Pergamon >

| | | | | | | |
| --- | --- | --- | --- | --- | --- | --- |
| Pergamon gallery 1 | Pergamon | | | 2 of 37 | | |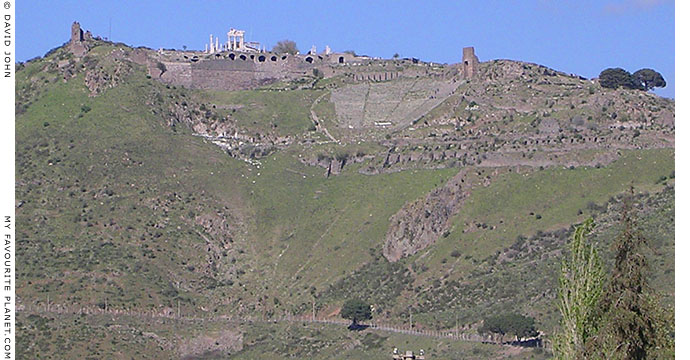 Akropol Cad. (also known as Kale Yolu), the road from Bergama up to the Acropolis (see below).



The steep west side of the hill of the Pergamon Acropolis.



Photo of the Pergamon Acropolis taken 1880-1910 from the same perspective.

Photographer unknown. Source: Library of Congress, Washington DC.

The Pergamon Acropolis

One of the world's most impressive and evocative archaeological sites
with a dramatic location and wonderful views.

Opening times: every day 8:30 - 17:30; May - September until 19:00.

Admission: 20 Turkish lira.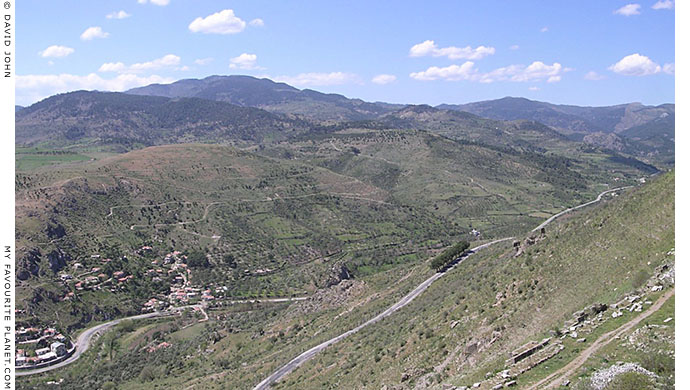 The valley of Selinus river, now known as Bergama Çayı,
as seen from the west side of the Pergamon Acropolis.


The narrow road which crosses diagonally up from the bottom to the middle right of the photo is Akropol Caddesi (also known as Kale Yolu), the road from Bergama up to the Acropolis. It is a continuation of Bergama's main street Bankalar Cad, and starts at the north side of the river, just east of the Red Basilica. From there it snakes its way up the west flank of the Acropolis hill, loops around the north face and steeply up to the car park and entrance to the Acropolis archaeological site.

Altogether, that's a haul of over 5km, and can be hard work by foot on a hot summer day. It's therefore not surprising that so many visitors take the "Telerifik" cable car or a taxi. For those who have the time and stamina to make the hike, it's a great walk, and the beautiful views make it well worth the effort.
Maps, photos and articles: © David John,
except where otherwise specified.

Additional photos: © Konstanze Gundudis

All photos and articles are copyright protected.

Images and materials by other authors
have been attributed where applicable.

Please do not use these photos or articles without permission.

If you are interested in using any of the photos for your website,
blog or publication, please get in contact.

Higher resolution versions are available on request.

Some of the information and photos in this guide to Pergamon
originally appeared in 2004 on davidjohnberlin.de.
Visit the My Favourite Planet Group on Facebook.

Join the group, write a message or comment,
post photos and videos, start a discussion...

Copyright © 2003-2018 My Favourite Planet | contributors | impressum | index of contents | sitemap