My Favourite Planet > English > Middle East > Turkey > Pergamon >

| | | | | | | |
| --- | --- | --- | --- | --- | --- | --- |
| Pergamon gallery 2 | Pergamon art | | | 9 of 26 | | |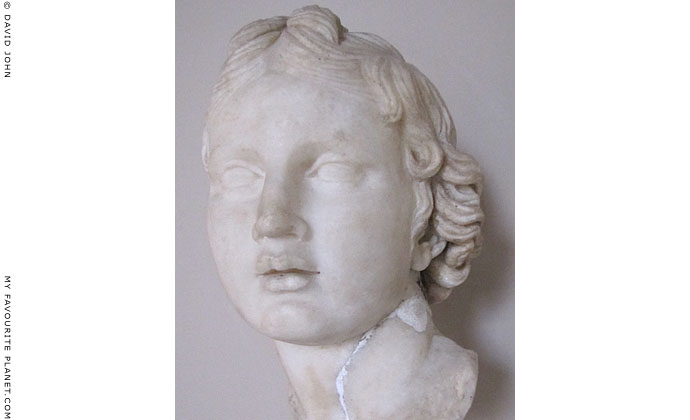 Marble portrait head of a child, from Pergamon. 1st century AD. Istanbul Archaeological Museum.
A sensitive portrait of a young boy, part of a statue made in the first century AD, during the period of Roman rule. According to one theory the head may depict Eros (Cupid).




Roman period, early 1st century AD.
Found at the Sanctuary of Demeter, Pergamon, in 1909.
Height 32 cm.
Istanbul Archaeological Museum. Inv. No. 2161 T (Cat. Mendel 559).

See:

H. Hepding, Athenische Mitteilungen, XXXV, 1910, pages 499-500; plate XXIV, 2.

Gustave Mendel (1873-1938), Catalogue des sculptures grecques, romaines et byzantines, Tome Second, page 282. Musée Impérial, Constantinople (Istanbul), 1914.
Maps, photos and articles: © David John,
except where otherwise specified.

Additional photos: © Konstanze Gundudis

All photos and articles are copyright protected.

Images and materials by other authors
have been attributed where applicable.

Please do not use these photos or articles without permission.

If you are interested in using any of the photos for your website,
blog or publication, please get in contact.

Higher resolution versions are available on request.

Some of the information and photos in this guide to Pergamon
originally appeared in 2004 on davidjohnberlin.de.
Visit the My Favourite Planet Group on Facebook.

Join the group, write a message or comment,
post photos and videos, start a discussion...

Copyright © 2003-2018 My Favourite Planet | contributors | impressum | index of contents | sitemap