Two tributaries of the Bakır Çayı river (the ancient River Kaikos) pass on either side of the Pergamon acropolis: to the west the Bergama Çayı (the ancient Selinus) which flows through Bergama (see map below, and gallery page 3 and page 8); and to the east the Kestel Çayı (the ancient Ketios) which was dammed in 1992 below the acropolis to form an artificial U-shaped lake (see also next page).

Little mention is made of this dam in travel guides, which is strange when one thinks of it as an engineering achievement. But dam-building has recently become a touchy and controversial subject all over the world, from China to Spain and Turkey. The growth of cities, tourism and intensive farming has increased the demand for water and hydroelectric energy. For politicians and business people dams are also prestige projects.

However, many people are becoming increasingly concerned about their effect on the natural and cultural environments. Recent political protests about the Yortanlı Dam project, which threatened to flood the important archaeological site of Allionoi, 18 km northeast of Bergama, caused an international outcry, especially among intellectuals. The dam has now been completed, but due to the political storm and continuing debate it has not yet been activated. Time will tell whether the remains of this ancient spa and health centre can be saved from a man-made deluge.

This whole business makes us wonder what archaeological secrets lay beneath this dam reservoir in Bergama. It has to be admitted though, that it it is a pretty stretch of water and appears to add something to an impressive landscape which has anyway been reshaped by humans over thousands of years.


See a photo of a relief on a sarcophagus rescued by archaeologists during the Kestel Dam salvage excavation, undertaken just before the valley was flooded, on gallery 2, page 10.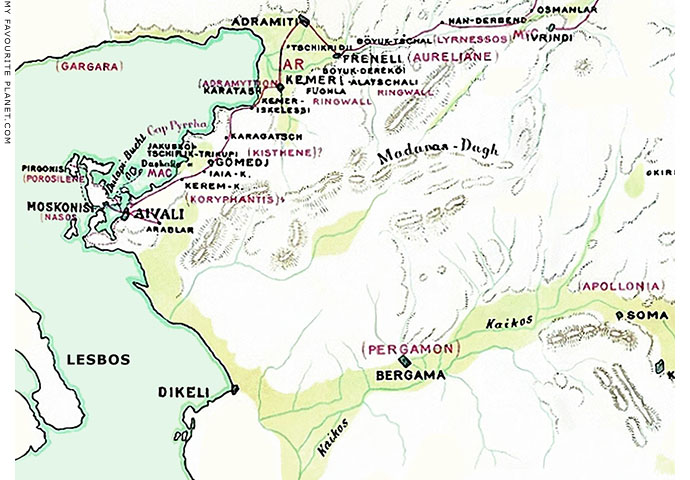 Map of the area around Bergama and the Kaikos River.



Detail of a map of Mysia, produced in Athens, after a sketch illustrating
journeys made in 1902 by German archaeologist Theodor Wiegand
(1864-1936) and geographer Alfred Philippson (1864-1953).



From "Reisen in Mysien" by Theodor Wiegand, published in
Mitteilungen des Deutschen Archäologischen Instituts,
Athenische Abteilung, Heft 29 (1904) (in German) at archive.org.
Map, photos and articles: © David John

Additional photos: © Konstanze Gundudis

All photos and articles are copyright protected.

Images and materials by other authors
have been attributed where applicable.

Please do not use these photos or articles without permission.

If you are interested in using any of the photos for your website,
blog or publication, please get in contact.

Higher resolution versions are available on request.

Some of the information and photos in this guide to Pergamon
originally appeared in 2004 on davidjohnberlin.de.
Visit the My Favourite Planet Group on Facebook.

Join the group, write a message or comment,
post photos and videos, start a discussion...