My Favourite Planet > English > Middle East > Turkey > Kuşadası >

| | | | | | | |
| --- | --- | --- | --- | --- | --- | --- |
| Kuşadası, Turkey | Kuşadası photo gallery | | | 11 of 14 | | |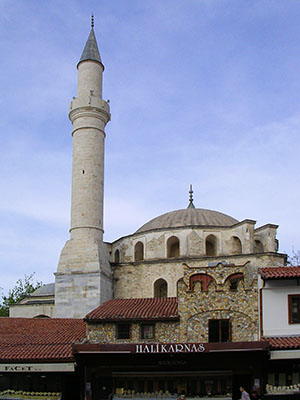 Kale Içi Camii, built by Öküz Kara Mehmed Pasha in 1618, in the old town of Kuşadası.
The statesman and military commander Öküz Kara Mehmed Pasha (died 1619), nicknamed Öküz (the ox) and Kara (black) was Grand Vizier (prime minister) [1] to two Ottoman sultans: 1614-1616 he served Ahmed I Bakhti (builder of the Sultan Ahmed Camii or "Blue Mosque" in Istanbul), and in 1619 Ahmed's ill-fated son Osman II "the Young".

Between these stints as Grand Vizier, Öküz Kara Mehmed Pasha was made governor of the Ottoman vilayet (province) of Aydın, in which Kuşadası was one of the main ports. In an attempt to encourage trade he began a a building programme in Kuşadası which included improvements to the town's fortifications and facilities, the building of a hamam (Turkish bath), the Kale Içi Camii mosque (1618) and the Öküz Mehmed Pasha Han caravanserai (also 1618) in the Kale Içi district around the harbour.

The han is one of many caravanserais built along trade routes through Asia (the best known being the Silk Road) to act as secure inns for travellers, traders and pilgrims, their animals and wares [2]. This fortified hotel consists of two storeys of rooms built around a courtyard approximately 18.5 meters (60 feet) long and 21.6 meters (71 feet) wide. The outer walls are topped by crenellated battlements which were equipped with cannons to fend off pirates.

After the demise of the Ottoman Empire, the caravanserai fell into disuse and disrepair. It was renovated in 1965 and converted into a luxury 26 room hotel, now called the "Club Caravansérail". The courtyard serves as an open-air restaurant with regular Turkish folklore evenings of music and dancing.

Kuşadası gradually lost its importance as an international port, particularly due to the growth of Izmir (then known as Smyrna) which was made the local provinicial capital in 1850, and was connected to other parts of the Ottoman Empire by railways over the following decades. [3]





Kaleiçi Camii mosque undergoing
much-needed renovation in 2013.
Kuşadası
Turkey
Notes, references and links

1. The Turkish word Vizier comes from the Arabic "wazir", bearer of burdens. The office of Grand Vizier as prime minister to the Ottoman sultan became increasingly important as the political and military complexities of ruling the huge empire grew, and especially when young or inexperienced sultans ascended to the throne.

2. The Persian word caravanserai means literally caravavan palace; in Turkish kervansaray or han (from Persian khan); in Arabic funduq.

The Seljuk Turks built the first hans in Anatolia soon after their arrival at the end of the 11th century. The earliest known Turkish han is thought to have been built around 1210 by Sultan Ghiyath ad-Din Kaykhusraw I (ruled 1192-1196, and again 1205-1211).

Hans also served many other functions, including headquarters for travelling sultans and officials, barracks for campaigning troops, jails and postal stageposts.

See Katharine Branning's informative website about Seljuk hans in Anatolia: www.turkishhan.org

3. For further information about Turkish railways, see the following websites:

www.tcdd.gov.tr

Turkish State Railways website, in Turkish and English.

www.seat61.com/Turkey2.htm

Information about train travel within Turkey.

www.trainsofturkey.com

A wiki site for Turkish railways enthusiasts, including history and maps. Run by Jean-Patrick Charrey in Paris, France.



Modern statue of Öküz Kara
Mehmed Pasha, at Kuşadası's
main bazaar, near the harbour.
Map, photos and articles: © David John,
except where otherwise specified.

Additional photos: © Konstanze Gundudis

All photos and articles are copyright protected.

Images and materials by other authors
have been attributed where applicable.

Please do not use these photos or articles without permission.

If you are interested in using any of the photos for your website,
project or publication, please get in contact.

Higher resolution versions are available on request.

Some of the information and photos in this guide to Kuşadası
originally appeared in 2004 on davidjohnberlin.de.
Visit the My Favourite Planet Group on Facebook.

Join the group, write a message or comment,
post photos and videos, start a discussion...