My Favourite Planet > English > Europe > United Kingdom > England > Avebury >

| | | | | | | |
| --- | --- | --- | --- | --- | --- | --- |
| Avebury, Wiltshire | Avebury gallery | | | 22 of 67 | | |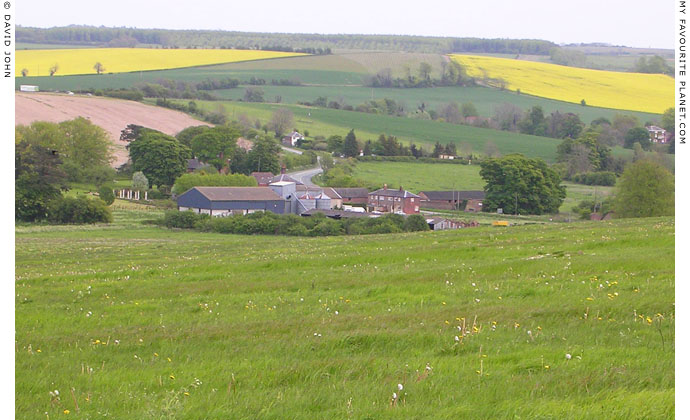 The houses of West Kennet and the A4 road from Waden Hill.
Waden Hill, just south of Avebury, is a long chalk hill, around 1,5 kilometres long and 191 metres high along its rounded top. It is oriented northwest to southeast.

To its west the young Kennet River flows southwards to Silbury Hill and Swallowhead Springs before veering eastwards on its long journey to join the Thames.

To the east lies the broad valley between it and Hackpen Hill and the downs beyond, across which the ancient Ridgeway path runs. Along the bottom of this valley the prehistoric West Kennet Avenue of massive standing stones (see gallery pages 23-43) runs southeastwards alongside the modern B4003 road between Avebury and West Kennet.

At the southern foot of Waden Hill, in the valley between it and the hills to the south of West Kennet, ran the Roman road to Aquae Sulis (Bath) which today has been replaced by the A4.

The Saxon word Waden means heathen, although exactly why the hill was so named remains one of Avebury's mysteries and the subject of yet more speculation.

Drawings by the 17th century antiquarian Dr. William Stukeley (1687 - 1765), who made a study of Avebury's monuments, marks "Windmill Boll" on the north of the hill. However there seems to be no record of a windmill on or near the hill. Yet another minor mystery for Avebury historians to solve.




Signpost near Silbury Hill showing the way from the A4 road, over Waden Hill, along West Kennet Avenue to Avebury.


Silbury Hill
Articles and photos: © David John 2005-2015

Some of the information and photos in this guide to Avebury
first appeared in 2005 on www.davidjohnberlin.de.

We welcome considerate responses to these articles
and all other content on My Favourite Planet.
Please get in contact.
Visit the My Favourite Planet Group on Facebook.

Join the group, write a message or comment,
post photos and videos, start a discussion...

Copyright © 2003-2017 My Favourite Planet | contributors | impressum | index of contents | sitemap