My Favourite Planet > English > Middle East > Turkey > Ephesus >

| | | | | | | |
| --- | --- | --- | --- | --- | --- | --- |
| Ephesus, Turkey | Ephesus photo gallery 1 | | | 1 of 66 | | |


Panorama, westward from the Great Theatre of Ephesus,
built in the Hellenistic period and enlarged circa 50 AD by Emperor Claudius.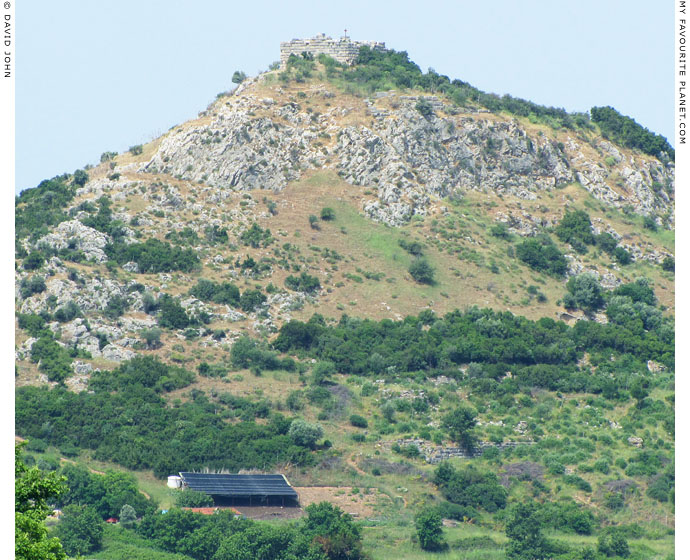 A defensive tower on the peak at the western end of Mount Koressos (Bülbül Daği,
Nightingale Mountain), on the south side of the city of Ephesus. Fortification walls
were built along the top of the mountain during the Hellenistic period. At the time
the foot of this hill was on the coast, overlooking the city's ancient harbour.



Below, to the right of the solar panels, are the ruins of an ancient wall and buildings.



A man-made entrance to a cave high on Mount Koressos.



A local told me that the network of caves had been explored by archaeologists,
who discovered 25 km of tunnels through the mountain, and that they have not
yet discovered an end to them.
Map, photos and articles: © David John

Additional photos: © Konstanze Gundudis

All photos and articles are copyright protected.

Images and materials by other authors
have been attributed where applicable.

Please do not use these photos or articles without permission.

If you are interested in using any of the photos for your website,
blog or publication, please get in contact.

Higher resolution versions are available on request.

Some of the information and photos in this guide to Ephesus
originally appeared in 2004 on davidjohnberlin.de.
Visit the My Favourite Planet Group on Facebook.

Join the group, write a message or comment,
post photos and videos, start a discussion...