My Favourite Planet > English > Europe > Greece > Macedonia >

| | | | | | | |
| --- | --- | --- | --- | --- | --- | --- |
| Polygyros, Halkidiki, Greece | Polygyros gallery | | | 5 of 9 | | |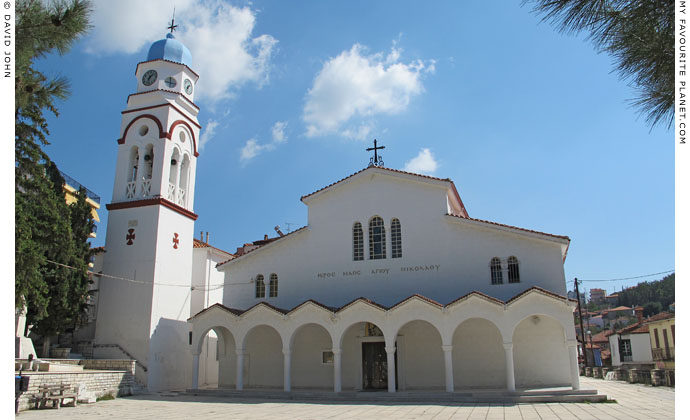 Agios Nikolaos church in the centre of Polygyros



Statue of Kassandreias Eirinaios
at his grave in Agios Nikolaos
churchyard.

Agios Nikolaos (Saint Nicholas) church in Polygyros is a traditional long basilica, with a nave and two aisles and a seven-arched porch. The separate, square-sectioned bell tower, at the northwest corner of the church, is topped by an octagonal clock housing with four clock faces and a blue domed roof which are visible from several vantage points around the town (see gallery page 8).

According to a marble plaque on the bell tower, the clock was donated by Dimitri and Olympia Mareti in 1953.

Directly below the bell tower is the grave of Metropolitan Kassandreias Eirinaios (Κασσανδρείας Ειρηναίος, 1863-1945). A metropolitian in the Greek Orthodox Church is the equivalent of a bishop, and Polygyros is the seat of the Metropolis of Kassandrea (or Kassandreia; Greek, Κασσάνδρεια).

Eirinaios was born Emmanuel Pantoleontos (Εμμανουήλ Παντολέοντος) in the Princes Islands near Constantinople (Istanbul) and died in Polygyros. He is remembered here as a fearless supporter of Greek independence and resistance during the conflicts with Turkey and Bulgaria and the Nazi occupation.


Holy Metropolis of Kassandreia
631 00 Polygyros, Halkidiki, Greece
Tel: (+30) 371 22310 (Secretariat)
See: ecclesia.gr/English/EnDioceses/Kassandreia.html
photos:
© David John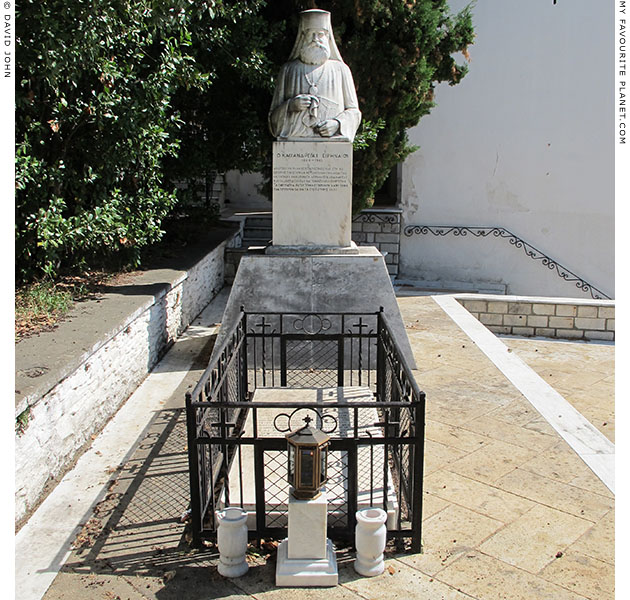 The grave of Metropolitan Kassandreias Eirinaios in the churchyard of Agios Nikolaos, Polygyros.
Text, map and photos: © David John

Additional photos: © Konstanze Gundudis 2012 - 2013

All photos and articles are copyright protected.

Images and materials by other authors
have been attributed where applicable.

Please do not use these photos or articles without permission.

If you are interested in using any of the photos for your website,
blog or publication, please get in contact.

Higher resolution versions are available on request.
See also
The Cheshire Cat Blog
photo essays and
articles about Greece:

Athens (street life)

Athens (Aristotle's Lyceum)

Dion

Meteora

Pella

Polygyros

Thessaloniki

Visit the My Favourite Planet Group on Facebook.

Join the group, write a message or comment,
post photos and videos, start a discussion...










George Alvanos


rooms
in Kavala's historic Panagia District



Anthemiou 35,
Kavala, Greece


kavalarooms.gr