My Favourite Planet > English > Europe > Greece > Attica > Athens > galleries >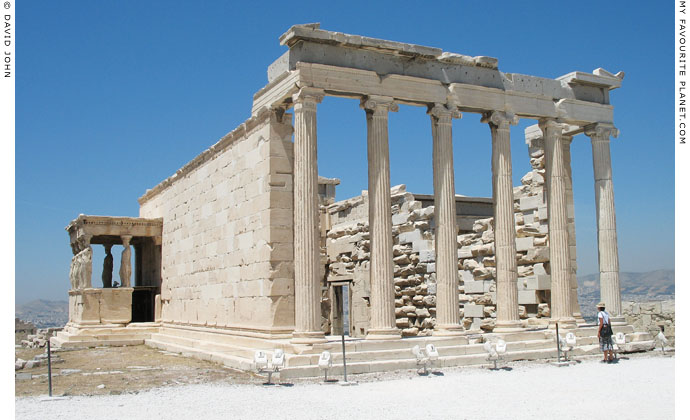 The south and east sides of the Erechtheion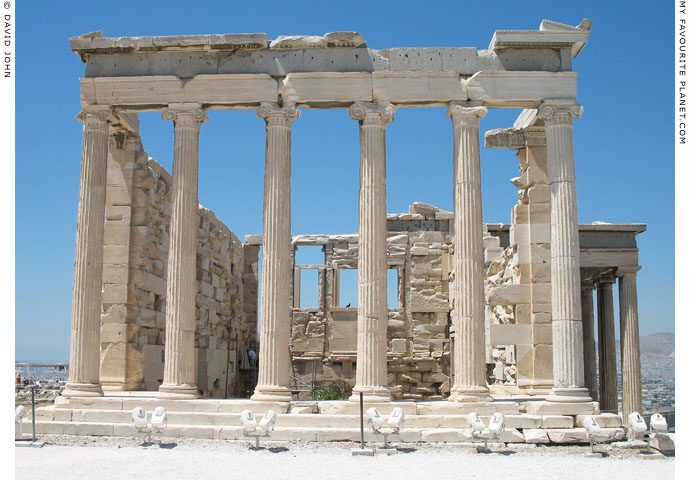 The tall Ionic east porch of the Erechtheion in hexastyle prostyle, that is
with a row of six columns supporting the front of the entablature and roof.
An Ionic column of
the east porch of
the Erechtheion.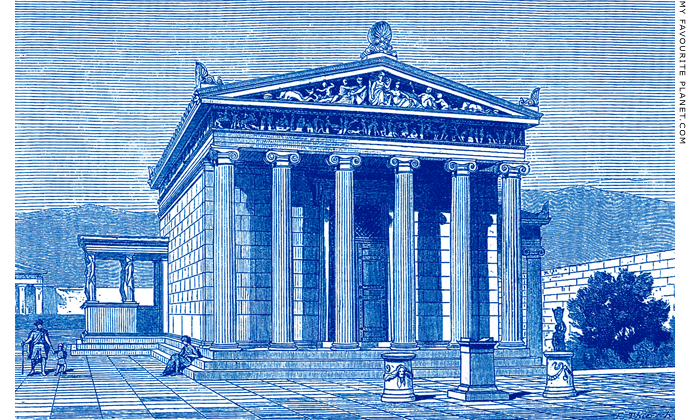 Late 19th century artist's reconstruction of the east side of the Erechtheion.

Illustration by Friedrich von Thiersch, published in Jakob von Falke, Hellas und Rom,
eine Culturgeschichte des classischen Alterthums. W. Spemann, Stuttgart, 1878.
Published in English as Greece and Rome, their life and art. Translated by
William Hand Browne. Henry Holt and Co., New York, 1886.

Bronze lamp in the shape of a warship dedicated to Athena Polias, who was worshipped
in the eastern part of the Erechtheion. The ship is inscribed "sacred object of Athena".

End of the 5th century BC.

Acropolis Museum, Athens. Inv. No. NAM X 7038.
Photos, illustrations, maps and articles: © David John,
except where otherwise specified.

Additional photos: © Konstanze Gundudis

All photos and articles are copyright protected.

Images and materials by other authors
have been attributed where applicable.

Please do not use these photos or articles without permission.

If you are interested in using any of the photos for your website,
project or publication, please get in contact.

Higher resolution versions are available on request.

My Favourite Planet makes great efforts to provide comprehensive and accurate information across this website. However, we can take no responsibility for inaccuracies or changes made by providers of services mentioned on these pages.
Visit the My Favourite Planet Group on Facebook.

Join the group, write a message or comment,
post photos and videos, start a discussion...






George Alvanos
rooms in
Kavala's historic Panagia District
Anthemiou 35,
Kavala, Greece
kavalarooms.gr
Olive Garden Restaurant
Kastellorizo,
Greece
+30 22460 49 109
kastellorizo.de
Papoutsis
Travel Agency
Kastellorizo,
Greece
+30 22460 49 286
greeklodgings.gr