My Favourite Planet > English > Europe > Greece > Dodecanese > Patmos >
| | | | | | | |
| --- | --- | --- | --- | --- | --- | --- |
| Patmos, greece | Patmos gallery | | | 19 of 27 | | |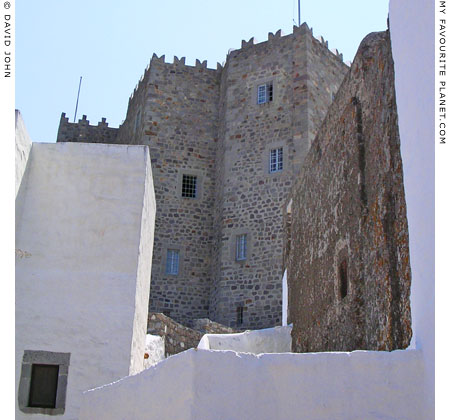 The fortified Monastery of Saint John from the entrance in upper Hora.
The Monastery of Saint John the Theologian

(Η Μονή του Αγίου Ιωάννου του Θεολόγου)



The monastery was founded 1088 by Christodoulos (Ο Όσιος Χριστόδουλος), also known as the Blessed Christodoulos Latrinos of Patmos, an abbot from Nicaea in Bithynia (today İznik, northwestern Turkey), who is thought to have lived around 1020-1093 AD.

See gallery page 22 for further details.



Opening hours

Summer (April - October): Every day 8 am - 1.30 pm
Tuesday, Thursday, Saturday also 4 - 6 pm

Winter (November to March): Every day 8 am - 1 pm

Closed on the first three days of Lent.

Admission FREE

Admission to the Treasury 6 Euros [1]

(The same opening times as the Monastery and Cave of the Apocalypse.)

Tel: +30 22470 20800, 31223

Fax: +30 22470 34098

e-mail: grammateia@patmosmonastery.gr

website: www.patmosmonastery.gr (Greek only)
photos and articles:
© David John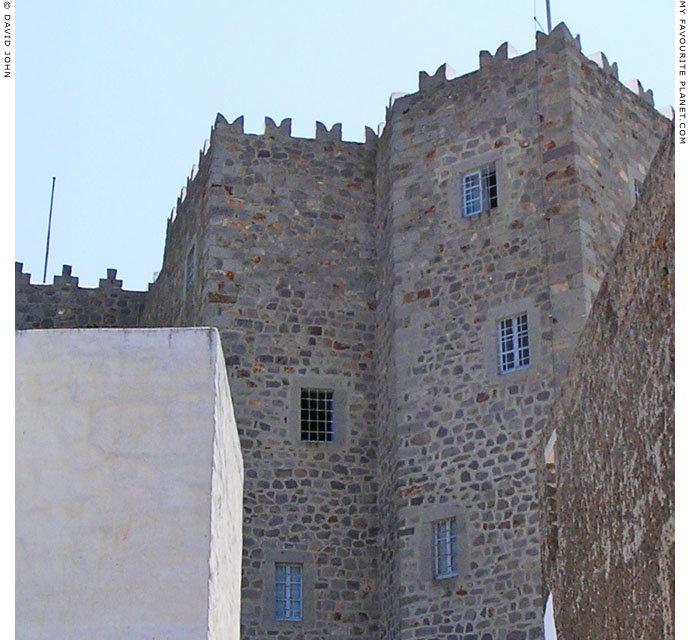 The tower in which the monastery's treasury is housed. Lovely crenellations.
| | | |
| --- | --- | --- |
| Patmos | Notes, references and links | |



1. Admission charges

According to the official website of the Greek Ministry of Culture, admission costs 2 Euros and is "valid for the monastery and the Treasury as well". As with other data on their website, there is no indication of how old this information is, and it seems unlikely to be up-to-date.

See: http://odysseus.culture.gr/h/2/eh251.jsp?obj_id=1489

The monastery's own website www.patmosmonastery.gr, which includes much interesting information about the history and organization of the holy places on Patmos, is in Greek only and does not mention admission charges. Unfortunately, attempts to translate this website using online translation applications such as Google Chrome can lead to some unexpected results. "τό μικρό ἀλλά περιώνυμο νησί τῆς Πάτμου", for example, is translated as "the tiny but notorious island of Patmos".

Other sources state that admission to the treasury now costs 8 Euros, but we have not yet been able to confirm this. If you have any further up-to-date information, please get in contact.

The odysseus culture website adds the following information:

Free admission days:
- 27 September, International Tourism Day;
- Sundays in the period between 1 November and 31 March.

Reduced admission for:
- Persons possessing a free admission card;
- The accompanying parents on educational visits of elementary schools;
- The escorting teachers of schools and institutions of elementary, middle school, high school, university and graduate level education during their visits;

Free admission for:
- Greek citizens and citizens of other member states of the European Union aged over 65 years old by showing their ID card or passport;
- Members of Societies and Associations of Friends of Museums and Archaeological Sites throughout Greece with the demonstration of certified membership card;
- Members of the ICOM-ICOMOS;
- Persons accompanying blind and disabled;
- Students of Higher Education Institutes and equivalent Schools from countries outside the EU by showing their student ID;
- The official guests of the Greek government, with the approval of the General Director of Antiquities;
- University students and students at Technological Educational Institutes or equivalent schools of member states of the European Union and students at Schools of Tourist Guides, by showing their student ID;
- Young people, under the age of 18, after demonstrating the Identity Card or passport to confirm the age.
Maps, photos and articles: © David John,
except where otherwise specified.

Some of the information and photos in this guide to Patmos
originally appeared in 2004 on davidjohnberlin.de.

All photos and articles are copyright protected.

Images and materials by other authors
have been attributed where applicable.

Please do not use these photos or articles without permission.

If you are interested in using any of the photos for your website,
project or publication, please get in contact.

Higher resolution versions are available on request.

My Favourite Planet makes great efforts to provide comprehensive and accurate information across this website. However, we can take no responsibility for inaccuracies or changes made by providers of services mentioned on these pages.
Visit the My Favourite Planet Group on Facebook.

Join the group, write a message or comment,
post photos and videos, start a discussion...