My Favourite Planet > English > Europe > Greece > Dodecanese > Patmos >

| | | | | | | |
| --- | --- | --- | --- | --- | --- | --- |
| Patmos, greece | Patmos gallery | | | 27 of 27 | | |



View towards the northeast of Patmos from Hora village, with 16th century windmills.
Wheat and other cereals have been grown on Patmos since prehistory, and it is believed that the Aegean islands were on one of the main routes along which farming techniques from the Middle East were transmitted to Europe.

Two of these windmills on a hill just below Hora village were built in 1588 (the third in 1863), when the relatively new technology spread throughout Europe. For millenia people had ground cereals for flour by hand or using animal power. Water-powered mills were already in use in Roman times, but the knowledge of this technology was lost in many places during Medieval times, and was not suitable for such dry places as Patmos.

Windmills caused something of a technological revolution in Europe at the time of the Renaissance as they represented the first widespread use of large machinery. Farmers would bring their cereals to the millers, many of whom became wealthy from the trade.

Following the Industrial Revolution, flour production was increasingly moved to larger factories powered by steam, then electricity, making the old windmills redundant. Flour production on Patmos finally ceased in the 1950s and the windmills were abandoned and became derelict.

Since 2009 the windmills have been restored for use as an example of conservation, alternative technology, as a cultural and educational resource and tourist attraction.

For further information see:

Windmills of the Monastery of St. John the Theologian
at www.thebestinheritage.com

www.europanostra.org/awards/71/

The International Molinological Society (TIMS)
www.molinology.org

Ελληνικοί Μύλοι, Greek Mills by TIMS members
www.hellenicmills.gr (Greek only)

See also photos of windmills on the island of Samos
on Samos gallery pages 46-47.
photos and articles:
© David John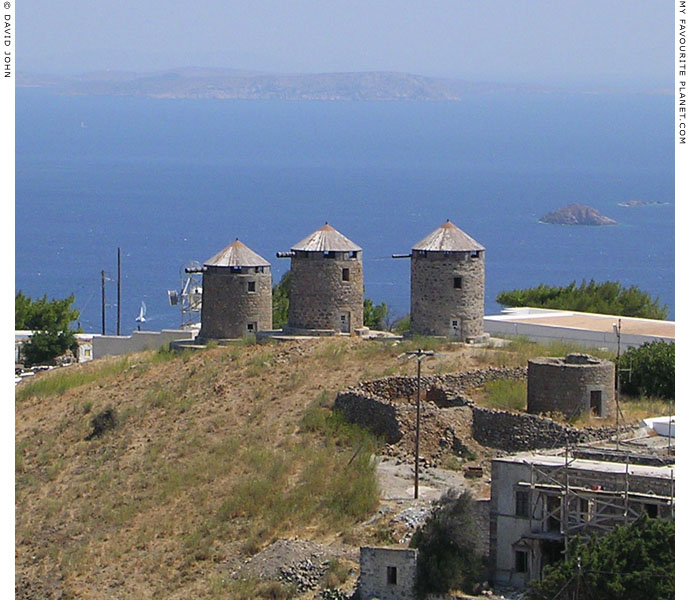 Since this photo was taken (in 2003) the windmills have been restored and sails added.
Maps, photos and articles: © David John,
except where otherwise specified.

Some of the information and photos in this guide to Patmos
originally appeared in 2004 on davidjohnberlin.de.

All photos and articles are copyright protected.

Images and materials by other authors
have been attributed where applicable.

Please do not use these photos or articles without permission.

If you are interested in using any of the photos for your website,
project or publication, please get in contact.

Higher resolution versions are available on request.

My Favourite Planet makes great efforts to provide comprehensive and accurate information across this website. However, we can take no responsibility for inaccuracies or changes made by providers of services mentioned on these pages.
Visit the My Favourite Planet Group on Facebook.

Join the group, write a message or comment,
post photos and videos, start a discussion...