My Favourite Planet > English > Europe > Greece > Dodecanese >
| | | | | | |
| --- | --- | --- | --- | --- | --- |
| Patmos, Greece | Practical information for Patmos | | | page 2 | |

Hora, the main village of Patmos, hugging the hillside beneath the fortified Monastery of Saint John.
Please note: Due to Greece's economic crisis, information about
opening times, timetables, ticket prices, etc. is changing continually.

Many tourist information offices have been closed, and many official
websites offer no indication of these changes.

Below is the most up-to-date information we have been able to find.

If you have any more up-to-date information you would like to share,
please get in contact.

Opening times for
the Monastery of Saint John the Theologian
and the Cave of the Apocalypse

Summer (April - October): Every day 8 am - 1.30 pm
Tuesday, Thursday, Saturday also 4 - 6 pm

Winter (November to March): Every day 8 am - 1 pm

Closed on the first three days of Lent.

Admission: FREE

Admission to the Treasury in the Monastery of Saint John: 6 Euros

Photos and further information in the photo gallery:

The Cave of the Apocalypse

The Monastery of Saint John the Theologian

Patmos
Addresses and
telephone numbers

Tourist Information Office of Patmos Municipality
Tel: +30 22470 31666

This telephone number turns out to be that of:

The Orthodox Culture and Information Centre
which has information, brochures and timetables.

Directly in front of the ferry port at Skala.
(See photo on gallery page 7.)

Opening hours:
April-October, Daily 9 am - 1 pm and 5 - 9 pm.

Tel: +30 22470 33316

As the name suggests, the centre provides information about the Greek
Orthodox Church and the island's churches, chapels and monasteries.
There are also multimedia exhibits on the religious heritage of Patmos.

Municipality of Patmos
Town Hall, 85500 Patmos, Dodekanissos, Greece.
Tel: +30 22473 60300
Fax: +30 22473 (22470) 31577
E-mail: patmos@aigaio.gr
Website: www.patmos.gov.gr

Port Authority of Patmos
85500 Patmos, Dodekanissos, Greece.
Tel: +30 22470 31231
Fax: +30 22470 34131
E-mail: yxpatmou@hcg.gr
Website: www.hcg.gr/node/236

Police Department of Patmos
Tel: +30 22470 31303, 44147
Fax: +30 22470 31000

Health centre
Tel: +30 22470 31211

Pharmacy
Tel: +30 22470 031500

Taxi
Tel: +30 22470 31225
| | | | |
| --- | --- | --- | --- |
| Patmos | How to get to Patmos | | |
By air

There is no airport on Patmos.

If you are rich or important enough, there is a helicopter pad.

The nearest international airports are on the islands of Samos, Kos and Rhodes, and at Athens.
Leros island has a domestic airport with connections to Athens.

All the above locations have ferry connections with Patmos.

Olympic Air: www.olympicair.com

Aegean Air: www.aegeanair.com



By ferry

NOTE: Due to the economic crisis in Greece many ferry services have been reduced or suspended and fares substantially increased. The latest accurate information is difficult to find, even on the websites of ferry companies. Always check at local travel agents, ferry ports and tourist information offices.

All ferries to Patmos land at the main port Skala.

Patmos is well situated for island hopping, with regular connections with other Dodecanses islands, the Cyclades, Northern Aegean islands and Athens.

There are ferries to/from Turkey at Samos (for Kusadasi and on to Ephesus), Kos (for Bodrum) and Rhodes (for Marmaris).

Ticket prices and schedules change continually and often the information on websites of ferry companies is difficult to find or decipher, or out of date. Try phoning the company (numbers on the respective websites) or ask at a travel agency for the latest information.

Unfortunately, it is often the case that reliable up-to-date information about schedules and fares for all kinds of transport around Greece (ferries, buses, trains) is only available at the place from which you want to travel.

There are far fewer ferries in winter (October-May), and some services stop altogether.



Piraeus to Patmos

There are daily ferries between Piraeus (the port of Athens) and Rhodes, stopping at other Dodecanese islands including Patmos.

The current single fare Piraeus-Patmos is 36 Euros. Infants 0-4 years old and bicycles travel free, and there is a 50% discount for children 4-10 years old.

Ferries for the Dodecanese islands arrive at and depart from Piraeus port Gate E1.

Tickets are purchased at kiosks at the port. Signs above the kiosks indicate which destinations they serve. If you are not sure, ask a local. Get there early as there are often long queues.

Ferries are operated by:

Blue Star Ferries (Piraeus-Patmos 7 hours) bluestarferries.com

ANEK ferries (Piraeus-Patmos 9-10 hours) web.anek.gr

Faster high-speed catamaran ferries are operated by Dodekanisos Lines between Rhodes and the islands of Symi, Kos, Kalymnos, Leros, Lipsi, Patmos and Agathonisi. 12ne.gr/en/index.asp

A single passenger fare Rhodes-Patmos is 46 Euros.
Taking a car costs 109 Euros.

Even faster Flying Dolphin hydrofoils operate between the islands July-September, when there is not too much wind! Hydrofoils are at least twice as fast as normal ferries, and tickets are often double the price. aegeanflyingdolphins.gr

Catamarans and hydrofoils may be faster, but they are closed-in like planes. Hydrofoil rides can get very bumpy during windy weather. Conventional ferries allow you to lounge on a deck and enjoy the sea air and the sights of the islands floating by.



Samos to Patmos

There are also small ferries between the islands operated by local companies. For example there is a daily excursion ferry in summer from the port of Pythagorio on Samos to Patmos. It departs from Pythagorio Sunday-Friday at 8 am, and departs from Patmos for the return trip at 4 pm. Journey time around 2.5 hours. Return fare around 35 Euros. This ferry does not carry vehicles.

The ferry is very small, and the crossing can get rough when the waves are up. Best avoided on windy days, but otherwise a pleasant crossing. 5 hours on Patmos gives you just about time to see Skala and Hora. The monasteries close at 1.30 pm!

It appears that there is now a fast hydrofoil service between Samos and Patmos.
See How to get to Samos.
| | | | |
| --- | --- | --- | --- |
| Patmos | Getting around Patmos | | |
Patmos is a small island, only 12 km long from north to south, and 10 km from east to west at its widest point. Its landscape consists of a series of low, rounded hills, the highest being Profitis Ilias which is only 269 metres high. However, some of the hills are quite steep, making walking and cycling strenuous, especially during the hot summer months when temperatures can reach over 40 degrees centigrade.

The main road through the island, which runs roughly north-south between the main settlements, and a few smaller branch roads are paved. Otherwise, many roads are dirt tracks.

Bus


As ever in Greece, buses are the chepest and most convenient way to travel around. There are bus services connecting the main settlements and tourist attractions of Patmos, although some are not very frequent, even in summer.

Buses to/from Skala ferry port

Hora 7 per day (for the Monastery of Saint John, via the Cave of the Apocalypse)

Groikos 3 per day (via the Cave of the Apocalypse)

Kambos 3 per day
Patmos bus times

(summer 2014)

Skala to Hora
AM: 7.40, 9.15, 11.30
PM: 12.30, 1.30, 3.30, 4.30, 5.30,
7.30, 8.40, 9.30

Skala to Groikos
AM: 9.15
PM: 12.30, 1.30, 3.30, 4.30, 5.30, 9.30

Skala to Kambos
AM: 8.15, 10.30
PM: 2.15, 6.30

Kambos to Skala
AM: 8.40, 11.00
PM: 3.00, 7.00

Hora to Skala
AM: 8.00, 10.00, 12.00
PM: 1.00, 1.45, 3.45, 5.00, 5.45,
8.05, 9.00, 9.45

Hora to Groikos
AM: 9.30
PM: 1.45, 3.45, 5.45, 7.40, 9.45

Groikos to Hora
AM: 9.45
PM: 12.45, 4.45, 7.50

Groikos to Skala
AM: 9.45
PM: 12.45, 2.00, 4.00, 4.45, 6.00, 10.00
Taxi

If you are in a hurry or have a lot of luggage, taxis can save you a lot of time and hassle. Taxis in Greece are relatively cheap, especially when the fare is shared between 3-4 people.

There are few taxis on Patmos and they are in great demand in the summer.

Taxis: +30 22470 31225



Car, motorbike

The larger ferries from Piraeus and Rhodes take motor vehicles.

Car and scooters can be rented at the main port Skala.



Walking and cycling

Walking and cycling on Patmos can be a joy, especially as the views of the landscape and the surrounding sea are so beautiful. Distances are short, but the going is often steep and rugged, and can be pretty stenuous in summer. Take plenty of water with you.

Along the main roads little provision has been made for pedestrians: there is often no sidewalk, hard-shoulder or space to get out of the way of traffic. This causes stress and can be dangerous. There are many dirt track roads and footpaths away from the main roads, although recently many footpaths have been destroyed by the building of new tourist accommodation and luxury villas.


| | | | |
| --- | --- | --- | --- |
| Patmos | Patmos Map | | |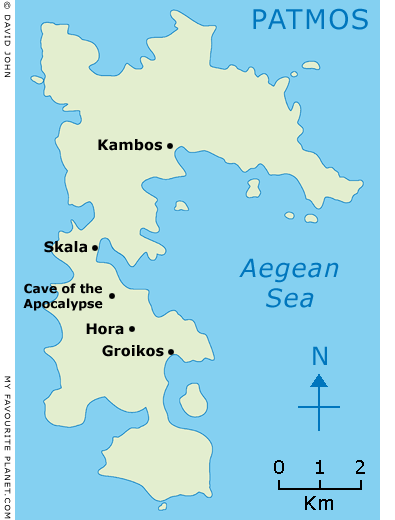 Map of Patmos


| | | | |
| --- | --- | --- | --- |
| Patmos | Area map | | |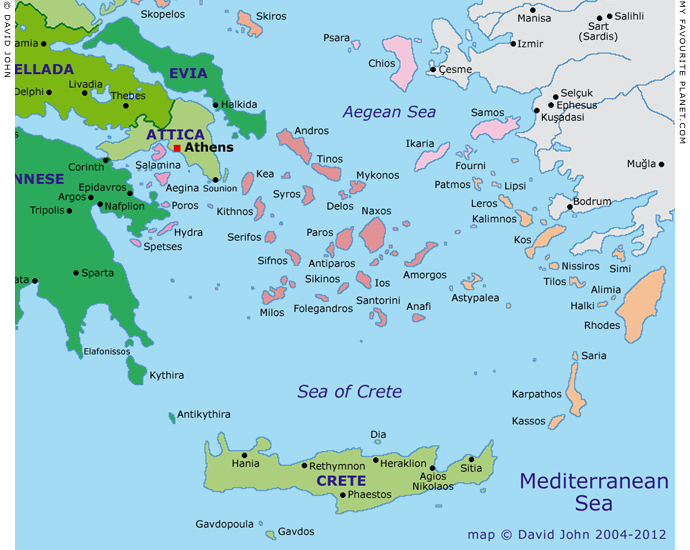 Map of the Dodecanese and the Southern Aegean

Colour key for Greek island groups (west-east)


| | | | | | | | | | | | | | | | | | | |
| --- | --- | --- | --- | --- | --- | --- | --- | --- | --- | --- | --- | --- | --- | --- | --- | --- | --- | --- |
| | | Argo-Saronic | | | | Sporades | | | | Cyclades | | | | Northern Aegean | | | | Dodecanese |

See also our interactive map of Greece.
Maps, photos and articles: © David John,
except where otherwise specified.

Some of the information and photos in this guide to Patmos
originally appeared in 2004 on davidjohnberlin.de.

All photos and articles are copyright protected.

Images and materials by other authors
have been attributed where applicable.

Please do not use these photos or articles without permission.

If you are interested in using any of the photos for your website,
project or publication, please get in contact.

Higher resolution versions are available on request.

My Favourite Planet makes great efforts to provide comprehensive and accurate information across this website. However, we can take no responsibility for inaccuracies or changes made by providers of services mentioned on these pages.
Visit the My Favourite Planet Group on Facebook.

Join the group, write a message or comment,
post photos and videos, start a discussion...
Olive Garden Restaurant
Kastellorizo,
Greece
+30 22460 49 109
kastellorizo.de
Papoutsis
Travel Agency
Kastellorizo,
Greece
+30 22460 49 286
greeklodgings.gr






George Alvanos
rooms in
Kavala's historic Panagia District
Anthemiou 35,
Kavala, Greece
kavalarooms.gr