My Favourite Planet > English > Europe > Greece > Macedonia >

| | | | | | |
| --- | --- | --- | --- | --- | --- |
| Veria, Macedonia, Greece | Veria facts and figures | | | page 3 | |




A mosaic of doves at the monument to Saint Paul the Apostle in Veria.

addresses and telephone numbers
International dialling code for Greece: +30
Veria KTEL inter-city bus station

28 Hras Street.

KTEL Imathias bus company:
www.ktel-imathias.gr (Greek only)
23310 22342
Veria railway station

3 km outside the town.
Local blue buses (€1) and taxis shuttle between the station and town centre.
23310 24444
For further information about trains and buses to Veria,
see How to get to Veria (next page).
Veria Tourist Information

2 Verois Street.
23310 75333-4
Veria Archaeological Museum

47 Leoforos Anixeos, 59100 Veria.

Information: odysseus.culture.gr

Tickets: €2, reduced €1

Winter: Tuesday-Sunday 9:00 - 17:00

Summer: Tuesday-Sunday 9:00 - 17:00

Mondays closed
23310 24972
Byzantine Museum, Veria

26 Thomaidou Street.
23310 25847
Veria Municipality
official website:

www.veria.gr

(Greek only)
Archaeological Site
and Museum of Aigai

59031 Vergina
(14 km southeast of Veria).

Exhibits treasure from the Macedonian
Royal Tombs.

For further details see:
Travelling between Veria and Vergina
(next page)
www.aigai.gr

(Greek & English)

23310 92347
Tourist Police, Vergina
23310 92061

23311 92071
Veria,
Macedonia,
Greece
Facts and figures
name:
Veria, also known as Véroia, Verria (Greek, Βέροια or Βέρροια).

Ancient name Beroea or Berea; in Classical times Feria (Φέροια).

During the Ottoman period it was known as Kara Ferye.


location:
The municipality of Veria is the capital of Imathia regional unit,
in the Central Macedonia region, northern Greece.

See the interactive map of Macedonia below


geography:
Veria lies on a plateau at the foot of Mount Vermion,
above and to the north of the Central Macedonian Plain.
The Tripotamos river flows through the town, then joins
the Haliacmon further south.

The ski resort of Mount Vermion is 22 km west of the city.


distances:
Distances are approximate, and vary according to route.

508 km north of Athens

70 km west of Thessaloniki

14 km northwest of Vergina, the site of the ancient Macedonian
capital of Aigai (see next page)

55 km southwest of Pella, the second ancient capital of Macedonia
and birthplace of Alexander the Great


region:
Central Macedonia (Κεντρική Μακεδονία)
Part of the semi-autonomous Region of Macedonia (Macedonia
and Thrace)


regional unit:
Imathia (Ημαθία),
divided into 5 municipalities and communities


coordinates:
40° 31′N, 22°1 2′E


elevation:
128 metres (420 feet)


area:
municipality: 791.4 square km (306 sqare miles)


climate:
Mediterranean (temperate, with wet winters and hot, dry summers); cooler and wetter than in southern Greece.


population:
municipality: 66,547 (2011)
municipal unit: 48,306 (2011)


economy:
Mostly agricultural produce: cotton, wool, wheat, fruit and vegetables; cattle, sheep and poultry.

There are lignite mines in the area, and an electricity-generating wind farm, to be the largest in Greece, is also planned.


currency:
Euro (€)


telephone:
+30 2331


postcode:
591 00


local time:
Eastern European Time (EET)

Daylight Saving Schedule:

Summer (from last Sunday in March) GMT/UTC +3 hours

Winter (from last Sunday in October) GMT/UTC +2 hours
Veria,
Macedonia,
Greece
Area map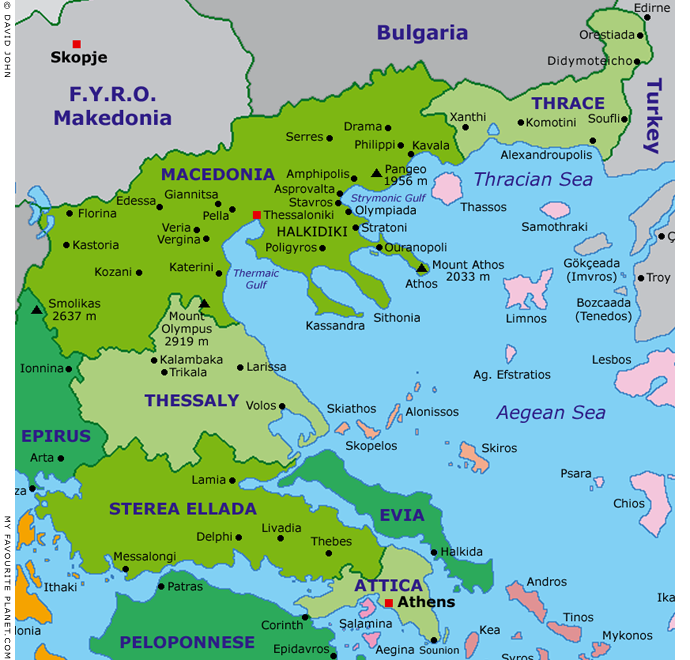 Interactive map of Macedonia and the North Aegean Sea.

See also our interactive map of Greece.
Photos, maps and articles: copyright © David John,
except where otherwise specified.

Some of the information and photos in this guide to Veria
originally appeared in 2004 on davidjohnberlin.de.

All photos and articles are copyright protected.

Images and materials by other authors
have been attributed where applicable.

Please do not use these photos or articles without permission.

If you are interested in using any of the photos for your website,
project or publication, please get in contact.

Higher resolution versions are available on request.

My Favourite Planet makes great efforts to provide comprehensive and accurate information across this website. However, we can take no responsibility for inaccuracies or changes made by providers of services mentioned on these pages.
Visit the My Favourite Planet Group on Facebook.

Join the group, write a message or comment,
post photos and videos, start a discussion...




George Alvanos
rooms in
Kavala's historic Panagia District
Anthemiou 35,
Kavala, Greece
kavalarooms.gr