My Favourite Planet > English > People >


Thucydides



Thucydides (Θουκυδίδης, Thoukydides; circa 460-395 BC) was a Greek politician, general and historian from Alimos (Άλιμος), a coastal district of Athens. He also owned an estate including gold mines at Scapte Hyle, near Neapolis (today

Kavala

), on the Thracian coast of the Northern Aegean Sea, opposite the island of Thasos

[1]

.

It was at Scapte Hyle that Thucydides spent his last years, following his banishment from Athens, and completed his work

History of the Peloponnesian War

(

Ιστορία του Πελοποννησιακού Πολέμου

), an account of the war between Athens and Sparta and their allies in the 5th century BC. Although quite different in style and approach to the

Histories

of

Herodotus

, it continues historically from where Herodotus left off, at the end of the Greek-Persian wars. In turn, the Athenian soldier and historian Xenophon continued the story in his own way

[2]

.




Marble bust of Thucydides.

From a double herm of Thucydides
and Herodotus (see photo below).
The heads are early 2nd century AD copies
of early 4th century BC Greek originals.

Found in Hadrian's Villa, Tivoli, around
1547-1555. Later in the Farnese Collection.

National Archaeological Museum,
Naples. Inv. No. 6239.


Marble head of Thucydides. 1-100 AD.

Ashmolean Museum, Oxford. On loan
from the Franziska Winters Collection.
Inv. No. LI1022.2.


Marble bust of Thucydides. Thought to be
a Roman copy of a 4th century BC original.
Holkham Hall, Norfolk, England.

Source: Anton Hekler (1882-1940),
Greek & Roman portraits.
Putman, New York, 1912. At archive.org.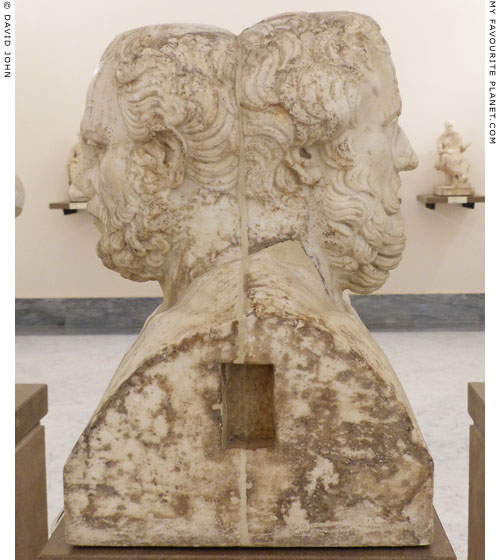 Side view of the double herm of Thucydides (left) and Herodotus in Naples.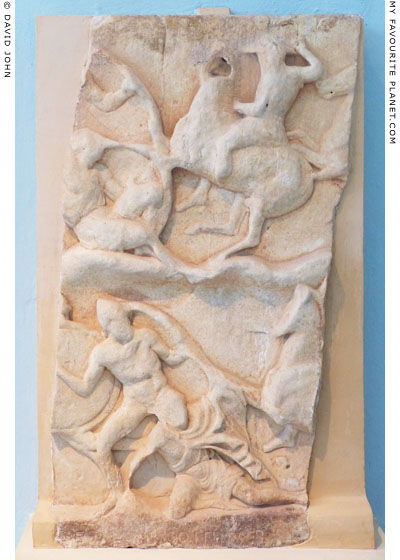 The inscribed relief of Pythodoros, son of Epizelos,
with a depiction in two zones of a battle between
Athenian cavalry and Spartan infantry.



Last quarter of the 5th century BC.



Eleusis Archaeological Museum. Inv. No. 5101.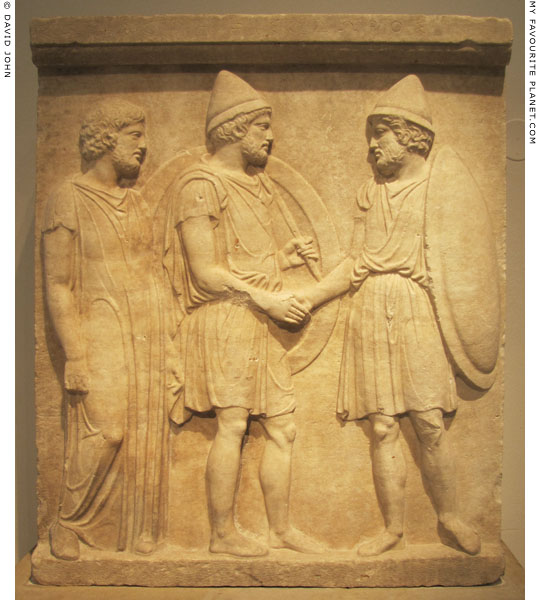 The funerary relief of Sosias and Kephisodoros, from the time of the final phase
of the Peloponnesian War. Two Athenian citizen soldiers, with large round
shields and cone-shaped pilos helmets (see Medusa), shake hands in farewell.
On the left, the bearded man in the robes of an Athenian priest may have been
a seer who was consulted before a battle.



Marble. Around 410 BC.



Altes Museum, Berlin. Inv. No. Sk 1708. Acquired in 1910 in Paris.
| | | |
| --- | --- | --- |
| Thucydides | Notes, references and links | |

1. Scapte Hyle (Σκαπτὴ Ὕλη, a forest that may be dug; also referred to as Scaptensula, foss wood).

"Indeed the Muses, it appears, called exile to their aid in perfecting for the ancients the finest and most esteemed of their writings. 'Thucydides of Athens composed the history of the war of the Peloponnesians and Athenians' in Thrace at Scapte Hyle; Xenophon wrote at Scillus in Elis, Philistus in Epeirus, Timaeus of Tauromenium at Athens, Androtion of Athens at Megara, and the poet Bacchylides in the Peloponnese."

Plutarch, Moralia, On Exile, section 14. English translation by Phillip H. De Lacy and Benedict Einarson. Loeb Classical Library, 1959. At Bill Thayer's LacusCurtius: Into the Roman World, University of Chicago.

See also:

Thucydides, The Peloponnesian War, Book 4, chapter 105, section 1.

Plutarch, Lives: Cimon, Chapter 4.

Both at Perseus Digital Library.

2. Xenophon of Athens (Ξενοφῶν, circa 430-354 BC), general, historian and philosopher; pupil of Socrates.

A profile of Xenophon will appear in this section at some point. Meanwhile, read an anecdote by the author about his military adventure in Pergamon on History of Pergamon.
Photos and articles © David John, except where otherwise specified.
Visit the My Favourite Planet Group on Facebook.

Join the group, write a message or comment,
post photos and videos, start a discussion...