The 269 metre high hill of Profitis Ilias (Προφήτης Ηλίας, Prophet Elias), 1 km southwest of Hora, is the highest point on Patmos. Some maps show it as 273 metres high, but presumably they have added the monastery to the altitude.

The small fortified Monastery of Profitis Ilias (Κάθισμα Προφήτου Ηλιού) was founded in 1764 by the monk Neophytos from the island of Symi (Νεόφυτος Συμιακός). The monastery is not normally open to the public, except for religious services, particularly the feast day of Elias on 20th July.

The monastery's domed, single-aisled church contains a wooden, gold-plated iconostasis made in 1795 and an icon of Saint Basil (Αγίος Βασιλείος) painted in 1785 by Konstantis Kydoniaios (Κωνσταντης Κυδωνιαίος) from Crete.

A steep stone stairway leads up to the monastery, and many people climb up here to enjoy the panoramic view across the island and Aegean Sea. On a clear day several of the surrounding islands can be seen in the distance. The peak is especially popular at sunset, and in summer the place can get quite crowded. If you can get up early enough, the vista at sunrise and in the serene early-morning light is much more tranquil. Given the spiritual inclinations of many visitors to Patmos, you may also find people praying or practicing yoga here.

The walk from Hora and the climb up to the summit takes 30-60 minutes.

The Jewish prophet Elias is known in English as Elijah (Hebrew אֱלִיָּהוּ, Eliyahu, "My God is Yahweh"; also known as Προφήτης Ηλίας ο Θεσβίτης, Prophet Elias the Thisbite), whose exploits appear in the Old Testament Book of Kings. He is thought to have lived in the northern kingdom of Israel in the 9th century BC, during the reign of Ahab.

His importance to Christians is due to associations made between him and Christ and John the Baptist in the New Testament. He is popular in the Greek Orthodox Church, and there are innumerable churches dedicated to him throughout Greece, mostly on the tops of hills and mountains, which are also named after him.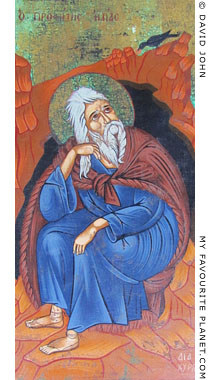 Prophet Elias being fed by
a raven on Mount Horeb,
in an icon at Profitis Ilias
Church, Kalambaka,
Meteora, Greece.