My Favourite Planet > English > Europe >

Greece
Geography of Greece

| | | |
| --- | --- | --- |
| | page 2 | |


Greece lies at the southern end of the chain of mountains which form the Balkan peninsula. The mountains forming the Greek mainland tumble into the Mediterranean and reappear here and there as islands. Many of the over 2000 islands (some estimate as many as 6000) are merely barren rocks and only 227 are populated. The largest, Crete is potentially self-sufficient in terms of food and water, while others sometimes have to ration water or import it by tanker.

Greece is bordered to the north by Albania, the former Yugoslavian republic of Macedonia, Bulgaria and to the northeast by Turkey. To the west lies the Ionian Sea and to the east the Aegean Sea.

Other branches of the Mediterranen around Greece include the Thracian Sea and the Sea of Crete.

Greece's geography and climate are well suited to a wide variety of farm produce including: olives, grapes, citrus fruit, tobacco and wheat.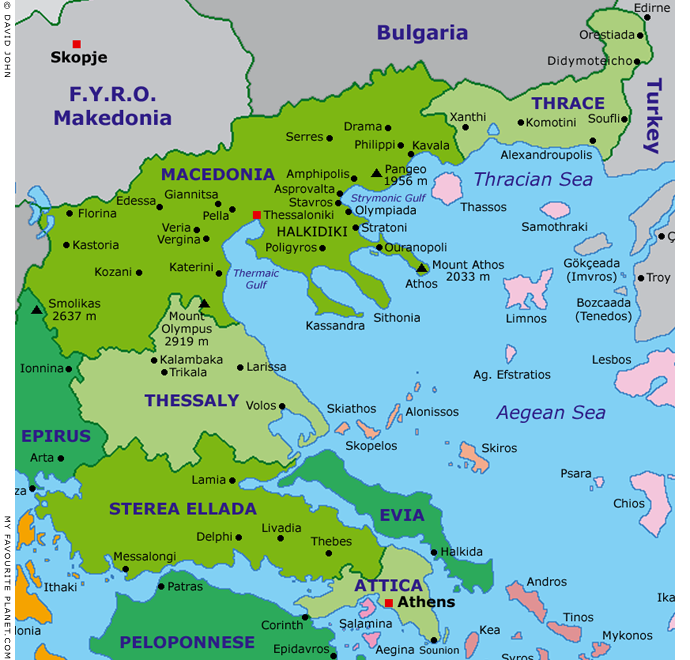 Interactive map of Central Greece, Macedonia and the North Aegean Sea.

See also our interactive map of Greece.
Text, map and photos: © David John

Some of the information and photos in this guide to Greece
originally appeared in 2003-2005 on davidjohnberlin.de.
Visit the My Favourite Planet Group on Facebook.

Join the group, write a message or comment,
post photos and videos, start a discussion...














George Alvanos


rooms
in Kavala's historic Panagia District



Anthemiou 35,
Kavala, Greece


kavalarooms.gr



Olive Garden Restaurant


Kastellorizo, Greece



+30 22460 49 109


kastellorizo.de



Papoutsis
Travel Agency


Kastellorizo, Greece



+30 22460 49 286


greeklodgings.gr