My Favourite Planet > English > Europe > Greece > Macedonia > Stageira & Olympiada >

| | | | | | | |
| --- | --- | --- | --- | --- | --- | --- |
| Stageira & Olympiada | Olympiada gallery | | | 1 of 18 | | |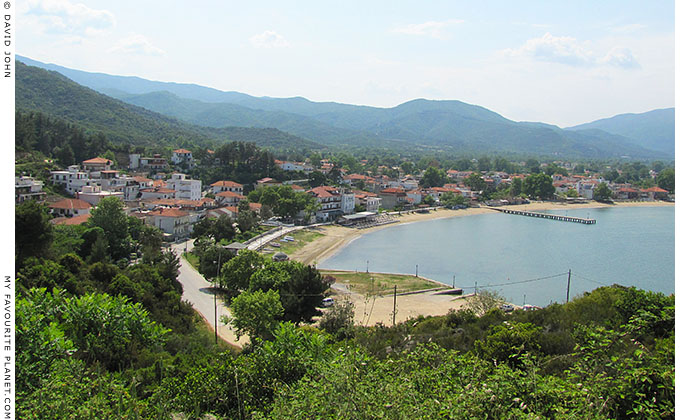 The village and beach of Olympiada from the ancient city of Stageira.
18 pages of photos and information about
Olympiada village, Halkidiki, Macedonia, Greece.
The small village of Olympiada is set in landscape typical of eastern Halkidiki, with its wooded hills and rows of sandy bays. The village itself stands on a wide beach with clean, clear water. At the south side, just beyond the fishing harbour which is home to numerous small boats, are the two wooded hills of the Liotopi peninsula, the site of the ancient city of Stageira, the hometown of the philospher Aristotle.

It is a relatively modern village, founded by Greek refugees from Turkey in the 1920s (see history part 7). It has developed into a low-key beach resort with two excellent small hotels, rented rooms and apartments and a handful of good restaurants, and has retained its relaxed, friendly village atmosphere.

As with most resorts in Halkidiki it does not cater for mass-tourism. The majority of holiday-makers who visit here are people seeking a safe, quiet seaside retreat with attractive countryside and opportunites for day-trips around Macedonia. The area is particularly popular with families. Visitors come here from all over the world, particularly from central and eastern Europe, many to see Aristotle's birthplace.

The villagers are friendly, the swimming is good, and the beauty of local countryside is ideal for walking, cycling or driving around.

If you have your own transport, it is quite easy to visit other places around Halkidiki, such as Ouranopolis, Polygyros, Olynthos and the wild areas of Mount Stratonikos and Mount Holomontas just west of Olympiada. Also nearby in Macedonia are Thessaloniki, Pella, Veria and Vergina, Amphipolis, Kavala and Philippi.

Public transport around Halkidiki is a bit trickier (see page 11: how to get there), with bus services around the peninsula centred at Thessalonika.

The place is simply beautiful and highly recommended.



Modern statue
of Aristotle
in Olympiada

See Olympiada
gallery page 5.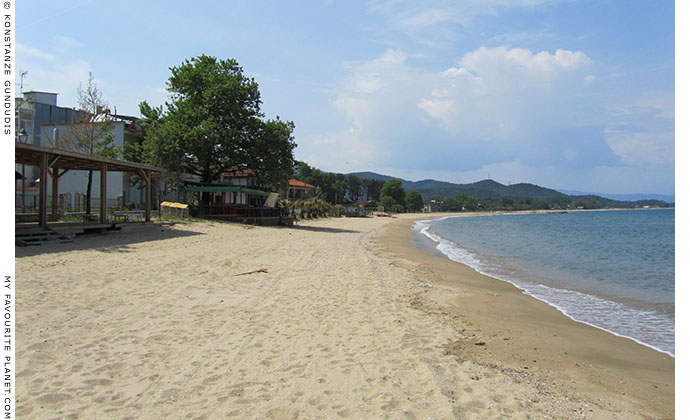 Olympiada beach.



This photo of Olympiada's long stretch of sandy beach was taken on a May morning, which
explains why looks is so empty. But even in summer it never gets crowded. On the left are
the beach-side restaurants which are of decent quality and have reasonable prices.



For those who prefer more secluded beaches, there are is a series of small, attractive coves which
begins around 1km south of the village. See a photo of this stretch of coast as seen from the
acropolis of Ancient Stageira on Stageira gallery page 13. There no buses south of Olympiada,
so if you do not have your own transport, you can walk, hitchhike or take a local taxi.

photo: © Konstanze Gundudis 2012.
Photos, maps and articles: copyright © David John,
except where otherwise specified.

Additional photos: copyright © Konstanze Gundudis

All photos and articles are copyright protected.

Images and materials by other authors
have been attributed where applicable.

Please do not use these photos or articles without permission.

If you are interested in using any of the photos for your website,
project or publication, please get in contact.

Higher resolution versions are available on request.

My Favourite Planet makes great efforts to provide
comprehensive and accurate information across this
website. However, we can take no responsibility for
inaccuracies or changes made by providers of services
mentioned on these pages.
Visit the My Favourite Planet Group on Facebook.

Join the group, write a message or comment,
post photos and videos, start a discussion...





George Alvanos
rooms in
Kavala's historic Panagia District
Anthemiou 35,
Kavala, Greece
kavalarooms.gr