My Favourite Planet > English > Europe >
| | | | | |
| --- | --- | --- | --- | --- |
| Greece | Facts and figures | | page 4 | |

name:

Greece (Ελλάδα, Ellada; Hellas,)

official name: the Hellenic Republic (Ελληνική Δημοκρατία, Elliniki Dhimokratia)

ancient name: Hellas (Ελλάς, Ellas)


capital:
Athens


location:
Southern Europe, on the northeast of the Mediterranean Sea, bordering the Ionian Sea in the west and the Aegean Sea in the east; between Albania and Turkey


local time:
Eastern European Time (EET)
Daylight Saving Schedule:
Summer (from last Sunday in March)
GMT/UTC +3 hours
Winter (from last Sunday in October)
GMT/UTC +2 hours


currency:
Euro (€)


climate:
Mediterranean (temperate, with wet winters and hot, dry summers);
continental (wetter, cooler) in the north


total area:
total: 131,940 square kilometres
land: 130,800 sq km
water: 1,140 sq km


coastline:
13,676 km


international boundaries:

total: 1,228 km

borders:
Albania 282 km,
Republic of North Macedonia 246 km,
Bulgaria 494 km,
Turkey 206 km


terrain:
Mainly mountainous interspersed with plains; mountain ranges extend into the sea as peninsulas or chains of islands


highest point:
Mytikas, the highest peak of Mount Olympus (Όρος Όλυμπος, Oros Olympos), 2,918.8 metres (9,576 feet)


population:
10,964,020 (Athens 3,192,606)


ethnicities:

Greek 93%, other (foreign citizens) 7% (2001 census)

Census figures represent citizenship; Greece does not collect data on ethnicity.

Ethnic minorities include Vlachs, Pomaks, Turks and Roma.



language:
Greek 99% (official),
other 1% (including English and French)


religion:
Greek Orthodox 98%,
Muslim 1.3%,
other 0.7%


political system:

parliamentary democracy since 1974

European Union member since 1981


constitution:
11 June 1975; amended March 1986 and April 2001


parliament:
300 members, elected every 4 years


national holiday:


Independence Day, 25 March (1821)


administrative
divisions:

The internal administration of Greece is organized through 7 self-governing decentralized administrations (αποκεντρωμένες διοικήσεις, apokentromenes dioikiseis), each of which contains one or more regions.

There are 13 regions (περιφέρειες, peripheries), each of which is divided into regional units.

See the table of regions and regional units below.

There are 74 regional units (περιφερειακές ενότητες, prifereiakes enotites), which are further divided into municipalities.

There are 325 municipalities (δήμοι, dimoi), each subdivided into municipal units (δημοτικές ενότητες, dimotikés enotites), and finally into communities (κοινότητες, koinotites).

Mount Athos (Άγιον Όρος, Agion Oros, Holy Mountain) is an autonomous monastic state.

A sign for a cafe with a takeaway service in Delphi, Greece.
| | | | |
| --- | --- | --- | --- |
| Greece | Administrative divisions of Greece | | |
Decentralized
Administration
Region
Regional
units
MFP Guides
and articles

Attica

Seat: Athens
Attica
Central Athens
North Athens
South Athens
West Athens
East Attica
West Attica
Piraeus
Islands
Attica

Athens



Blogs

Athens 1

Athens 2

Macedonia and Thrace

Seat: Thessaloniki
Central Macedonia
Chalkidiki
Imathia
Kilkis
Pella
Pieria
Serres
Thessaloniki
Macedonia

Pella

Polygyros

Stageira and
Olympiada

Veria



Blogs

Dion

Pella

Polygyros

Thessaloniki
Eastern Macedonia
and Thrace
Drama
Evros
Kavala
Rhodope
Thasos
Xanthi
Thrace

Alexandroupoli

Samothraki

Epirus and
Western Macedonia

Seat: Ioannina
Epirus
Arta
Ioannina
Preveza
Thesprotia
Western Macedonia
Florina
Grevena
Kastoria
Kozani

Thessaly and
Central Greece

Seat: Larissa
Thessaly
Karditsa
Larissa
Magnesia
Sporades
Trikala

Blogs

Meteora
Central Greece
Boeotia
Euboea
Evrytania
Phocis
Phthiotis

Peloponnese,
Western Greece
and the Ionian Islands

Seat: Patras
Peloponnese
Arcadia
Argolis
Corinthia
Laconia
Messenia
Western Greece
Achaea
Aetolia-Acarnania
Elis
Ionian Islands
Cephalonia
Corfu
Ithaca
Lefkada
Zakynthos

Aegean

Seat: Piraeus
North Aegean
Chios
Ikaria
Lemnos
Lesbos
Samos
Agios Efstratios

Psara

Samos
South Aegean
Andros
Kalymnos
Karpathos
Kea-Kythnos
Kos
Milos
Mykonos
Naxos
Paros
Rhodes
Syros
Santorini
Tinos
Dodecanese islands

Kastellorizo

Patmos

Crete

Seat: Heraklion
Crete
Chania
Heraklion
Lasithi
Rethymno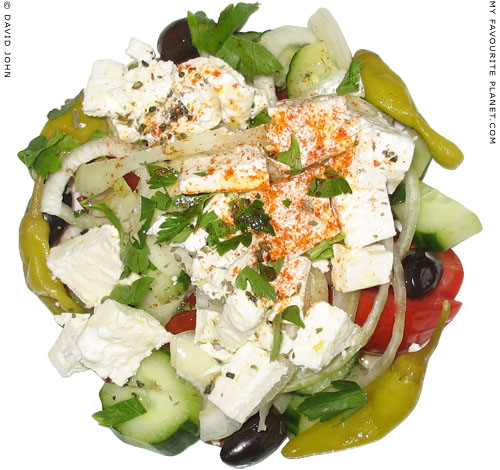 A Greek salad, the famous choriatiki (village salad).
Text, map and photos: © David John,
except where otherwise specified.

Some of the information and photos in this guide to Greece
originally appeared in 2003-2005 on davidjohnberlin.de.

All photos and articles are copyright protected.

Images and materials by other authors
have been attributed where applicable.

Please do not use these photos or articles without permission.

If you are interested in using any of the photos for your website,
project or publication, please get in contact.

Higher resolution versions are available on request.

My Favourite Planet makes great efforts to provide comprehensive and accurate information across this website. However, we can take no responsibility for inaccuracies or changes made by providers of services mentioned on these pages.
Visit the My Favourite Planet Group on Facebook.

Join the group, write a message or comment,
post photos and videos, start a discussion...






George Alvanos
rooms in
Kavala's historic Panagia District
Anthemiou 35,
Kavala, Greece
kavalarooms.gr
Olive Garden Restaurant
Kastellorizo,
Greece
+30 22460 49 109
kastellorizo.de
Papoutsis
Travel Agency
Kastellorizo,
Greece
+30 22460 49 286
greeklodgings.gr