My Favourite Planet > English > Europe > Greece > Macedonia >

| | | | | |
| --- | --- | --- | --- | --- |
| Pella, Greece | How to get to Pella | | page 4 | |




This way to the Archaeological Museum of Pella.
How to get to Pella
See our new map of Pella on the next page,
showing the location of the EO2/E86 highway,
Pella village, the Archaeological Site and New Museum.
The Archaeological Site of ancient Pella is at the modern village of Pella, 1 km the north of the new EO2 National Road (E86 European Route) between Thessaloniki (40 km eastwards) and Edessa (38 km westwards).

Along the EO2/E86 highway, the turn-off for ancient Pella is signposted. If you are coming from Thessaloniki you will see Pella village on a low hill to your right (north).

Around 100 metres after the turn-off is a crossroads of the old national road and the wide dual-carriageway avenue which leads directly to the village (see the map of Pella on page 5).

Buses (see below) between Thessaloniki and the nearby town of Giannitsa turn off from the EO2/E86 and stop at the bus stop at this crossroads, then turn back to the main road. The buses do not go into the village.

Bus passengers have to walk from the bus stop into the village (for the new museum) or archaeological site.

There are no taxis in the village, and although there are local buses they are infrequent and there is no information about timetables at the bus stop.

If you want to go to the Archaeological Site first, continue northwest along the old national road for 1 km. This road is almost straight, with fields on either side. There is is very little traffic, which is just as well as there are no pedestrian sidewalks.

The road ends at the entrance to the Archaeological Site, so you can't miss it.

A back road leads north from here, along the east side of the site towards Pella village and the new Archaeological Museum. The road is known as Megalou Alexandrou Street, although there are few street signs in Pella.

To go to Pella village and the new Archaeological Museum from the bus stop at the crossroads, continue 1 km northwards along the wide avenue.

There are signposts to the museum, but they become fewer the closer you get to it.

Continuing straight through the village, at its centre there is a modern statue of Alexander the Great on a horse to the right, in front of the town hall. Turn left here onto Lefaki Street and follow the yellow road sign to the museum, another 800 metres to the west. On the way is a square with an old water fountain built into an ancient tomb. The museum is at the end of Lefaki Street.

Around halfway along the road from the bus stop to the village, a signposted footpath to the right leads 100 metres to an ancient multi-chambered tomb in the middle of a field. The underground tomb is fenced off, but the entrance can be seen from the path. To visit phone (+30) 23820 31160.

As well as the cafes and restaurants in the centre of Pella, a cantina van serving refreshments is usually parked outside the Archaeological Museum. There are toilets at the site and the museum. There is also a snack bar at the museum.
For further details about
Pella Archaeological Site and Museum,
including opening times and tickets, see:

page 1: Introduction to Pella.

Please note

Due to Greece's economic crisis, information about opening times, timetables, fares, prices, etc. is changing continually.

Many tourist information offices have beeen closed, and many official websites offer no indication of these changes.

Below is the most up-to-date information we have been able to find. If you have any more up-to-date information you would like to share, please get in contact.

Day tripping

Pella and Vergina from Thessaloniki

Most visitors spend 2 hours or less at Pella's small archaeological site and museum. From Thessaloniki and other local towns it is possible to visit Pella, Veria and the Macedonian Royal Tombs at Vergina (ancient Aigai) in one day, especially if you have your own transport. Using the public transport it can get a bit tricky.

For further details, see our travel guide to Veria:

Travelling between Veria and Vergina

and

Travelling between Veria and Pella



Manolis Andronikos
(1919-1992), the Greek archaeologist who discovered and excavated the Royal Tombs at Vergina.

Bust near the Thessaloniki
Archaeological Museum.
Getting to
Pella
By bus
Unless you have your own transport, are hitch-hiking or can afford a taxi (80 - 100 Euros return from Thessaloniki, see below), the only way to get to Pella is by bus.

Travelling by bus is generally the most economic and efficient way to get around Greece. Inter-city buses are usually cheap, comfortable and air-conditioned. Stops are made every 2-3 hours at roadside restaurants with toilet facilities.

However, recent cut-backs in services and information caused by the country's economic crisis, as well as strange anomolies and gaps in the coverage in certain areas mean that travellers have to be more careful about planning their journeys.

One of the great problems of the decentralized Greek system of independent regional and local KTEL (pronounced "ku-tel", with a short "ku" as in "cup", and emphasized "tel", as in "tell") bus companies, is that often one company can not or will not provide information about the services of another. This can make route planning very difficult.

We have included phone numbers of local bus stations below.

Local buses

Local buses around Pella are operated by Astiko KTEL Giannitsa
(Αστικό ΚΤΕΛ Γιαννιτσών).

Dimarchou Stamkou 1, 58100 Giannitsa.

Bus station: 23820 22848

Website: www.ktelgiannitsa.gr (Greek only)

Buses from Giannitsa to the centre of Pella village (12 km), via Nea Pella.

Monday - Friday every hour 6:50 - 20:30
Saturday every 2 hours, 8:15, 10:15, 12:00, 13:30, 14:15, 18:15, 20:15
Sunday 10:15, 12:15, 18:15, 20:15

Times are from the company website (winter 2014-2015).

There is no information about fares or departure times from Pella to Giannitsa. Ask local people.

There are also buses between Giannitsa and Archontiko,
the site of several Macedonian tombs.



Astiko KTEL Giannitsa
bus company

www.ktelgiannitsa.gr

(Greek only)

KTEL Pellas inter-city buses

Inter-city buses to Pella and towns of the Pella municipality
are operated by KTEL Pellas (ΚΤΕΛ Ν. Πέλλας),
based in Thessaloniki, Giannitsa and Edessa.

Leoforos Philippou 31, on the corner of Pavlou Mela Street, 58200 Edessa.

KTEL Pellas ticket offices at bus stations

Athens: 210 5120887
Larissa: 2410 235815
Thessaloniki: 2310 595435
Edessa: 23810 23511
Giannitsa: 23820 22317
Aridea: 23840 21249
Skydra: 23810 89222
Kria Brysi (Kria Vrisi): 23820 61506

Website: www.ktelpellas.gr (Greek only)

There are schedules in Greek (Δρομολόγια, dromologia), but no information about routes or fares. Pella is not even mentioned.

There is information in English about buses between Thessaloniki and towns in the Pella municipality on the KTEL Macedonia website (see below).



KTEL Pellas bus company

www.ktelpellas.gr

(Greek only)

From Thessaloniki

KTEL Pellas buses from Thessaloniki central bus station to the towns of Giannitsa and Edessa stop at Pella.

There are buses every half hour, 06.00 - 22.30 hours; there are fewer buses at the weekend.

Schedule and ticket information in English for buses between Thessaloniki and towns in the Pella municipality is available on the website of the KTEL Macedonia bus station, Thessaloniki:

ktelmacedonia.gr/en/routes/tid=29.

The word "routes" in the address is misleading: the website presents only timetables and fares between Thessaloniki and other towns, without route details or maps.

Bus fare: 3.30 €, reductions 2.50 €. * See list of bus fares below.

Distance: 40.8 km Journey time: 40 minutes.

See details of Thessaloniki central bus station below.

Buses stop at the village of Chalkedona, between Thessaloniki and Pella. Change buses here for Veria if you want to visit Vergina (see below).

The bus stop at Pella is 1 km outside Pella village, 100 metres north of the EO2/E86 national highway. Passengers have to walk from here to the archaeological site and the museum. See details above.

There is usually a bus timetable posted at the Pella bus stop.

It seems ridiculous that buses do not take passengers into the centre of Pella, which would take just a few minutes.

From Edessa

Although Giannitsa (Γιαννιτσά) is the nearest town to Pella (12 km), the 48 km distant Edessa (Έδεσσα) is the capital of Pella Municipality and the local transport hub. You can take the Thessaloniki bus and get off at Pella.

Edessa itself is well worth a visit: a charming town, with dramatic cliffs and waterfalls, below which are the ruins of the ancient city of Logos.

We hope to publish the My Favourite Planet guide to Edessa in the near future. Meanwhile, see the useful online guide to Edessa with maps:

www.edessacity.gr/office/8guide-edessa-greece_en.pdf

(PDF format, opens in a new window.)

There are also train connections from Edessa to Athens, Thessaloniki and Veria (see below).

From Athens and other places in Greece

There are two buses between Athens, Larissa and Edessa every day.

Athens - Larissa - Edessa: 08:30 and 14:30 hours

Edessa - Larissa - Athens: 08:00 and 14:00 hours

Fare Athens-Edessa: 55 €, reductions 44 €. * See bus fares below.

Journey time: around 6 hours.

There is a 20 minute stop at a roadside restaurant with toilet facilities.

From Edessa you can take the bus to Thessaloniki (see above) and get off at Pella.

Buses run between Edessa and Thessaloniki approximately every hour from 7:00 to midnight.

Ionnina (ΙΩΑΝΝΙΝΑ)

There are buses every Friday and Sunday between Edessa and Ionnina in Epirus, northwestern Greece, via Aridaia, Skydra and Giannitsa.

Fridays: from Edessa 11:30; from Ionnina 16:00

Sundays: from Edessa 14:00; from Ionnina 18:30

Bus fare Edessa-Ionnina: 30.00 €, reduced 22.50 €

Journey time: around 4 hours
Getting to
Pella
Bus fares to / from
Pella Municipality, Central Macedonia
journey time
single fare
From Thessaloniki
Pella
40 mins
3.30 €
Edessa
1 hr 45 mins
12 €
Aridaia
2 hours
15 €
Skydra
1 hr 30 mins
10 €
Kria Vrisi
1 hr 30 mins
10 €
Giannitsa
1 hour
4.60 €
Veria
1.5 hours
6.80 €
Naousa
1 hr 50 mins
8.70 €
From Athens
Thessaloniki
6.5 hours
55 €
Edessa
6 hours
55 €
Aridaia
60 €
Skydra
55 €
Kria Vrisi
55 €
Giannitsa
50 €
Veria
7 hours
35 €
From Ionnina
Aridaia
30 €
Edessa
4 hours
30 €
Skydra
30 €
Giannitsa
29 €




Central inter-city bus station, Thessaloniki.


Bus tickets For some inexplicable reason, many bus stations will not sell you a ticket in advance, it must be purchased on the day of travel. Where you board a bus at a roadside stop, you can buy a ticket either from the driver or a conductor.

Return tickets, where available, are sometimes cheaper.

Be sure to ask the price of a single and return fare ("allez-retour"), especially if you are buying a ticket on the bus itself. Some bus drivers and conductors may charge you for a return ticket if you do not specify you only want a single!

Fare reductions are available on some KTEL buses for:

students (25%), people wth special needs (50%), soldiers (25%), families (50%), social tourism workers, groups (by arangement).

Appropriate ID or documentation is required.
Getting to
Pella
Bus stations for Pella Municipality,
Central Macedonia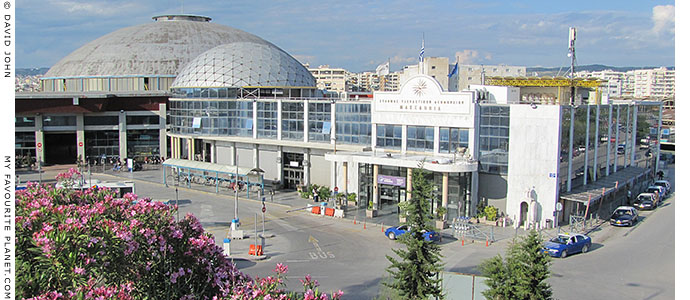 KTEL Macedonia central inter-city bus station, Thessaloniki.
Athens (ΑΘΗΝΑ)

Athens has two main inter-city bus stations, generally know as Terminal A and Terminal B.

Buses between Athens and Kavala, and other destinations in northern Greece and the Peloponnese, depart and arrive at the Kifissou Street KTEL Bus Station, also known as Teminal A.

Tickets can be purchased at the bus station which has a snack bar, toilets, and a kiosk (sweets, drinks, newspapers, cigarettes...) There are no decent shops within easy walking distance.

KTEL Kifissou, 100 Odos Kifissou, Kifissos, 10442 Athens.

Ticket office: 2105 12 94 07

KTEL ticket office at Omonia Square, central Athens:

59 Sokrates Street, Omonia Square.
+30 Tel: +30 210 52 37 889
Mon-Fri 7:00 - 17:00, Sat: 7:30 - 15:30, Sunday closed.

The bus stations in Athens have no website (why?), and currently the only source of information about schedules and fares are photocopied pages from the Greek National Tourism Organization (GNTO).

Terminal A is hidden away in the side streets of a northern suburb of Athens and can be difficult to get to from the city centre. If there are two or more of you travelling, or if you have luggage, you may find it less stressful to take a taxi, which costs around 20 Euros from the centre (ask the driver the price before you get in!).

Local buses to Teminal A

X93 express bus from Athens Airport (Door 5). Around every 35 minutes (every 65 minutes at night). It also stops at the Liossion Street bus station (Terminal B).

51 from the centre, at the corner of Menandrou and Zinonos streets, near Metaxourgeio Square, 2 blocks west of Omonia Square. From Terminal A into the centre, the 51 bus stops at the Metaxourgeio metro station. Every 15 minutes, fare €1 one way.

420 from Piraeus, at the corner of Thermopilon and Akti Kondili streets.

It is possible to get to the bus station by a combination of metro and buses, but it really is a chore, especially with luggage.


+30 210 51 52 224
Larissa (ΛΑΡΙΣΑ)


+30 2410 23 58 15
Thessaloniki (ΘΕΣΣΑΛΟΝΙΚΗ)

"Macedonia" central KTEL inter-city bus station

Giannitson Street 194.
5 km west of the city centre.

Several local buses terminate at the bus station.

The number 78 bus from the airport (see guide to Macedonia page 4: getting there) to the bus station via the city centre also stops at the railway station (just west of the centre, see below).

The number 78 bus runs 24 hours a day, approximately every half hour;
every hour at night as the N78.

(The 78A only goes as far as IKEA store outside the city!)

The fare is 2 Euros, regardless of how many stops you travel. Tickets can be bought from kiosks (peripteros) all over town, or from special booths at the airport (at the bus stop), KTEL bus station, railway station and opposite the National Bank of Greece. You have to get your ticket stamped in one of the orange machines on the bus when you get on.

Journey time from the city centre is around 20 minutes, depending on traffic.
From the airport reckon with 1 hour to the bus station.

Because the bus connects the airport with the train station and main KTEL bus station (and is also used as a local bus) it can get very full.

Local buses in and around the city are run by OASTH (ΟΑΣΘ, Organization of Urban Transportation of Thessaloniki). Its website has information about timetables and routes in Greek and English:

oasth.gr/#en/

Currently the website has no information in English about the new more expensive fares.

All fares in and around the city used to cost 80 cents. Since October 2014, the 78 to and from the airport now costs 2 Euros! The "Cultural Route" 50 around the historical centre also costs 2 Euros.

The normal fare for other routes is now 1 Euro, no matter how many stops you travel. If you have to change buses, a ticket valid for 70 minutes (2 buses) costs 1.20 Euros, for 90 minutes (3 buses) 1.50 Euros.

Reductions for students, families and senior citizens over 65 years (with the necessary documentation) are usually around 50%.

A taxi between the airport and city centre costs 20 Euros; between the airport and KTEL bus station about 30 Euros.

Each of the regional KTEL bus companies has its own ticket booth, so you have to discover which one serves your destination. Good luck!

There is a Macedonia KTEL ticket and information office in the centre of Thessaloniki:
119 Egnatia Street.
(On the north side of the street, just to the west of the Arch of Galerius.)
Tel: +30 2310 21 60 00
Opening hours: Monday - Friday 9:30 - 19:30
Closed Saturday, Sunday and Bank Holidays.

Buses for Chalkidiki arrive and depart from KTEL Chalkidikis Bus Terminal.

For further details, see How to get to Macedonia, Greece.


+30 2310 59 54 35
Edessa (ΕΔΕΣΣΑ)

Edessa bus station is at the south side of town,
Leoforos Philippou 31, on the corner of Pavlou Mela street, 58200 Edessa.

5 minutes walk from the centre,
15 minutes from the railway station (see below).


+30 23810 23 511
Giannitsa (ΓΙΑΝΝΙΤΣΑ)


+30 23820 22 317
Aridaia (ΑΡΙΔΑΙΑ)


+30 23840 21 249
Skydra (ΣΚΥΔΡΑ)


+30 23810 89 222
Kria Brysi (ΚΡΥΑ ΒΡΥΣΗ)


+30 23820 61 506
Veria (Βέροια)

28 Hras Street, 59100 Veria, Imathia, Macedonia, Greece.

KTEL Imathias: www.ktelimathias.gr (Greek only)

For further details, see How to get to Veria.


+30 23310 22 342
Naousa (Νάουσα)

KTEL Imathias: www.ktelimathias.gr (Greek only)


+30 23320 22 223
Getting to
Pella
By train
There are no trains directly to Pella, but you can take a train from Athens or Thessaloniki to Edessa, from where you can take the Edessa - Thessaloniki bus to Pella (see above).

This makes sense if you intend to use Edessa as a base for exploring this part of Macedonia, including Veria, Vergina (see below), Naousa and of course Edessa itself. Otherwise the bus from Thessaloniki is much more convenient.

Trains in Greece are run by OSE (Ο.Σ.Ε.): www.ose.gr (Greek and English)

Train schedule and fare information at Trainose, the official OSE website for passenger train information: www.trainose.gr (Greek and English).

The site has recently improved its information in English. However, rather than show timetables and fares, you have to use the ticket booking interface, name the desired departure and destination stations and enter planned date of travel. The site then shows the trains and fares for that particular journey on that day. There is no information about other stations along the route.

See a map of the Greek rail network by Thorsten Büker at www.bueker.net.

From Thessaloniki to Edessa

There are 11 trains a day each way between Thessaloniki and Edessa.

We have put together train timetables for trains between Thessaloniki, Veria and Edessa with connections with Athens and Larissa. See: How to get to Macedonia, Greece.

Phone the Thessaloniki station or OSE Travel Service for latest information (see list of stations below).

Having made this journey by train, we can say that the trains were cheap, frequent, punctual and a pleasant ride.

The train route:
Thessaloniki - Adendro - Platy - Alexandreia - Veria (1 hour) - Naoussa - Skydra - Edessa (1.5 hours)

After Edessa, some trains used to continue to Amyntaio (2 hours) for buses to Kastoria. The line then branches south to Kozani and north to Florina (3 hours) for bus connections to the Prespa lakes. However, this service is currently suspended due to the Greek economic crisis.

From Athens to Edessa

If you are travelling by train from Athens or Larissa, and you want to go straight to Edessa or Veria without going to Thessaloniki, you can change trains at Platy (Πλατύ), 35 km northeast of Veria.

The journey time is up to 7.5 hours, depending on type of train and connections.


Fare discounts are available for:
• Children aged 4-12, 50%
• Youth under 26 and elderly over 65, 25%,
except on ICE trains
• Disabled people and their escort, 50%
• Groups, 30%-50%
Facilities for disabled persons
There are employees at major stations to assist
disabled persons.
Information and facilities for disabled persons:
Athens: +30 210 5298838
Larissa: +30 2410 590263
Getting to
Pella
Train stations for Central Macedonia
Athens (ΑΘΗΝΑ)

The railway station in Athens for trains to Evia and Northern Greece is called Larissa Station (Stathmos Larissis), situated 10 minutes walk, northwest of Omonia Square.

It has its own Metro stop on Metro Line 2 (Syntagma - Sepolia; red on Metro maps).

Or take trolley bus No. 1 from Venizelou (Panepistimiou) Street.


+30 210 82 37 741
Larissa (ΛΑΡΙΣΑ)

23 October 1944 Square
(Πλατεία Εικοστής Τρίτης Οκτωβρίου 1944, Plateia Eikostis Tritis Oktovriou 1944)

OSE office, Papakyriazi 35, opposite the town hall.
Tel: +30 24105 90 239


+30 24105 90143
Thessaloniki (ΘΕΣΣΑΛΟΝΙΚΗ)

28 Monastiriou Street (1 km west of the centre centre).

OSE Travel Service for information and tickets in the city centre.

For further details see: How to get to Macedonia, Greece


+30 2310 51 75 17
Edessa (ΕΔΕΣΣΑ)

Leoforos Nikis.

The station is at the east side of town,
10 minutes walk from the centre along 18th October Avenue.

The KTEL bus station (see above) is about 15 minutes by foot.

Taxis, which are usually available at the station, cost about €3.

Station Radio Taxi Edessa Tel: 23810 23392 - 22904


+30 23810 23 510
Giannitsa (ΓΙΑΝΝΙΤΣΑ)


NO STATION
Skydra (ΣΚΥΔΡΑ)


+30 23810 89 204
Veria (Βέροια)

The railway station is 3 km outside the town.
Local blue buses (€1) and taxis shuttle between station and town.

For further details, see How to get to Veria.


+30 23310 24 444
Getting to
Pella
By car / bike / taxi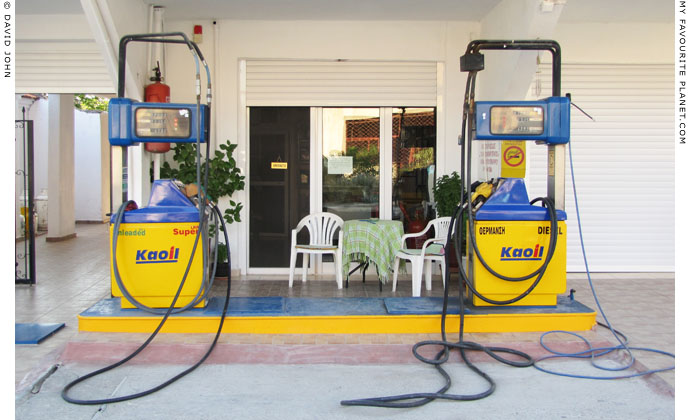 The petrol station on the main street between Pella village and the EO2 / E86 highway.
If you want to avoid motorway tolls, there are always alternative roads, which are usually slower, but often more interesting, especially if you are on two wheels.

We recommend buying a good up-to-date roadmap in your home country. Maps published in Greece vary considerably in quality and accuracy, often lacking essential information such as scale. Distances between cities are often as-the-crow-flies rather than road distances, and vary according to route taken. Spelling of Greek place names differ from map to map, and often from road sign to road sign.

From Athens

From Athens the main north-south A1 motorway (part of the E75 European Route), a toll road, heads to Thessaloniki, Greece's second largest city.

The E75 European Route turns north from the A1 motorway just after Nea Malgara (Νέα Μάλγαρα), 25 west of Thessaloniki. (The A1 motorway continues to Thessaloniki as the E90.)

If you want to drive directly to Pella and avoid Thessaloniki, turn north onto the E75 European Route. Drive north for 12 km towards Agios Athanasios (Άγιος Αθανάσιος), then turn west (left) onto the EO2 National Road (E86 European Route) towards Chalkidona, Pella, Giannitsa and Edessa. Pella is 12 km west of this junction.

The E75 continues north to the border with the Republic of Macedonia (FYRO Makedonia).

From Thessaloniki

From north of Thessaloniki the EO2 National Road (part of the E86 European Route) leads northwest through Central Macedonia to Pella, Giannitsa, Edessa and eventually to the Albanian border.

For further information about the EO2 National Road
see How to get to Kavala.


Road distances and estimated driving times



| | | |
| --- | --- | --- |
| Athens - Thessaloniki | 502 km | 5 hrs 30 mins |
| Athens - Pella | 513 km | 5 hrs 40 mins |
| Athens - Giannitsa | 508 km | 5 hrs 45 mins |
| Athens - Edessa | 552 km | 6 hrs 15 mins |
| Athens - Veria | 508 km | 5 hrs 30 mins |
| Athens - Vergina | 514 km | 5 hrs 35 mins |
| Thessaloniki - Pella | 40 km | 46 mins |
| Thessaloniki - Giannitsa | 52 km | 59 mins |
| Thessaloniki - Edessa | 87 km | 1 hr 30 mins |
| Thessaloniki - Veria | 74 km | 56 mins |
| Thessaloniki - Vergina | 79 km | 58 mins |
| Pella - Edessa | 48 km | 50 mins |
| Pella - Giannitsa | 12 km | 15 mins |
| Pella - Veria | 56 km | 55 mins |
| Pella - Vergina | 65 km | 59 mins |
| Edessa-Giannitsa | 36 km | 40 mins |

All distances are approximate, and vary according to route.

Central Macedonia has the second highest population density of Greece, centred on Thessaloniki. The roads are busy, and traffic is fast and furious. To drive or ride a motorbike or bicycle you need good maps, patience, stamina - and nerves of steel. The way is hard and the weather is hot; and when it rains, it comes down in buckets. Many two-wheel travellers suffer from sunburn to exposed areas of the body: when you are whizzing along, the breeze cools the skin; it's only when you stop that you realize how much sun you've caught. Ouch! Keep covered.

Still, if you can hack it, having your own wheels allows you to cover places in northern Greece which are difficult or impossible to access by public transport.

Away from the main roads, driving and riding is more relaxed, although you always have to keep alert for pedestrians, cows, goats, dogs and parked farm vehicles in the middle of the road, as well huge buses, trucks and tractors hurtling towards you along narrow lanes.


Car and bike rental

A great range of cars, vans, motorbikes, scooters and bicycles can be hired in Greece. Deals vary so much that it is impossible to include detailed information here.


Hitch-hiking

Hitch-hiking is possible though particularly difficult in summer when most vehicles are full of families and groups of holiday-makers and all their luggage. On many roads traffic moves too fast for vehicles to stop safely. It is especially difficult to hitch out of large cities such as Athens or Thessaloniki. On the other hand, I have often been offered rides by locals while walking along country roads; they are amazed to see a foreigner hiking around the countryside.

Many Greeks have become less willing to give rides to hitch-hikers since the recent sharp increase in crime.


Taxi

Many taxi drivers are willing to negotiate a price for long distance journeys and day-trips. You may find this attractive, especially if there are 2-3 of you wishing to visit an out-of-the-way village or archaeologicial site, of which there are many in Macedonia. Take a packed lunch and plenty of water.

You can reckon with around 1 Euro per kilometre (there and back), including around 2 hours waiting time. As an example, in 2011 a taxi driver offered me a taxi ride from Asprovalta to Amphipolis (20 km) and back, with around 3 hours for visiting the museum and archaeological site, for 50 Euros.






A1 "Aegean" motorway


E75 European Route


E86 European Route


EO2 Greek National Road
Photos, maps and articles: © David John

Some of the information and photos in this guide to Pella
originally appeared in 2004 on davidjohnberlin.de.

All photos and articles are copyright protected.

Images and materials by other authors
have been attributed where applicable.

Please do not use these photos or articles without permission.

If you are interested in using any of the photos for your website,
blog or publication, please get in contact.

Higher resolution versions are available on request.

My Favourite Planet makes great efforts to provide
comprehensive and accurate information across this
website. However, we can take no responsibility for
inaccuracies or changes made by providers of services
mentioned on these pages.
Visit the My Favourite Planet Group on Facebook.

Join the group, write a message or comment,
post photos and videos, start a discussion...






George Alvanos


rooms
in Kavala's historic Panagia District



Anthemiou 35,
Kavala, Greece


kavalarooms.gr