My Favourite Planet > English > Europe > Greece > Attica > Athens > galleries >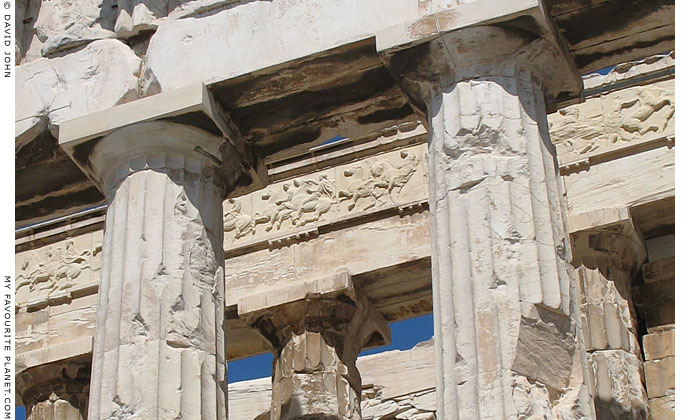 The west side of the Parthenon



Detail of the frieze of the Parthenon west side.



The Parthenon frieze representing the Great Panathenaic Procession consisted of 115 irregularly-sized panels, made up of 111 marble blocks (each corner block having a panel on adjacent sides): the north and south sides each had 47 panels, the west side 14 and the east side 7.

The system used for numbering the panels was originated by A. Michaelis in 1871 (published in his book Der Parthenon). He used Roman numerals for the panels and Arabic numerals for the figures depicted on them. The numbering system is not perfect, as at the time Michaelis made his drawings many of the panels were missing; some had been removed during the early Christian era to make way for windows along the north and south sides (three on each side). New fragments are still being found [1].

See a plan of the general scheme of the friezes below.




1. Christopher Hitchens, Robert Browning, Graham Binns, The Elgin marbles: should they be returned to Greece?. Verso, 1998.



Detail of the frieze of the Parthenon west side.



Plan of the Parthenon showing the general scheme of the friezes.




More information and images will be appearing on this page in the near future.
Photos, maps and articles: © David John

Additional photos: © Konstanze Gundudis

All photos and articles are copyright protected.

Images and materials by other authors
have been attributed where applicable.

Please do not use these photos or articles without permission.

If you are interested in using any of the photos for your website,
blog or publication, please get in contact.

Higher resolution versions are available on request.

My Favourite Planet makes great efforts to provide
comprehensive and accurate information across this
website. However, we can take no responsibility for
inaccuracies or changes made by providers of services
mentioned on these pages.
Visit the My Favourite Planet Group on Facebook.

Join the group, write a message or comment,
post photos and videos, start a discussion...














George Alvanos


rooms
in Kavala's historic Panagia District



Anthemiou 35,
Kavala, Greece


kavalarooms.gr



Olive Garden Restaurant


Kastellorizo, Greece



+30 22460 49 109


kastellorizo.de



Papoutsis
Travel Agency


Kastellorizo, Greece



+30 22460 49 286


greeklodgings.gr