My Favourite Planet > English > Europe > Greece > Attica > Athens > galleries >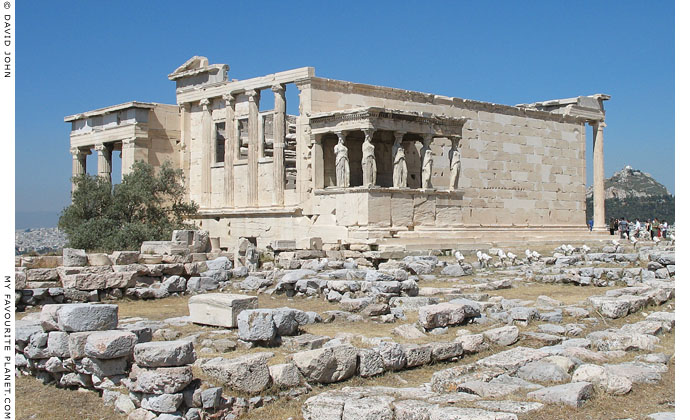 The south side of the Erechtheion, in front of which lie the ruins of the Old Temple of Athena Polias.
The Erechtheion


Caryatids all in a row: the "Porch of the Caryatids"
on the south side of the Erechtheion.

These are modern copies, the originals are in the Acropolis Museum
and the British Museum. See photos on gallery page 24.
See a plan of the Erechtheion below.


Athena, Gaia and Cecrops.

Ceramic plaque, Athens 500-450 BC.

Altes Museum, Berlin. Inv. No. TC 6281.

More information and images will be appearing
on this page in the near future.



One of the modern replicas
of the caryatids at the
Erechtheion.

See gallery page 24.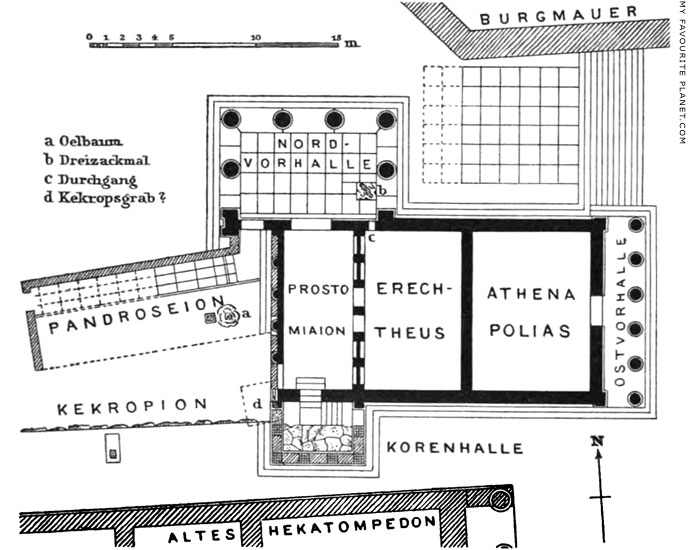 Early 20th century plan of the Erechtheion, after archaeologists Jahn Michaelis and Wilhelm Dörpfeld.



Walther Judeich (1859-1942), Topographie von Athen (1st edition), page 247. Oskar Beck, Munich, 1905.

Two marble steles inscribed with the building accounts of the Erechtheion for 408/407 BC.
The inscriptions refer to the commissioning of the building, the budgets for various parts
and the names and payments of sculptors, stonemasons and other artisans.

Acropolis Museum, Athens. Inv. No. EM 667δ and EM 667.
Photos, maps and articles: © David John

Additional photos: © Konstanze Gundudis

All photos and articles are copyright protected.

Images and materials by other authors
have been attributed where applicable.

Please do not use these photos or articles without permission.

If you are interested in using any of the photos for your website,
blog or publication, please get in contact.

Higher resolution versions are available on request.

My Favourite Planet makes great efforts to provide
comprehensive and accurate information across this
website. However, we can take no responsibility for
inaccuracies or changes made by providers of services
mentioned on these pages.
Visit the My Favourite Planet Group on Facebook.

Join the group, write a message or comment,
post photos and videos, start a discussion...














George Alvanos


rooms
in Kavala's historic Panagia District



Anthemiou 35,
Kavala, Greece


kavalarooms.gr



Olive Garden Restaurant


Kastellorizo, Greece



+30 22460 49 109


kastellorizo.de



Papoutsis
Travel Agency


Kastellorizo, Greece



+30 22460 49 286


greeklodgings.gr