My Favourite Planet > English > Europe > Greece > Macedonia > Stageira & Olympiada >

| | | | | | | |
| --- | --- | --- | --- | --- | --- | --- |
| Stageira & Olympiada | Olympiada gallery | | | 6 of 18 | | |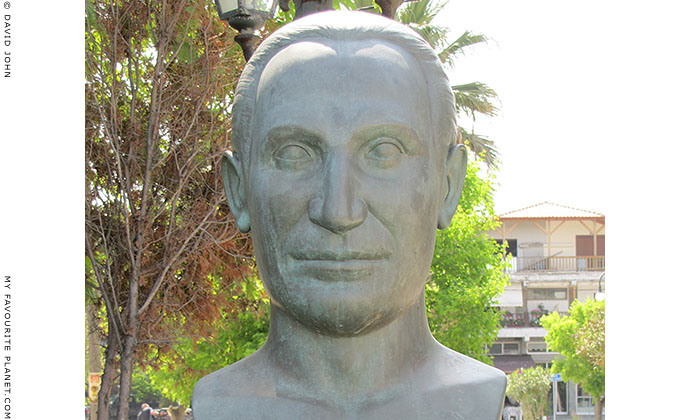 Bust of Greek poet Menelaos Loundemis in Olympiada.
| | |
| --- | --- |
| | Bust of Menelaos Loundemis in Olympiada. |

Novelist and poet Menelaos Loundemis, one of Greece's most important modern authors, is another local hero in Olympiada. Like the modern village's founders he was born in Agia Kyriaki, Turkey, and came to northern Greece as a refugee in 1924 (see History part 7).

Menelaos Loundemis (Μενέλαος Λουντέμης, also transliterated as Lountemis or Loudemis [1] ) was the pen name of Dimitris "Takis" Valasiadis (Δημήτριος «Τάκης» Βαλασιάδης, 1912-1977). He attended high school in Edessa, Macedonia from 1925 to 1929. Later he worked as a village school teacher, labourer, singer in a choir and actor in a travelling theatre.

He took his pseudonym from Menelaos ("leader of the people"), the king of Sparta in Homer's Iliad and Odyssey; and Loundemis after the Central Macedonian river Loudias. [2]

A committed communist and atheist, Loundemis was a member of the EAM National Resistance movement in World War II. During the Greek Civil War he was interned in the infamous prisons on the islands of Makronissos and Agios Efstratios for his political allegiances, along with thousands of others, including intellectuals and artists such as Mikis Theodorakis, Giannis Ritsos, Manos Katrakis, Tassos Livaditis, Kostas Varnalis and Nikos Karouzos.

In 1958, he was put on trial for mentioning the torture of intellectuals in his book Βουρκωμένες Μέρες (Vourkomenes meres, Misty Days or Days of tears), which was banned. He decided to go into exile in Romania and was stripped of his Greek nationality.

He developed as a humanitarian writer, and his books of poetry and fiction deal largely with the plight of the poor and hopes for a brighter future. His works have been translated into many languages, mainly in Eastern Bloc countries, although very little is currently available in English.

His best known books include:
• Περιμένοντας το ουράνιο τόξο (Waiting for the rainbow), 1940;
• Ένα Παιδί Μετράει τ' Άστρα (A child measures the stars), 1956;
• Βουρκωμένες Μέρες (Misty Days or Days of tears), 1958;
• Το ρολόι του κόσμου χτυπά μεσάνυχτα (The clock of the world strikes midnight), in Romanian 1961, Greek version 1963

Loundemis returned to Greece in 1976, following the fall of the military dictatorship (the Colonels' Junta, 1967-1974), but died of a heart attack a year later. His funeral in Athens was attended by a large crowd, including many well-known Greek artists and writers. He was buried in the 1st Cemetery of Athens. [3]

One of Loundemis' poems in Greek, Προσανατολισμός (Prosanatolismos, Orientation), has been inscribed on the plinth of his bust in Olympiada.

There is another memorial to Menalaos Loundemis in Exaplatanos (Εξαπλάτανος), north of Edessa, in the Pella region of Central Macedonia, where he spent part of his childhood. Also in the town is a ruined house with a plaque in Greek stating: "The house of Menalaos Loundemis".

See also the article about the Greek left-wing activists and resistance heroes Manolis Glezos and Apostolos Santas, who took down the Nazi flag from the Athens Acropolis in 1941.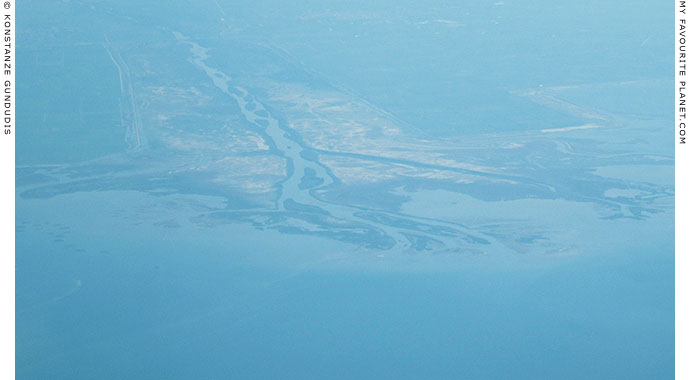 Aerial photo of the mouths of the rivers Axios, Loudias and
Aliakmonas on the Thermaic Gulf, west of Thessaloniki.
| | | |
| --- | --- | --- |
| | Notes, references and links | |

1. Pronunciation and spelling of Loundemis

Λουντέμης is variously transliterated as Loundemis, Loudemis or Lountemis.
Modern Greek has no letter d. Δ, δ (delta) is pronunced "th" as in the English "this".
Written together, NT, ντ (nt), is normally pronounced as "d" or "nd", as in the English "and".

2. The Moglenitsas and Loudias rivers

The Moglenitsas River (Greek, Μογλενίτσας), which runs through the area of Exaplatanos (Εξαπλάτανος), in the Pella region of Central Macedonia, where Loundemis spent part of his childhood, has been known through history by many names. In ancient times it was known as Moglenitikos (Greek, Μογλενίτικος) or the Almopeos (Αλμωπαίος) after the Almopes tribe which lived in the area, Almopia (Αλμωπία), before being driven out by the Macedonians during the reign of Alexander the Great. The river was also known as the Ano Loudias (Άνω Λουδίας, Upper Loudias). Its Slavic name is Meglenica (Мегленица), and in Turkish it was known as Karaca.

It is interesting that the municipality around Exaplatanos was renamed Almopia in the 2011 national reform of local governments and boundaries (the Kallikratis Law).

The Moglenitsas ran into the Giannitsa Lake (Λίμνη Γιαννιτσών, the ancient Lake Loudia). The Loudias River (Λουδίας) , mentioned by Herodotus (History, Book VII, 127) and Strabo (Geography, Book 7, fragments, 20a), emerged from the south side of the lake and flowed southwards into the west side of the lake on which Pella stood.

Over the centuries, the Giannitsa Lake and the areas around the Loudias River had become a boggy marsh, and was referred to as "βόρβορος" (Borboros or Vorvoros, slime, mud, ooze, muck, sludge, mire...), prone to flooding and the source of diseases such as malaria.

The lake was drained in 1928-1932 by the New York Foundation Company, and the Loudias was diverted and turned into a 39 km long canalized drainage channel. The river now flows into the Axios Delta on the Thermaic Gulf, west of Thessaloniki. In recent years further projects have attempted to improve the environment of the Delta and the local rivers.

Lountemis may have worked on this engineering project, although so far we have not been able to verify this. Greek sources on his life state that he worked as a labourer or foreman on a similar project on the Gallikos River.

See:
www.axiosdelta.gr, English version of the Greek website of the Axios-Loudias-Aliakmonas Estuaries National Park Management Authority, about the environment of the rivers and wetlands around the Thermaic Gulf.

Axios River - Geographical Figures: Diversion of Axios River watercourse, at terresdeau.gr.

3. Menelaos Loundemis on the web

There are very few websites in English with information about Loundemis. The best short biography we have found so far is on the website of ΠΟΘΕΓ (POTHEG, Ο ΠΟλιτιστικός Θησαυρός της Ελληνικής Γλώσσας): "The Cultural Thesaurus of the Greek Language is a digital primary cultural collection of works of Modern Greek literature that comprises mainly representative works of writers of all literary genres."

www.potheg.gr/TT.aspx?writerId=7711459&Type=WRITER&lan=2&TextType=BIO

In his unpublished essay On Greek Literature, Greek author Dr. Nicholas Papandreou relates that one of the first Greek books he read as a child was Loundemis' Ένα Παιδί Μετράει τ' Άστρα (Ena paidi metraei t'astra, A child measures the stars), about a poor child trying to learn to read. The essay includes a short passage from the book translated into English.

On Greek Literature by Dr. Nicholas Papandreou, link to the essay as a PDF document, at the website of the College of Literature, Science, and the Arts, University of Michigan.

Nicholas Papandreou's blog in English: www.npapandreou.gr/en/

The Greek state television station ET1 made a documentary film about Menelaos Loundemis in 2004. The Greek musician David Nachmias (Δαυίδ Ναχμίας) interviewed Loundemis' daughter Myrto and other people, travelled to the poet's childhood home in Exaplatanos, and recorded recitations of some of his works by actors as well as musical versions performed by musicians, including Nachmias himself (on piano). The tone of the film is more artistic than historical, and the biographical aspect is very generalized with few details.

The film (in Greek only) can seen online in 6 parts at youtube:

ΜΕΝΕΛΑΟΣ ΛΟΥΝΤΕΜΗΣ 1 από 6 παρουσίαση Δαυίδ Ναχμίας

"Pitichinaccio", a Wikipedia contributor, is currently compiling a detailed article about Loundemis in German. So far it looks very good, and the most comprehensive article about the poet we have yet seen. Hopefully his/her efforts will encourage people to write versions in other languages.

The "Baustelle" (test) version can be read at:

http://de.wikipedia.org/wiki/Benutzer%3APitichinaccio/Baustelle/Loundemis
Photos, maps and articles: copyright © David John,
except where otherwise specified.

Additional photos: copyright © Konstanze Gundudis

All photos and articles are copyright protected.

Images and materials by other authors
have been attributed where applicable.

Please do not use these photos or articles without permission.

If you are interested in using any of the photos for your website,
project or publication, please get in contact.

Higher resolution versions are available on request.

My Favourite Planet makes great efforts to provide
comprehensive and accurate information across this
website. However, we can take no responsibility for
inaccuracies or changes made by providers of services
mentioned on these pages.
Visit the My Favourite Planet Group on Facebook.

Join the group, write a message or comment,
post photos and videos, start a discussion...




George Alvanos
rooms in
Kavala's historic Panagia District
Anthemiou 35,
Kavala, Greece
kavalarooms.gr