My Favourite Planet > English > Europe > Greece > Macedonia > Stageira & Olympiada >
| | | | | | | |
| --- | --- | --- | --- | --- | --- | --- |
| Stageira & Olympiada | Ancient Stageira gallery | | | 32 of 38 | | |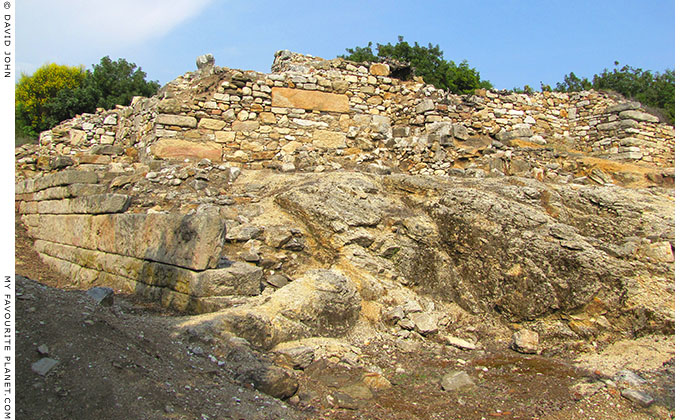 Remains of the Byzantine fort and foundations of the 6th century BC temple on Stageira's North Hill.
At the top of the North Hill, on a 1000 square metre area of levelled rock, are the remains of a fort believed to have been built during the Middle Byzantine period (10-11th centuries AD). The internally buttressed walls of the trapezoidal fort, built with stone taken from more ancient buildings, were 1 metre thick and surrounded with towers.

Within these walls are the remains of a rectangular building thought to be a Byzantine tower. To the right (east) of the tower is a large, 5 metre square granite water tank (cistern), the inside of which was coated with water-tight mortar.

The granite used to build the cistern and other Byzantine buildings on the North Hill (see gallery pages 30-31) were taken from a large Archaic temple, dated to the 6th century BC, the foundations of which can be seen on the left of the above photo and in the photo below.

Remains of the foundations of the 6th century BC Archaic temple.

Several members of this temple have so far been discovered,
including large sections of marble cornice decorated with reliefs
of anthemion and lotus flowers, and part of an enormous Ionic
moulding, as well as parts of Ionian and Archaic sculptures.

The finds from Stageira are in the Polygyros Archaeological Museum.

The masonry of the Archaic temple's foundations.
Photos, maps and articles: copyright © David John,
except where otherwise specified.

Additional photos: copyright © Konstanze Gundudis

All photos and articles are copyright protected.

Images and materials by other authors
have been attributed where applicable.

Please do not use these photos or articles without permission.

If you are interested in using any of the photos for your website,
project or publication, please get in contact.

Higher resolution versions are available on request.

My Favourite Planet makes great efforts to provide
comprehensive and accurate information across this
website. However, we can take no responsibility for
inaccuracies or changes made by providers of services
mentioned on these pages.
Visit the My Favourite Planet Group on Facebook.

Join the group, write a message or comment,
post photos and videos, start a discussion...




George Alvanos
rooms in
Kavala's historic Panagia District
Anthemiou 35,
Kavala, Greece
kavalarooms.gr


Olive Garden Restaurant
Kastellorizo,
Greece
+30 22460 49 109
kastellorizo.de
Papoutsis
Travel Agency
Kastellorizo,
Greece
+30 22460 49 286
greeklodgings.gr