My Favourite Planet > English > Europe > Greece > Dodecanese > Kastellorizo >

| | | |
| --- | --- | --- |
| Kastellorizo | photos of Kastellorizo, Greece | |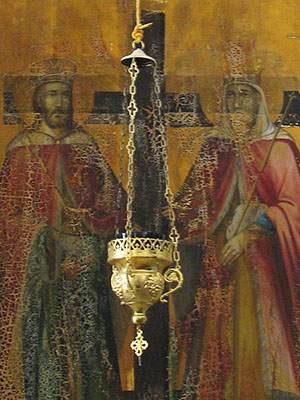 Agios Giorgos Tou Pigadiou church iconostasis: icon of Saints Constantine and Eleni.




Agios Konstantinos


Agia Eleni

This icon is in a poor state with corroded paintwork due to the salt of the sea air. The face of a ghostly figure seems to appear just below Constantine's left shoulder, and what appears to be a disembodied hand floats below. Perhaps this is part of a previous overpainted icon showing through, or maybe just a trick of the light.

Saints Constantine and Elena are considered very important by all the eastern orthodox churches (including Greek, Russian, Serbian and Bulgarian). The first Christian Roman emperor Constantine the Great (circa 272 - 337) is said to have been converted to Christianity by a vision of the cross before a decisive battle. He made Christianity an official religion of the empire and founded the city of Constantinople (formerly Byzantium, today the Turkish city of Istanbul), which is still considered by Greeks to be the spiritual centre of their religion. In 325 he convened the first general council of the church (known as an Ecumenical Council) at Nicaea. Constantine was only baptised on his deathbed, but nobody seems to hold that against him.

His mother Agia Eleni (Αγία Ελένη (Agia Eleni, Saint Helena; Latin name Flavia Iulia Helena Augusta; circa 246/50 - 18 August 330) is said to have been very pious and charitable and to have discovered the True Cross on which Christ was crucified and other religious relics throughout the Roman Empire. For her efforts she has become the patron saint of archaeologists. Constantine built the Church of the Holy Sepulchre at the place where she discovered the cross in Jerusalem, as well as churches at other sites where she found relics. Her palace in Rome was later converted into the church Santa Croce in Gerusalemme.

Saints Constantine and Helena Day on 21 May is an important annual holy day on Kastellorizo (as in many places in Greece), and is celebrated with a service and formal ceremony at the Agios Konstantinos kai Eleni church in the Horafia district, as well as a procession and the blessing of Greek naval vessels.
Maps, photos and articles: © David John,
except where otherwise specified.

Additional photos: © Konstanze Gundudis

All photos and articles are copyright protected.

Images and materials by other authors
have been attributed where applicable.

Please do not use these photos or articles without permission.

If you are interested in using any of the photos for your website,
project or publication, please get in contact.

Higher resolution versions are available on request.

My Favourite Planet makes great efforts to provide
comprehensive and accurate information across this
website. However, we can take no responsibility for
inaccuracies or changes made by providers of services
mentioned on these pages.
Visit the My Favourite Planet Group on Facebook.

Join the group, write a message or comment,
post photos and videos, start a discussion...


Olive Garden Restaurant

Kastellorizo, Greece



+30 22460 49 109

kastellorizo.de


Papoutsis
Travel Agency

Kastellorizo, Greece



+30 22460 49 286

greeklodgings.gr









George Alvanos


rooms
in Kavala's historic Panagia District



Anthemiou 35,
Kavala, Greece


kavalarooms.gr