The 3rd century AD Christian martyr, Saint Kyriaki (Αγία Κυριακή, Agía Kyriaki; Italian, Santa Domenica; Bulgarian, Света Неделя, Sveta Nedelya), is very special to the people of Olympiada, since many of their families originally came here as refugees from the village of Agia Kyriaki, Turkey in the 1920s (see History of Stageira and Olympiada part 7).

Kyriaki is said to have been born at the end of the 3rd century AD in the ancient Greek city of Nicomedia (Νικομήδεια), Bythinia, northwestern Anatolia (today İzmit, Turkey). Her name literally means "Saint Sunday" (Greek, Κυριακή, the Lord's day), and according to tradition her Christan parents, Dorotheus and Eusebia, gave her the name because she was born on a Sunday.

She and her parents were tortured and exiled to eastern Anatolia by the Roman authorities during the Diocletianic Persecution under Emperors Diocletian (ruled the Eastern Empire 284-305 AD) and Maximian (ruled the Western Empire 286-305 AD). According to Christian legends, Kyriaki's family were persecuted not only because of their Christian faith, but also because the beautiful young woman refused to marry the son of a magistrate of Nicomedia. Following the death of her parents in exile, Kyriaki was brought back to Nicomedia, where she was torured and executed.

The cult of Agia Kyriaki spread widely, and she is still revered as far afield as Bulgaria, Cyprus and Tropea in Calabria, southern Italy, where she is known as Santa Domenica di Tropea. Her feast day is celbrated on 6th July in the Roman Catholic Church, and 7th July in the Orthodox Church.

It is a strange twist of fate that one of the few surviving portraits of Emperor Diocletian was discovered in Nicomedia (see photo, above right), the very city where he is said to have put to death 20,00 Christian men, women, and children, known as "the 20,000 Martyrs of Nicomedia".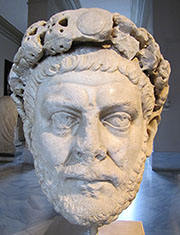 Head of Emperor Diocletian.
From Nicomedia (Izmit).
Marble, late 3rd century AD.

Istanbul
Archaeological Museum.