My Favourite Planet > English > Europe > Greece > Macedonia > Stageira & Olympiada >

| | | | | | | |
| --- | --- | --- | --- | --- | --- | --- |
| Stageira & Olympiada | Olympiada gallery | | | 16 of 18 | | |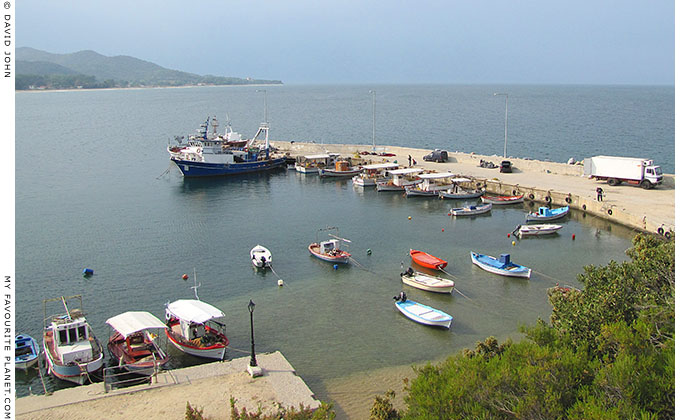 The fishing harbour at the south end of Olympiada's beach.
A big white truck stands on the quay, ready to take the day's catch to market. Gone are the days when fishermen caught fish for local consumption alone. Worlwide depletion of so-called fish "stocks" or "resources", and globalized markets mean that distant buyers can pay more for red mullet or sea bream than locals. Aegean fish are just as likely to turn up on a restaurant table in London, Tokyo or New York as in an Olympiada taverna. Kali orexi!

You can hardly blame small-scale fishermen for trying to get the best price for their fish: their work can be hard, tedious and dangerous; they have to be mindful of EU fishing quotas and a plethora of regulations; and they have to compete with enormous industrialized factory trawlers, whose enormous nets can take 300-300 tons of fish a day, and are indiscriminate about which marine creatures they ensnare.

The workings of market pricing also mean that local shops and restaurants often end up having to buy fish which has been caught by the very factory ships with which the small fishermen are competing. It also means that fish catches are transported over huge distances around the world, thus further adding to wasted resources and increasing pollution levels.



A variety of small fishing boats in Olympiada harbour.

The British topographer and traveller William Martin Leake, who visited
Olympiada in 1806, tells us that the old name for this harbour was the skala.
See History of Stageira and Olympiada - Part 7.
Photos, maps and articles: copyright © David John,
except where otherwise specified.

Additional photos: copyright © Konstanze Gundudis

All photos and articles are copyright protected.

Images and materials by other authors
have been attributed where applicable.

Please do not use these photos or articles without permission.

If you are interested in using any of the photos for your website,
project or publication, please get in contact.

Higher resolution versions are available on request.

My Favourite Planet makes great efforts to provide
comprehensive and accurate information across this
website. However, we can take no responsibility for
inaccuracies or changes made by providers of services
mentioned on these pages.
Visit the My Favourite Planet Group on Facebook.

Join the group, write a message or comment,
post photos and videos, start a discussion...





George Alvanos
rooms in
Kavala's historic Panagia District
Anthemiou 35,
Kavala, Greece
kavalarooms.gr