My Favourite Planet > English > Europe > Greece > Macedonia > Stageira & Olympiada >
| | | | | | | |
| --- | --- | --- | --- | --- | --- | --- |
| Stageira & Olympiada | Ancient Stageira gallery | | | 12 of 38 | | |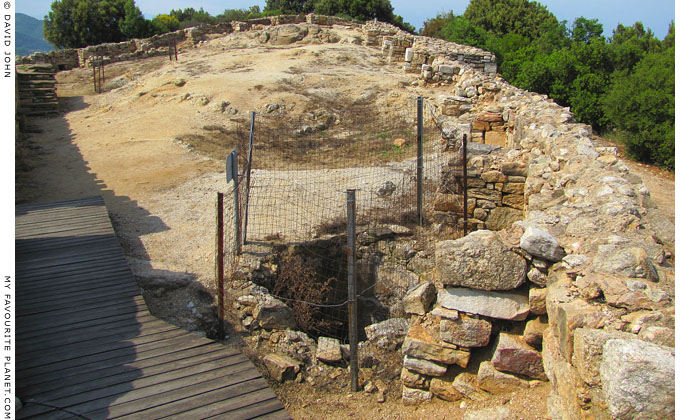 The well at the south end of the Stageira acropolis.
The well, near the outer entrance to the acropolis (gallery page 10),
is 2 metres wide and 4 metres deep.

The supply and storage of water was obviously critical to the survival of a city, especially in summer and during sieges. A number of wells and water tanks have been discovered around Ancient Stageira (see gallery page 21).

Remains have also been unearthed of an underground clay-pipe aqueduct (see photo below) which transported water from the mountain to the south of Stageira, beneath the western section of the long south wall and into the city. So far around 45 metres of the aqueduct have been excavated, and several fragments of the clay piping have been found around the countryside. However, the exact course and extent of the aqueduct system are still unknown. Archaeologists hope that when the route of the aqueduct through the city has been traced, they will discover the location of the main water tank.

Underground aqueducts were designed to be invisible to potential enemies, who, in the case of a siege, would not be able to cut off a city's external water supply. They were also products of the engineering ingenuity of people of the Mediterranean and Near East, many centuries before the Romans refined techniques and built their enormous overground aqueduct systems.

Close-up of the acropolis well.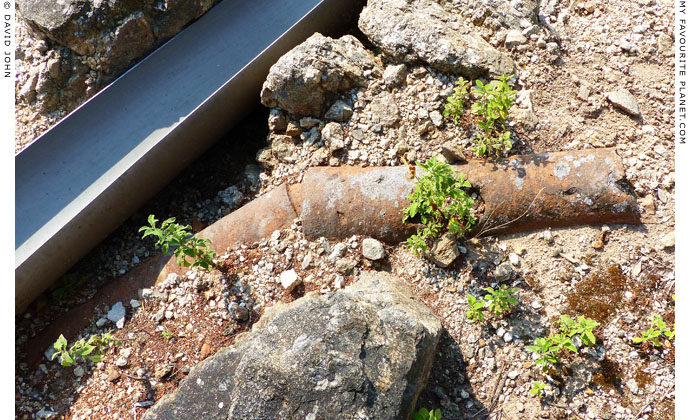 Part of the ancient aqueduct, made of lengths of connecting terracotta pipes,
discovered on near the western section of the long south wall of Stageira,
west of the acropolis. Next to it, the modern plastic guttering, meant to
cover and protect the pipes, has been blown aside by the weather.
Photos, maps and articles: copyright © David John,
except where otherwise specified.

Additional photos: copyright © Konstanze Gundudis

All photos and articles are copyright protected.

Images and materials by other authors
have been attributed where applicable.

Please do not use these photos or articles without permission.

If you are interested in using any of the photos for your website,
project or publication, please get in contact.

Higher resolution versions are available on request.

My Favourite Planet makes great efforts to provide
comprehensive and accurate information across this
website. However, we can take no responsibility for
inaccuracies or changes made by providers of services
mentioned on these pages.
Visit the My Favourite Planet Group on Facebook.

Join the group, write a message or comment,
post photos and videos, start a discussion...




George Alvanos
rooms in
Kavala's historic Panagia District
Anthemiou 35,
Kavala, Greece
kavalarooms.gr


Olive Garden Restaurant
Kastellorizo,
Greece
+30 22460 49 109
kastellorizo.de
Papoutsis
Travel Agency
Kastellorizo,
Greece
+30 22460 49 286
greeklodgings.gr