My Favourite Planet > English > Europe > Greece > Macedonia > Stageira & Olympiada >
| | | | | | | |
| --- | --- | --- | --- | --- | --- | --- |
| Stageira & Olympiada | Ancient Stageira gallery | | | 13 of 38 | | |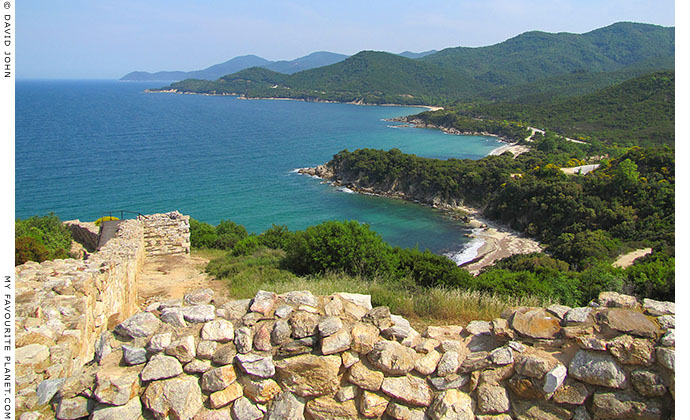 The view south from the Stageira acropolis along the northeast coast of Halkidiki.
Halkidiki offers some outstandingly beautiful natural landscapes, and this is one of the finest. The wooded hills and small sandy bays stretch along the east coast of Halkidiki from the town of Stavros, 15 km north of here, southwards to Ierssos, site of Stageira's sister city Akanthos. Beyond Iressos and the narrow isthmus around Nea Roda begins the mountainous eastern finger of Halkidiki and the monastic republic of Mount Athos.

From a strategic point of view, Stageira was well placed to keep a look out on sea traffic in the Strymonic Gulf, and to spot the approach of potentially threatening vessels. Its own boats could find shelter in the numerous local bays, particularly its port Kapros (see Olympiada gallery pages 1-3 and 16), where Olympiada village now stands.

Commercially, Stageira's location was well-suited as a port for sea trade between the mainland and the islands and cities of the northern Aegean, and beyond the Hellespont and Sea of Marmara to the Greek colonies around the Black Sea.

As the Persian invaders discovered to their cost in 492 BC, the conditions around the Athos peninsula could be treacherous [1], and many ships' captains would have preferred to put in at a port on the eastern side of Halkidiki. Stageira's sister city Akanthos profited far more from this situation than Stageira (see History part 1), but the latter seems to have done quite well and achieved a modest degree of prosperity.

Close-up of the above scene. The road between Olympiada
and Stratoni (15 km) winds around the coast.

Secluded beach, just south of Ancient Stageira,
on the east coast of Halkidiki, in the Strymonic Gulf.
Ancient Stageira
gallery
Notes, references and links



1. The Persian naval catastophe at Halkidiki 492 BC

According to the Greek historian Herodotus, an expedition in 492 BC under Mardonius, general of the Persian king Darius I the Great, reconquered Thrace and reduced Macedon to a client kingdom. However, when Mardinius' fleet attempted to round the Athos peninsula, on its way to conquer Eretria and Athens, it was destroyed by a storm.

"Crossing over from Thasos they travelled near the land as far as Acanthus, and putting out from there they tried to round Athos. But a great and irresistible north wind fell upon them as they sailed past and dealt very roughly with them, driving many of their ships upon Athos. It is said that about three hundred ships were lost, and more than twenty thousand men. Since the coasts of Athos abound in wild beasts, some men were carried off by beasts and so perished; others were dashed against the rocks; those who could not swim perished because of that, and still others by the cold."

Darius' successor Xerxes learned from this catastrophe, and around 480 BC, during the second Persian invasion of Greece, he had a canal dug across the isthmus of north of the Athos peninsula.

Herodotus, Histories, Book 6, chapter 44. At Perseus Digital Library.

See: History of Stageira and Olympiada Part 4



Marble head of Herodotus.
2nd century AD.

Agora Museum, Athens.
Photos, maps and articles: copyright © David John,
except where otherwise specified.

Additional photos: copyright © Konstanze Gundudis

All photos and articles are copyright protected.

Images and materials by other authors
have been attributed where applicable.

Please do not use these photos or articles without permission.

If you are interested in using any of the photos for your website,
project or publication, please get in contact.

Higher resolution versions are available on request.

My Favourite Planet makes great efforts to provide
comprehensive and accurate information across this
website. However, we can take no responsibility for
inaccuracies or changes made by providers of services
mentioned on these pages.
Visit the My Favourite Planet Group on Facebook.

Join the group, write a message or comment,
post photos and videos, start a discussion...




George Alvanos
rooms in
Kavala's historic Panagia District
Anthemiou 35,
Kavala, Greece
kavalarooms.gr


Olive Garden Restaurant
Kastellorizo,
Greece
+30 22460 49 109
kastellorizo.de
Papoutsis
Travel Agency
Kastellorizo,
Greece
+30 22460 49 286
greeklodgings.gr