My Favourite Planet > English > Europe > Greece > Dodecanese > Kastellorizo >

| | | |
| --- | --- | --- |
| Kastellorizo | photos of Kastellorizo, Greece | |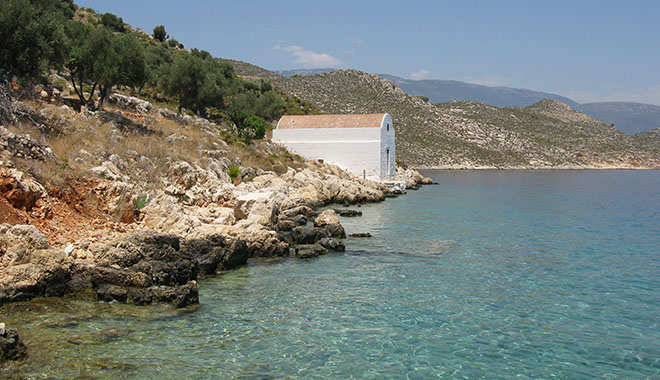 The Gazadika - the not-chapel-chapel at the west of Kastellorizo harbour.

The Gazadika is a strange anomaly, and one probably unique to Kastellorizo. It clearly has the form of a type of small Greek chapel found all over the eastern Mediterranean. It is quite usual in Greece for there to be a chapel in or just outside harbours, often at high or conspicuous locations so that they act as a geographical marker and a beacon of light and hope (for example the chapel of Agios Stefanou, see photo on gallery page 12). Many are dedicated to Saint Nicholas, the patron saint of seaman. Sailors and fishermen can be seen crossing themselves as they pass such a chapel, praying for a safe journey on their way out and giving thanks on their return.

This is a tradition going back to ancient times when temples where built with the same function and intention. The best known example is the Temple of the sea god Poseidon at Cape Sounion near Athens.

But it seems the Gazadika was built back to front, with the doorway, which has steps into the sea, facing east and the other end, where normally the altar would be placed, facing west. Of couse, all Christian churches are oriented towards the east.

Duh, how did that happen? Nobody seems to know. Nor do they know when or why the Gazadika was built. Was it in fact intended to be a chapel, or did somebody just fancy a chapel-shaped house or boatshed? Pretty unlikely.

There are two popular theories: the first is that it was built as a chapel, but that the church authorities refused to consecrate it because of its incorrect orientation. The other yarn is that the Turkish authorities prohibited the opening of yet another Christian place of worship at such a sensitive location on the harbour.

The first theory seems the more plausible. Churches and chapels were often built by wealthier families to commemorate a lost relative or as an act of piety and donated to the church. Perhaps the builder wasn't well informed or too bothered about the niceties of ecclesiatical law, and just thought it it would be jolly to have a chapel with a door onto the sea so that it could be easily reached by boat. It is pretty difficult to get to from the steep landward side anyhow. Some of these clerics are such sticklers for the rules. Picky, picky, picky. No understanding of creative freedom... etc. I wonder whatever became of the builder?

During both world wars it was used as a petrol store (which explains its name), and more recently a sculptor from Thessaloniki rented it from the municipality as a studio.

It is not a beautiful building, but its quite charming, and it seems to belong right there where there ought to be a quaint, white, mysterious Kastellorizian anomaly. Besides, it gives us all something to talk about over the retsina and kalamari. Ya mas!




Map of Kastellorizo harbour

(part of our detailed map of Kastellorizo)


KEY

1 main harbour of Megisti

2 police station, post office, municipal hotel

3 Agios Georgios church, Nikolaos Stamatiou school, travel agent

4 ferry landing, harbour police, tourist information, bank, duty free

5 coast guard, mosque, path to Lycian tomb

6 Megisti museum, path to Lycian tomb

7 Knight's Castle, Saints Nicholas & Dimitrios, hamam, windmill

8 Horafia, Platea Panagia, churches, Santrapeia school, Despina sculpture,Taverna Mediterraneo

9 Mandraki harbour and cemetery

10 stairs to clifftop view
Maps, photos and articles: © David John,
except where otherwise specified.

Additional photos: © Konstanze Gundudis

All photos and articles are copyright protected.

Images and materials by other authors
have been attributed where applicable.

Please do not use these photos or articles without permission.

If you are interested in using any of the photos for your website,
project or publication, please get in contact.

Higher resolution versions are available on request.

My Favourite Planet makes great efforts to provide
comprehensive and accurate information across this
website. However, we can take no responsibility for
inaccuracies or changes made by providers of services
mentioned on these pages.
Visit the My Favourite Planet Group on Facebook.

Join the group, write a message or comment,
post photos and videos, start a discussion...


Olive Garden Restaurant

Kastellorizo, Greece



+30 22460 49 109

kastellorizo.de


Papoutsis
Travel Agency

Kastellorizo, Greece



+30 22460 49 286

greeklodgings.gr









George Alvanos


rooms
in Kavala's historic Panagia District



Anthemiou 35,
Kavala, Greece


kavalarooms.gr