My Favourite Planet > English > Europe > Greece > Macedonia > Stageira & Olympiada >
| | | | | | | |
| --- | --- | --- | --- | --- | --- | --- |
| Stageira & Olympiada | Olympiada gallery | | | 14 of 18 | | |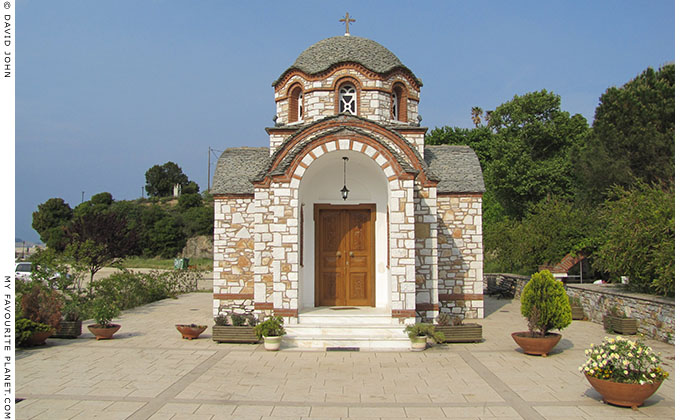 The church of Saints Nikolaos and Anastasia at Olympiada's fishing harbour.
The small church of Agii Nikolaos kai Anastasia, near the fishing harbour
on the south end of Liotopi bay, deserves a closer look.

The dome of the church of Nikolaos and Anastasia in Olympiada.



At first glance you may think this looks much like so many other Orthodox churches you may come across in Greece: it is built on a cross-shaped plan and is topped by a central dome raised on an octagonal base.

What makes this elegant church special is the beautiful stonework, which echoes the kind of masonery used in the classical walls of Ancient Stageira (see Ancient Stageira gallery pages 8 - 10). Courses of blocks of cut white stone - many not squared - are in-filled with irregularly shaped local red stone. The general effect appears haphazard, but has been carefully worked out and executed to give the church its ancient look. All the stones have a rough, unpolished surface to reinforce the illusion of antiquity.

The roof and dome continue this antique theme with rough, grey shale slates from the nearby island of Thassos. [1] Structural detailing has been traced in red brick (a Roman/Byzantine touch), set in slim curves and lines; and even the church's wooden door seems to match the colour of the brickwork. In contrast, the steps to the church are of matt-polished white marble.

The generous paved space around the church gives the congregation room to meet before, after and even during services: not everybody wuold fit in the small church, especially at Easter and weddings. The court is also surrounded by trees, flowers and grass, and on its northeast side by the sea, a beautiful and mostly peaceful setting.

The church is dedicated to Saint Nicholas (Άγιος Νικόλαος, Agios Nikolaos, see next page) and Saint Anastasia (Αγία Αναστασία η Ρωμαία, Agia Anastasia the Roman).

The church of Nikolaos and Anastasia and its wooden bell tower,
set in its own garden on the seafront of Olympiada.
| | | |
| --- | --- | --- |
| | Notes, references and links | |



1. Shale from Thassos.

The Northern Aegean island of Thassos is famous for the quality of its stone, particularly marble and shale. The latter is a sedimentary rock, the layers of which can be split into thin sheets and cut into tiles. This makes it well-suited for roofing tiles, and it is often confused with slate. The beautiful Thassian hill village of Panagia, on the island's northeast coast, is renowned for its shale-roofed buildings. We hope to present a gallery about Panagia on My Favourite Planet in the near future.
Photos, maps and articles: copyright © David John,
except where otherwise specified.

Additional photos: copyright © Konstanze Gundudis

All photos and articles are copyright protected.

Images and materials by other authors
have been attributed where applicable.

Please do not use these photos or articles without permission.

If you are interested in using any of the photos for your website,
project or publication, please get in contact.

Higher resolution versions are available on request.

My Favourite Planet makes great efforts to provide
comprehensive and accurate information across this
website. However, we can take no responsibility for
inaccuracies or changes made by providers of services
mentioned on these pages.
Visit the My Favourite Planet Group on Facebook.

Join the group, write a message or comment,
post photos and videos, start a discussion...




George Alvanos
rooms in
Kavala's historic Panagia District
Anthemiou 35,
Kavala, Greece
kavalarooms.gr


Olive Garden Restaurant
Kastellorizo,
Greece
+30 22460 49 109
kastellorizo.de
Papoutsis
Travel Agency
Kastellorizo,
Greece
+30 22460 49 286
greeklodgings.gr