My Favourite Planet > English > Europe > Greece > Macedonia > Stageira & Olympiada >
| | | | | | | |
| --- | --- | --- | --- | --- | --- | --- |
| Stageira & Olympiada | Olympiada gallery | | | 15 of 18 | | |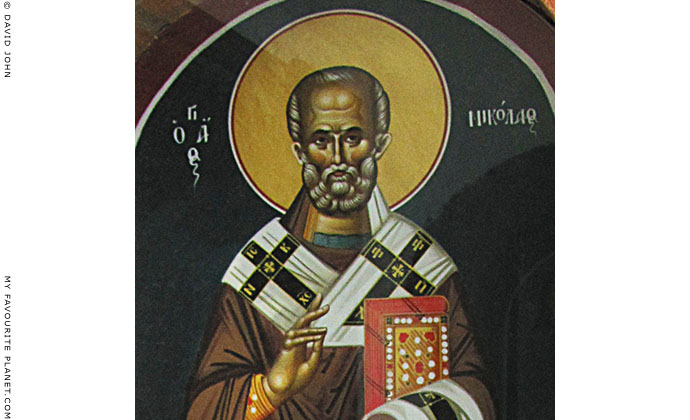 Icon of Saint Nicholas in the porch of the church of Nikolaos and Anastasia, Olympiada.
The ancient Greeks built temples and shrines to Poseidon around their coasts, to placate the wrathful sea god. Homer's renowned mariner Odysseus was constantly having to escape the results of the trident-wielder's temper tantrums. The most famous temple of Poseidon is at Sounion, on the tip of the Attica penincula, south of Athens.

In the Christian era, sailors and fishermen also sought supernatural protection from the perils of the wine-dark sea. The Judeo-Christian God seemed no better disposed to seafarers than his predecessors: think of Noah's flood, Jonah or the storm on the Sea of Galilee. So they chose Saint Nicholas of Myra (Άγιος Νικόλαος, Agios Nikolaos, "victory of the people", 270 - 6 December 346) to intercede for them at the very highest level in marine matters.

Churches, chapels and shrines dedicated to Saint Nicholas, patron saint of sailors, fishermen and merchants, have been built at ports and harbours, and along coastlines all over the Mediterranean; the tradition is still particularly strong in Greece.

Some other churches dedicated to Saint Nicholas:

Kastellorizo, Dodecanese, Greece

• the twin churches of Saints Nicholas and Dimitrios

• an icon of Agios Nikolaos

Polygyros, Halkidiki, Greece

• Agios Nikolaos church, Polygyros

Liverpool, England:

• Greek Orthodox church of Saint Nicholas (Agios Nikolaos)

• Anglican Church of Our Lady and Saint Nicholas (Old Saint Nick's)

The church of Nikolaos and Anastasia and its wooden bell tower,
set in its own garden on the seafront of Olympiada.
Photos, maps and articles: copyright © David John,
except where otherwise specified.

Additional photos: copyright © Konstanze Gundudis

All photos and articles are copyright protected.

Images and materials by other authors
have been attributed where applicable.

Please do not use these photos or articles without permission.

If you are interested in using any of the photos for your website,
project or publication, please get in contact.

Higher resolution versions are available on request.

My Favourite Planet makes great efforts to provide
comprehensive and accurate information across this
website. However, we can take no responsibility for
inaccuracies or changes made by providers of services
mentioned on these pages.
Visit the My Favourite Planet Group on Facebook.

Join the group, write a message or comment,
post photos and videos, start a discussion...




George Alvanos
rooms in
Kavala's historic Panagia District
Anthemiou 35,
Kavala, Greece
kavalarooms.gr


Olive Garden Restaurant
Kastellorizo,
Greece
+30 22460 49 109
kastellorizo.de
Papoutsis
Travel Agency
Kastellorizo,
Greece
+30 22460 49 286
greeklodgings.gr