My Favourite Planet > English > Europe > Greece > Dodecanese > Kastellorizo >

| | | |
| --- | --- | --- |
| Kastellorizo | photos of Kastellorizo, Greece | |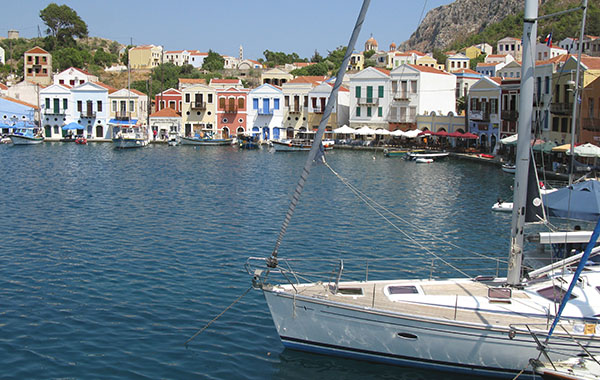 The east side of Kastellorizo harbour: the southeast corner of the harbour.

Continuing from the centre of Kastellorizo town, the east side of the harbour was once the home of the island's wealthier citizens, and its commercial and social centre. This area suffered the worst destruction in July 1944 when a fire at a fuel dump spread to an arsenal and destroyed half of the island's homes.

Many gaps lie between the once densely packed hillside houses, and the remains of some surviving buildings on the narrow stepped streets are slowly being reconstructed and renovated.




Map of Kastellorizo harbour

(part of our detailed map of Kastellorizo)


KEY

1 main harbour of Megisti

2 police station, post office, municipal hotel

3 Agios Georgios church, Nikolaos Stamatiou school, travel agent

4 ferry landing, harbour police, tourist information, bank, duty free

5 coast guard, mosque, path to Lycian tomb

6 Megisti museum, path to Lycian tomb

7 Knight's Castle, Saints Nicholas & Dimitrios, hamam, windmill

8 Horafia, Platea Panagia, churches, Santrapeia school, Despina sculpture,Taverna Mediterraneo

9 Mandraki harbour and cemetery

10 stairs to clifftop view




National Bank of Greece,
the island's only bank and ATM.
Maps, photos and articles: © David John.

Additional photos: © Konstanze Gundudis.

All photos and articles are copyright protected.

Images and materials by other authors
have been attributed where applicable.

Please do not use these photos or articles without permission.

If you are interested in using any of the photos for your website,
blog or publication, please get in contact.

Higher resolution versions are available on request.

My Favourite Planet makes great efforts to provide
comprehensive and accurate information across this
website. However, we can take no responsibility for
inaccuracies or changes made by providers of services
mentioned on these pages.
Visit the My Favourite Planet Group on Facebook.

Join the group, write a message or comment,
post photos and videos, start a discussion...


Olive Garden Restaurant

Kastellorizo, Greece



+30 22460 49 109

kastellorizo.de



Papoutsis
Travel Agency

Kastellorizo, Greece



+30 22460 49 286

greeklodgings.gr