My Favourite Planet > English > Europe > Greece > Dodecanese > Kastellorizo >

| | | |
| --- | --- | --- |
| Kastellorizo | photos of Kastellorizo, Greece | |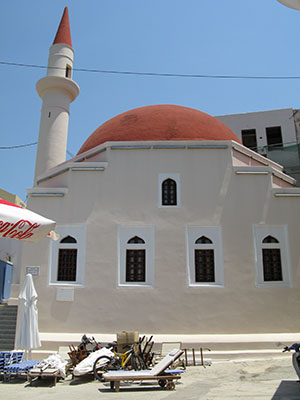 The east side of Kastellorizo harbour: the 18th century Ottoman mosque.

Mosque opening hours: Tuesday - Sunday 8.30 - 15 hours.
Mondays closed. Entrance free.

Kastellorizo's only mosque on Nikolaou Savva Square (also known as Kavos Square) was built by Osman Agha in 1753 during the Ottoman occupation of the island (1523-1913, see page 2: history of Kastellorizo).

Built on a square plan 11 x 11 metres with a single lead-covered dome, the mosque is 12.3 metres high. The entrance to the mosque is reached by steps up to a walkay 2 metres above the square on which the 23.2 metre high minaret stands. [1]

The original simple design with minimal decoration was further simplified during its renovation and conversion to a cultural museum in 2007. The interior walls of whitewashed plaster, the terracotta tiled floor and wooden staircase and upper level all give the interior a light, dignified atmosphere.

The respect with which the mosque has been treated by the Kastellorizians is a splendid example to other communites in Greece (not to mention Bulgaria and former Yugoslavian countries) of what can be achieved with abandoned Turkish mosques, many of which stand sadly neglected. For example, see our photos of Veria in Macedonia. The same could be said for abandoned churches in Turkey which are, after all, important cultural treasures.

In an ideal world, teams of Greek and Turkish artists, historians and architects, under the aegis of UNESCO or the EU, would work together to restore such buildings and their frescos before they crumble to dust or are destroyed by vandalism. Dream on ...

The cultural museum, officially known as the Historical Collection of Kastellorizo, displays local costumes and crafts as well as images, information and a multimedia presentation about the island's history.



Notes

1. Measurements based on a reconstruction drawing by architect Irini Diakostamatiou of the mosque as it was in the 19th century.





Map of Kastellorizo harbour

(part of our detailed map of Kastellorizo)


KEY

1 main harbour of Megisti

2 police station, post office, municipal hotel

3 Agios Georgios church, Nikolaos Stamatiou school, travel agent

4 ferry landing, harbour police, tourist information, bank, duty free

5 coast guard, mosque, path to Lycian tomb

6 Megisti museum, path to Lycian tomb

7 Knight's Castle, Saints Nicholas & Dimitrios, hamam, windmill

8 Horafia, Platea Panagia, churches, Santrapeia school, Despina sculpture,Taverna Mediterraneo

9 Mandraki harbour and cemetery

10 stairs to clifftop view
Maps, photos and articles: © David John.

Additional photos: © Konstanze Gundudis.

All photos and articles are copyright protected.

Images and materials by other authors
have been attributed where applicable.

Please do not use these photos or articles without permission.

If you are interested in using any of the photos for your website,
blog or publication, please get in contact.

Higher resolution versions are available on request.

My Favourite Planet makes great efforts to provide
comprehensive and accurate information across this
website. However, we can take no responsibility for
inaccuracies or changes made by providers of services
mentioned on these pages.
Visit the My Favourite Planet Group on Facebook.

Join the group, write a message or comment,
post photos and videos, start a discussion...


Olive Garden Restaurant

Kastellorizo, Greece



+30 22460 49 109

kastellorizo.de



Papoutsis
Travel Agency

Kastellorizo, Greece



+30 22460 49 286

greeklodgings.gr