My Favourite Planet > English > Europe > Greece > Macedonia > Pella >

| | | | | | | |
| --- | --- | --- | --- | --- | --- | --- |
| Pella, Greece | Pella gallery | | | 3 of 18 | | |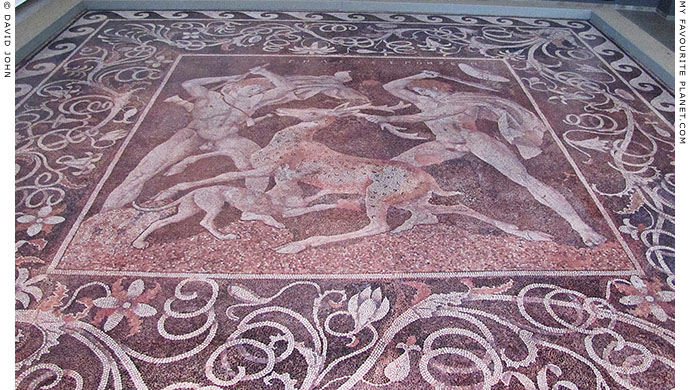 Pella Archaeological site. Detail of the Stag Hunt mosaic floor, 4th century BC.
The Stag Hunt mosaic floor in Room D of the "House of the Abduction of Helen" (also known as House 1.5, see gallery page 4).

The mosaic is 3.24 x 3.17 metres. The central panel shows two young men, naked apart from cloaks, and a hunting dog killing a stag. The image is surrounded by a decorative border with a floral motif. At the top of the central panel it is signed "ΓΝΩΣΕΙΣ ΕΠΟΗΣΕΝ" (Gnoseis epoesen, Gnoseis created this), the earliest known artist's signature on a mosaic.
photos and articles:
© David John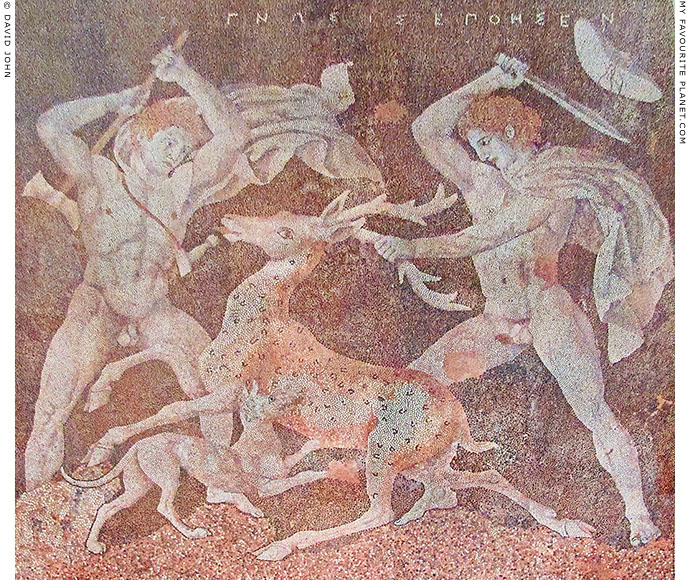 Detail of the central panel of the Stag Hunt mosaic showing the signature of Gnoseis.



See another rare signature by an ancient mosaic artist on Pergamon gallery 2, page 12.
Mosaics in Pella:

pebble mosaic floor

Stag Hunt mosaic

Abduction of Helen mosaic

Dionysos riding a panther

Lion Hunt mosaic
More photos and information
about mosaics
on My Favourite Planet

A mosaic of Dionysos and "Sleeping Ariadne" from Ephesus,
now in the Izmir Archaeological Museum, Turkey:
Selcuk photo gallery 2

The "Alexander Mosaic" from Pompeii, depicting
Alexander the Great in battle with King Darius III:
Alexander the Great
in our People section

A Hellenistic mosaic, signed by Hephaistion, from Pergamon,
now in the Pergamon Museum, Berlin, Germany:
Pergamon photo gallery 2

Ancient mosaics depicting the Gorgon Medusa

Mosaics from Pompeii signed by Dioskourides of Samos

Mosaics at Dion Archaeological Site, Macedonia, Greece:
Dion: garden of the Gods
at the Cheshire Cat Blog

"Choklakia" mosaics in Kastellorizo, Greece:
Kastellorizo photo gallery

Mosaics of Saint John the Theologian, on Patmos, Greece:
Patmos photo gallery

Modern mosaic commemorating Saint Paul
the Apostle's visit to Veria, Macedonia, Greece:
Veria photo gallery

See also a mosaic mural made by the author of this guide:
davidjohnberlin.de
Photos, maps and articles: copyright © David John,
except where otherwise specified.

Some of the information and photos in this guide to Pella
originally appeared in 2004 on davidjohnberlin.de.

All photos and articles are copyright protected.

Images and materials by other authors
have been attributed where applicable.

Please do not use these photos or articles without permission.

If you are interested in using any of the photos for your website,
project or publication, please get in contact.

Higher resolution versions are available on request.

My Favourite Planet makes great efforts to provide comprehensive and accurate information across this website. However, we can take no responsibility for inaccuracies or changes made by providers of services mentioned on these pages.
Visit the My Favourite Planet Group on Facebook.

Join the group, write a message or comment,
post photos and videos, start a discussion...




George Alvanos


rooms
in Kavala's historic Panagia District



Anthemiou 35,
Kavala, Greece


kavalarooms.gr