My Favourite Planet > English > Europe > Greece > Macedonia > Pella >

| | | | | | | |
| --- | --- | --- | --- | --- | --- | --- |
| Pella, Greece | Pella gallery | | | 9 of 18 | | |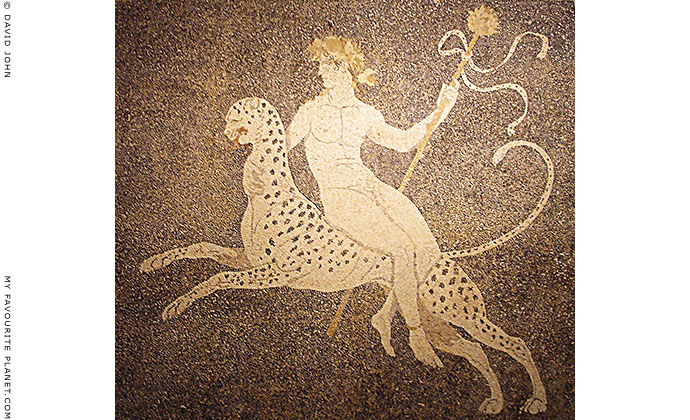 Pella Archaeological Museum. Dionysos riding a panther. Pebble mosaic, 4th century BC.
Now one of the prize exhibits of the new Pella Archaeological Museum, this mosaic, measuring 2.72 x 2.69 metres, once adorned the floor of the south andron (symposium or banqueting hall for men) in the "House of Dionysos" (see gallery page 2) in the centre of ancient city.

In the old Pella museum, this and other mosaics (for example Lion Hunt mosaic, also from the "House of Dionysos") were exhibited on the walls and could be appreciated by the viewer as masterpieces of ancient mosaic art. Unfortunately, the designers of the new museum's exhibition decided to follow recent the museum trend of placing such works on the floor, motivated by the belief that this is somehow more "authentic" and that visitors will better appreciate their original effect as floor decorations.

This renders them very difficult to view, especially the larger works, a difficulty often exacerbated by reflections from museum and natural lighting on the surfaces of the tesserae or stones.

Having seen many floor mosaics in their original situations, in buildings and at archaeological sites such as Pompeii, Herculaneum, Sardis and Ephesus, I have often been impressed by their effectiveness as floor decoration fitted to interior spaces.

The exhibition of the Great Palace Mosaic Museum in Istanbul works well because raised walkways have been built around the enormous floor mosaics which lie in situ. The mosaics can be seen clearly and enjoyed as images. This approach is not possible at most sites and museums, mainly due to the costs involved and space required; neither is it a generally applicable solution to the problem posed by the notion of the "authenticity" of museum experiences.

(See a mosaic in the Great Palace Mosaic Museum at The Cheshire Cat Blog.)

However, when a decision is made to remove such mosaics from their original locations and into museums, exhibition designers have the oppoprtunity to display them as works of art.

Many Greek and Roman pictorial mosaics are thought to have been copied from famous paintings mentioned by ancient authors (see, for example the "Alexander Mosaic" in Naples and the "Sleeping Ariadne" from Ephesus; both mosaics now exhibited on walls). The original paintings are lost forever and these mosaics are among the few surviving artefacts which reflect important aspects of ancient painting, such as composition, use of colour, shade, representation of archtiecture, nature, space, figures and their relationships to each other.

When these paintings in stone and glass are placed on museum floors their power as images is diminished - often lost completely. There may be an argument for laying abstract and purely decorative mosaics horizontally as representative examples of floor coverings, but even then the study of the motifs and patterns employed is hampered for those of us who do not have necks like giraffes.

Continued on the next page ...



The photos and further information about Dionysus
formerly on this page can now be found on
the Dionysus page of the MFP People section.




Dionysos depicted as a
handsome, athletic youth.


A thyrsos, the staff
of Dioysos.


The head of the panther.
Mosaics in Pella:

pebble mosaic floor

Stag Hunt mosaic

Abduction of Helen mosaic

Dionysos riding a panther

Lion Hunt mosaic
More photos and information
about mosaics
on My Favourite Planet

A mosaic of Dionysos and "Sleeping Ariadne" from Ephesus,
now in the Izmir Archaeological Museum, Turkey:
Selcuk photo gallery 2

The "Alexander Mosaic" from Pompeii, depicting
Alexander the Great in battle with King Darius III:
Alexander the Great
in our People section

A Hellenistic mosaic, signed by Hephaistion, from Pergamon,
now in the Pergamon Museum, Berlin, Germany:
Pergamon photo gallery 2

Ancient mosaics depicting the Gorgon Medusa

Mosaics from Pompeii signed by Dioskourides of Samos

Mosaics at Dion Archaeological Site, Macedonia, Greece:
Dion: garden of the Gods
at the Cheshire Cat Blog

"Choklakia" mosaics in Kastellorizo, Greece:
Kastellorizo photo gallery

Mosaics of Saint John the Theologian, on Patmos, Greece:
Patmos photo gallery

Modern mosaic commemorating Saint Paul
the Apostle's visit to Veria, Macedonia, Greece:
Veria photo gallery

See also a mosaic mural made by the author of this guide:
davidjohnberlin.de
Photos, maps and articles: copyright © David John,
except where otherwise specified.

Some of the information and photos in this guide to Pella
originally appeared in 2004 on davidjohnberlin.de.

All photos and articles are copyright protected.

Images and materials by other authors
have been attributed where applicable.

Please do not use these photos or articles without permission.

If you are interested in using any of the photos for your website,
project or publication, please get in contact.

Higher resolution versions are available on request.

My Favourite Planet makes great efforts to provide comprehensive and accurate information across this website. However, we can take no responsibility for inaccuracies or changes made by providers of services mentioned on these pages.
Visit the My Favourite Planet Group on Facebook.

Join the group, write a message or comment,
post photos and videos, start a discussion...



George Alvanos
rooms in
Kavala's historic Panagia District
Anthemiou 35,
Kavala, Greece
kavalarooms.gr