My Favourite Planet > English > Europe > Greece > Dodecanese > Kastellorizo >

| | | |
| --- | --- | --- |
| Kastellorizo | photos of Kastellorizo, Greece | |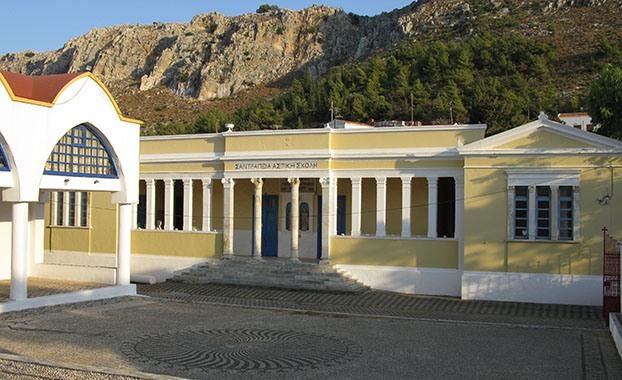 Horafia: Saints Constantine and Elena church (left) and Santrapé Town School on Avlogyro Square.




Choklakia mosaic floor of the "Avlogyro" square in the Horafia district.
Choklakia mosaics, made of black, white and sometimes reddish sea pebbles, are found throughout the Dodecanese islands (for example Symi and Lindos on Rhodes). The mosaic tradition dates back to Byzantine times and motifs include abstract geometric forms as well as folkloric pictorial depictions.

The mosaic floor of the "Avlogyro" square in the Horafia district of Kastellorizo is in excellent condition and features a roundel with a typical choklakia swirling radial design.

See also our photos of another mosaic floor in the square south of Agios Georgios Tou Pigadiou (Saint George of the Well) church at Kastellorizo's main harbour on gallery page 109.



Map of Kastellorizo harbour

(part of our detailed map of Kastellorizo)


KEY

1 main harbour of Megisti

2 police station, post office, municipal hotel

3 Agios Georgios church, Nikolaos Stamatiou school, travel agent

4 ferry landing, harbour police, tourist information, bank, duty free

5 coast guard, mosque, path to Lycian tomb

6 Megisti museum, path to Lycian tomb

7 Knight's Castle, Saints Nicholas & Dimitrios, hamam, windmill

8 Horafia, Platea Panagia, churches, Santrapeia school, Despina sculpture,Taverna Mediterraneo

9 Mandraki harbour and cemetery

10 stairs to clifftop view
More photos and information about mosaics
on My Favourite Planet

Hellenistic mosaics in Pella, Macedonia, Greece

A mosaic of Dionysos and "Sleeping Ariadne" from Ephesus,
now in the Izmir Archaeological Museum, Turkey:
Selcuk photo gallery 2

The "Alexander Mosaic" from Pompeii, depicting
Alexander the Great in battle with King Darius III:
Alexander the Great
in our People section

A Hellenistic mosaic, signed by Hephaistion, from Pergamon,
now in the Pergamon Museum, Berlin, Germany:
Pergamon photo gallery 2

A 2nd century AD mosaic featuring the head of Medusa,
from Piraeus, now in the Archaeological Museum, Athens:
Pergamon photo gallery 2

Mosaics at Dion Archaeological Site, Macedonia, Greece:
Dion: garden of the Gods
at the Cheshire Cat Blog

Mosaics of Saint John the Theologian, on Patmos, Greece:
Patmos photo gallery

Modern mosaic commemorating Saint Paul
the Apostle's visit to Veria, Macedonia, Greece:
Veria photo gallery

See also a mosaic mural made by the author of this guide:
davidjohnberlin.de
Maps, photos and articles: © David John.

Additional photos: © Konstanze Gundudis.

All photos and articles are copyright protected.

Images and materials by other authors
have been attributed where applicable.

Please do not use these photos or articles without permission.

If you are interested in using any of the photos for your website,
blog or publication, please get in contact.

Higher resolution versions are available on request.

My Favourite Planet makes great efforts to provide
comprehensive and accurate information across this
website. However, we can take no responsibility for
inaccuracies or changes made by providers of services
mentioned on these pages.
Visit the My Favourite Planet Group on Facebook.

Join the group, write a message or comment,
post photos and videos, start a discussion...


Olive Garden Restaurant

Kastellorizo, Greece



+30 22460 49 109

kastellorizo.de



Papoutsis
Travel Agency

Kastellorizo, Greece



+30 22460 49 286

greeklodgings.gr