My Favourite Planet > English > Europe > Greece > Dodecanese > Kastellorizo >

| | | |
| --- | --- | --- |
| Kastellorizo | photos of Kastellorizo, Greece | |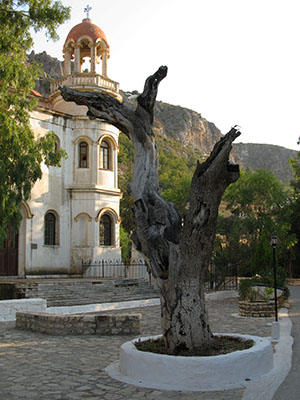 Horafia district: Agios Georgos tou Horafiou (Saint George of the Fields).

Originally planned as Horafia's grandest church, Agios Georgos tou Horafiou (Saint George of the fields), was never completed. Designed by Samian architect Panos Diakostamatis, building started in 1904 but had to be halted as the island's economy went into decline after 1908.

It was built on the foundations of the previous church, Agios Geogos Malaxou or Psiphiou, built in 1637 and demolished in 1902. A stone inscription commemorating the construction the old church is displayed in the Kastellorizo Archaeological mueum (see photo on gallery page 201).

Just outside the church's main entrance is a marble monument to Loukas and Anastasia Santrapé (see gallery page 241), benefactors of the island, after whom the Santrapé Town School is named. They also funded the building of this church, hence its alternate name Agios Georgos tou Louka.

Agios Georgios (Saint George whose name means "worker of the land"), the patron saint of Greece, chivalry, England, Georgia and many other places, is undoubtedly Kastellorizo's favourite holy man and there are at least five churches and chapels dedicated to him on the tiny island (for example Agios Georgios Tou Pigadiou on Kastellorizo's main harbour), not to mention the chapel on the islet of Agios Georgios off the coast of Mandraki harbour (see photos of Mandraki on gallery pages 223 and 224).

According to Christian tradition, Saint George (circa 275/281 – 23 April 303) was of Christian parents and became a tribune in the army of the Roman Emperor Diocletian. In 302 AD the emperor ordered the arrest of all Christian soldiers. During a confrontation with Diocletian, who knew George and his father personally, George asserted his Christian belief and refused to obey the emperor's edict to worship pagan gods. Despite Diocletian's offers of wealth and subsequently torture, George held steadfast to his faith and was executed by decapitation. His martyrdom is said to have inspired many Romans to convert to Christianity, and after George's body was returned to Lydda in Palestine his tomb became a place of pilgrimage.

The dragon Saint George slew has come to symbolically represent the "evil one" (Satan), paganism and by extension non Christian religions such as Islam. In the centuries of struggle between Christian and Muslim countries, this symbolism was constantly employed to encourage Christian resistance to Arab and Turkish military expansionism.

It is therefore not surprising that an isolated island such as Kastellorizo, uncomfortably much closer to its age-old foe Turkey than to any of its Greek neighbours, should have such a strong attachment to the symbolic strength of the Saint George legend.

See also photos of the 19th century church of Agios Georgios Tou Pigadiou (Saint George of the Well) on Kastellorizo's main harbour, including its interior and icons, on gallery pages 83 - 141.






The bell tower of the Agios
Georgos tou Horafiou church


An old wooden boat in front
of the church serves as
a plant holder.


Monument to Loukas and
Anastasia Santrapé in front
of Agios Geogos tou Horafiou.





Map of Kastellorizo harbour

(part of our detailed map of Kastellorizo)


KEY

1 main harbour of Megisti

2 police station, post office, municipal hotel

3 Agios Georgios church, Nikolaos Stamatiou school, travel agent

4 ferry landing, harbour police, tourist information, bank, duty free

5 coast guard, mosque, path to Lycian tomb

6 Megisti museum, path to Lycian tomb

7 Knight's Castle, Saints Nicholas & Dimitrios, hamam, windmill

8 Horafia, Platea Panagia, churches, Santrapeia school, Despina sculpture,Taverna Mediterraneo

9 Mandraki harbour and cemetery

10 stairs to clifftop view
Maps, photos and articles: © David John,
except where otherwise specified.

Additional photos: © Konstanze Gundudis

All photos and articles are copyright protected.

Images and materials by other authors
have been attributed where applicable.

Please do not use these photos or articles without permission.

If you are interested in using any of the photos for your website,
project or publication, please get in contact.

Higher resolution versions are available on request.

My Favourite Planet makes great efforts to provide
comprehensive and accurate information across this
website. However, we can take no responsibility for
inaccuracies or changes made by providers of services
mentioned on these pages.
Visit the My Favourite Planet Group on Facebook.

Join the group, write a message or comment,
post photos and videos, start a discussion...


Olive Garden Restaurant

Kastellorizo, Greece



+30 22460 49 109

kastellorizo.de


Papoutsis
Travel Agency

Kastellorizo, Greece



+30 22460 49 286

greeklodgings.gr









George Alvanos


rooms
in Kavala's historic Panagia District



Anthemiou 35,
Kavala, Greece


kavalarooms.gr