My Favourite Planet > English > Europe > Greece > Dodecanese > Kastellorizo >

| | | |
| --- | --- | --- |
| Kastellorizo | photos of Kastellorizo, Greece | |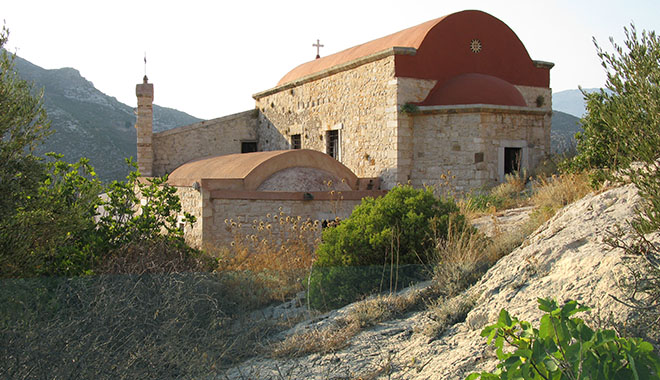 On the way to the Knights' Castle: the twin churches of Saints Nicholas and Dimitrios.

The 17th century churches of Agios Nikolaos kai Dimitrios (Saints Nicholas and Dimitrios), Agios Nikolaos being the older and smaller of the two. Both churches were badly damaged during World War II and eventually restored in 1995 with the financial assistance of the expatriate Kastellorizian Anna Lazarou Hatziyiannaki (nee Tsakouni).

Both saints are important in the Greek Orthodox religion. We will be adding information about Agios Dimitrios soon. Meanwhile, here is some background on Agios Nikolaos.

You could describe Agios Nikolaos as a local boy who made good, since he was born in the nearby Lycian city of Patara and became bishop of another Lycian city Myra (now the Turkish town of Demre). Both places are today about an hour by boat from Kastellorizo.

Nikolaos has become famous all over the world as a performer of miracles ("Nicholas the Wonderworker") and a secret giver of gifts (the German name Sankt Niklaus became the English Santa Claus or Father Christmas). Because of his legendary (or mythical) exploits he has been adopted as the patron saint of children, students, sailors, fishermen, merchants, the falsely accused, prostitutes, repentant thieves, pharmacists, archers and pawnbrokers, not to mention several places such as Russia, Aberdeen, Amsterdam and Liverpool.





The twin churches of Saints Nicholas and Dimitrios (left) and the Knights' Castle (right) viewed from the cliff above Kastellorizo.


The twin churches of Saints Nicholas and Dimitrios from the cliff above Kastellorizo.

He is particularly revered in Greece as the patron saint of mariners, and there are innumerable churches and chapels dedicated to him around its shores. On Kastellorizo he is celebrated at the twin churches of Saints Nicholas and Dimitrios on the Kavos headland near the Knights' Castle.

Saint Nicholas of Myra (Άγιος Νικόλαος, Agios Nikolaos, "victory of the people", 270 - 6 December 346) was a contemporary of Constantine the Great (circa 272 - 337) and his mother Agia Eleni (Saint Helena, circa 246/50 – 18 August 330), who together as Saints Constantine and Helena are credited with initiating the christianization of the Roman Empire.

Nikolaos is said to have performed a miracle in 325 at the Ecumenical Council of Nicaea which was convened by Constantine. Presumably the two men must have met at some time. Since Agia Eleni also travelled this way on her expedition in search of religious relics (for which she became the patron saint of archaeologists), it is likely that she visited Myra. Constantine is said to have granted Nikolaos' petition for the reduction of taxes in Myra.

Despite Nikolaos' legendary kindness and humility, it seems he had little tolerance for the old pagan religions, and is said to have destroyed several temples including the renowned Temple of Artemis in Myra, the largest cult centre of ancient Lycia.

See also a photo of an icon of Agios Nikolaos in the church Agios Georgios Tou Pigadiou on Kastellorizo's main harbour on gallery page 99.



Map of Kastellorizo harbour

(part of our detailed map of Kastellorizo)


KEY

1 main harbour of Megisti

2 police station, post office, municipal hotel

3 Agios Georgios church, Nikolaos Stamatiou school, travel agent

4 ferry landing, harbour police, tourist information, bank, duty free

5 coast guard, mosque, path to Lycian tomb

6 Megisti museum, path to Lycian tomb

7 Knight's Castle, Saints Nicholas & Dimitrios, hamam, windmill

8 Horafia, Platea Panagia, churches, Santrapeia school, Despina sculpture,Taverna Mediterraneo

9 Mandraki harbour and cemetery

10 stairs to clifftop view
Maps, photos and articles: © David John,
except where otherwise specified.

Additional photos: © Konstanze Gundudis

All photos and articles are copyright protected.

Images and materials by other authors
have been attributed where applicable.

Please do not use these photos or articles without permission.

If you are interested in using any of the photos for your website,
project or publication, please get in contact.

Higher resolution versions are available on request.

My Favourite Planet makes great efforts to provide
comprehensive and accurate information across this
website. However, we can take no responsibility for
inaccuracies or changes made by providers of services
mentioned on these pages.
Visit the My Favourite Planet Group on Facebook.

Join the group, write a message or comment,
post photos and videos, start a discussion...


Olive Garden Restaurant

Kastellorizo, Greece



+30 22460 49 109

kastellorizo.de


Papoutsis
Travel Agency

Kastellorizo, Greece



+30 22460 49 286

greeklodgings.gr









George Alvanos


rooms
in Kavala's historic Panagia District



Anthemiou 35,
Kavala, Greece


kavalarooms.gr