My Favourite Planet > English > Europe > Greece > Attica > Athens > galleries >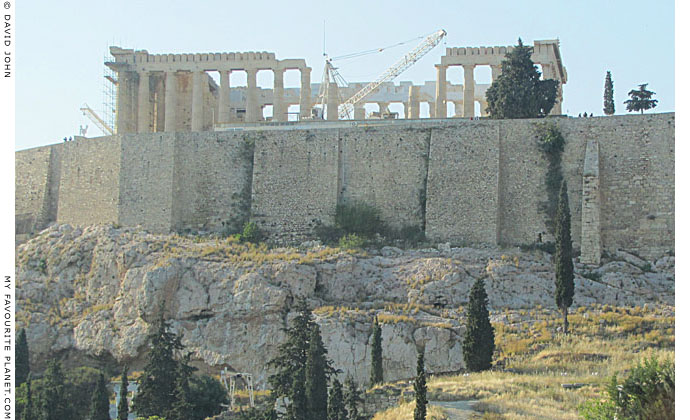 The site of the Sanctuary of Asklepios on the south side of the Acropolis
Over the centuries several buildings were added to the south slope below the Acropolis, including the Asclepieion, the Theatre of Dionysos, the Odeion of Herodes Atticus and the monumental Stoa of Eumenes which connected the two theatres. Several other temples, sanctuaries and other monuments, such as the choragic monuments of Thrasyllos and Nikias, were also built here.

Immediately below the Parthenon was the Sanctuary of Asklepios, the Greek god of healing and son of Apollo. Sanctuaries to the god were also centres of healing. The cult of Asklepios was brought to Athens from its largest centre at Eipdauros in the Peloponnese around 420 BC, during a period in which the cult and a renewed interest in medicine were spreading all around the Hellenic world.



The reconstructed columns and part of the entablature of the Doric stoa
(abaton) in the sanctuary of Asklepios and Hygieia in Athens, below the
walls of the north side of the Acropolis.



The Athenian asclepieion, the sanctuary of Asklepios and his daughter Hygieia, was founded in 420/419 BC by Telemachos, an Athenian citizen from the deme of Acharnai. It is located to the west of the Theatre of Dionysos, on the south side of the Acropolis, between the Peripatos circuit path around the foot of the Acropolis (see below) and the rock itself.

The sanctuary contained a small Ionic temple, an altar, a bothros (pit for sacrifices) and two halls: the abaton, a Doric stoa used as an incubation hall in which visitors slept and were cured by the god who appeared in their dreams; and the katagogion, an Ionic stoa which provided accommodation for the priests and visitors.

Pausanias briefly mentioned the sanctuary when describing the way from the theatre to the Acropolis:

"The sanctuary of Asclepius is worth seeing both for its paintings and for the statues of the god and his children. In it there is a spring, by which they say that Poseidon's son Halirrhothius deflowered Alcippe the daughter of Ares, who killed the ravisher and was the first to be put on his trial for the shedding of blood."

Pausanias, Description of Greece, Book 1, chapter 21, section 4.

See also:

Asklepios in the MFP People section

the Asclepieion at Pergamon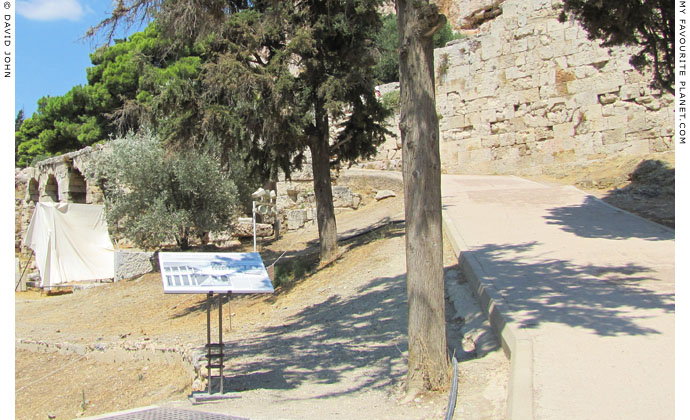 A section of the Peripatos (right), the circuit path around the foot of the Acropolis, ascends
westwards, above and behind the eastern end of the retaining wall of the Stoa of Eumenes (left).



On the right is part of the enormous retaining wall on the west side of the Theatre of Dionysos.


Much of the 1050 metre long ancient pathway now has modern paving, making it easier for visitors to walk right around the foot of the Acropolis. The Peripatos can be accessed either from:

the main entrance to the Acropolis (gallery page 1), at the west side. Once through the turnstiles, turn left and follow the path towards the north slope of the Acropolis (gallery pages 4 and 5). The path continues past the ancient sanctuaries along the north side, then turns right along the east side, and back to the south side, near the Choragic Monument of Thrasyllos, above the Theatre of Dionysos. It then continues past the sanctuaries along the foot of the north slope, including the sanctuary of Asklepios, behind and above the Odeion of Herodes Atticus, then up to the Acropolis itself. From here there is a gateway to the Acropolis and tickets are checked by staff.

The Theatre of Dionysos, on the east side of the Acropolis, is a separate archaeological site, for which an extra ticket is needed. A single day ticket for all the local sites saves money. From above the theatre, you can walk around the Peripatos in the same way as described above.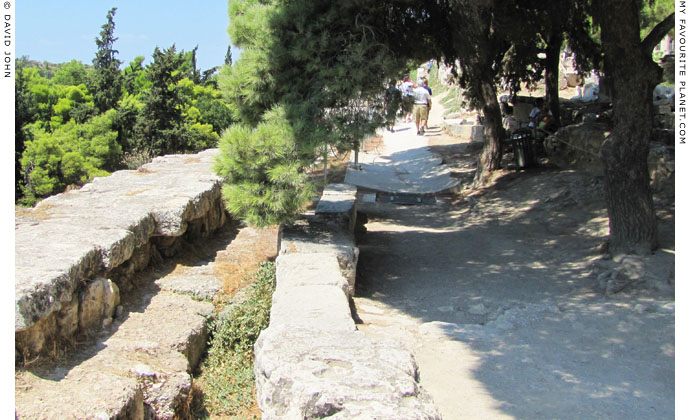 The unpaved section of the Peripatos (right) which runs
above the retaining wall of the Stoa of Eumenes (left).
Photos, maps and articles: © David John

Additional photos: © Konstanze Gundudis

All photos and articles are copyright protected.

Images and materials by other authors
have been attributed where applicable.

Please do not use these photos or articles without permission.

If you are interested in using any of the photos for your website,
blog or publication, please get in contact.

Higher resolution versions are available on request.

My Favourite Planet makes great efforts to provide
comprehensive and accurate information across this
website. However, we can take no responsibility for
inaccuracies or changes made by providers of services
mentioned on these pages.
Visit the My Favourite Planet Group on Facebook.

Join the group, write a message or comment,
post photos and videos, start a discussion...














George Alvanos


rooms
in Kavala's historic Panagia District



Anthemiou 35,
Kavala, Greece


kavalarooms.gr



Olive Garden Restaurant


Kastellorizo, Greece



+30 22460 49 109


kastellorizo.de



Papoutsis
Travel Agency


Kastellorizo, Greece



+30 22460 49 286


greeklodgings.gr